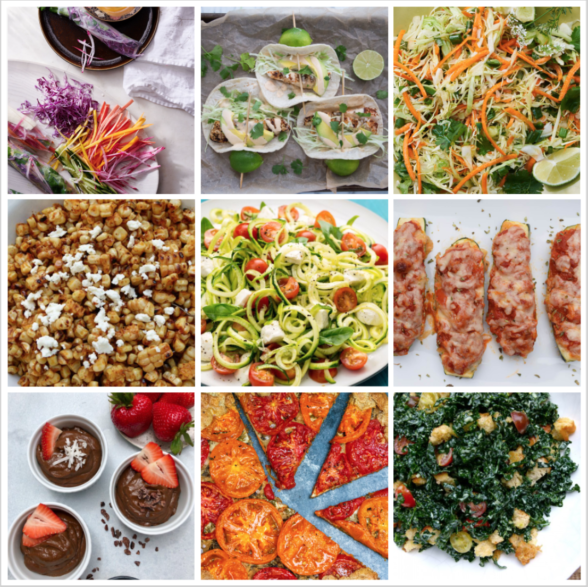 I just arrived in Dallas for my daughter's postponed college commencement.  I am very happy for her that she will be able to have her once in a lifetime event, even though it's not exactly how we all thought it would happen.  I'll be here for less than 24 hours and then it's family time on Long Island!  You know this is my favorite week of the year and I couldn't imagine not going.  This virus is here to stay, so I think we have to respect it, be smart, and find a way to live life around it.  I'll be posting my meals and such on Instagram all week.  There will be pizza involved!!  Here's your dinner planner for the week:
Meatless Monday: Anytime summer rolls p. 121 from Quicker than Quick – here's a video for guidance, with a side of thinly sliced cucumber and onion mixed with miso ginger dressing
Tuesday: Grilled fish tacos or chipotle cauliflower tacos, Mexican corn off the cob, cilantro-lime slaw
Wednesday: Caprese zoodles from delish – this would also be delicious with pesto and you could supplement with regular pasta
Thursday: DIY bowl night- cooked rice, beans, chopped lettuce, sliced radishes, salsa, protein of choice OR Mediterranean lickety-split chicken p. 185 from Kitchen Matters
Friday: Stuffed zucchini boats with ground turkey or tempeh added to mixture – start with this in step 4, chopped green salad with romaine, radicchio, pepperoncini, cherry tomatoes
Saturday brunch:  avocado chocolate pudding topped with hemp seeds, berries and coconut flakes – checkout the recipe featured on Style Sonata!
Sunday: Rustic heirloom tomato tart – if you're not gluten-free you can make this with my regular pie crust recipe – using half of the recipe, kale salad with creamy lemon dressing
Here's what you can do ahead if it helps you:
Sunday:
Wash lettuce and vegetables
Prep veggies for rolls
Make salad dressings
Make white sauce for fish tacos
Make pie crust
My new cookbook, Quicker Than Quick, is here!  I have LOVED seeing all your creations of my recipes on Instagram. If you make any of my recipes, please tag me @pamelasalzman #pamelasalzman so I can check them out!  If you have 1 minute, would you mind leaving a review on amazon?  I would be so grateful, thank you!
Click here to learn more about my online cooking classes! Through the end of August, choose any cooking class in the library for $20 with the code SINGLE20 and a subscription for future classes for $17  (normally $27/mo.) with the code CLASSES17.
Take a peek at my first cookbook "Kitchen Matters"!