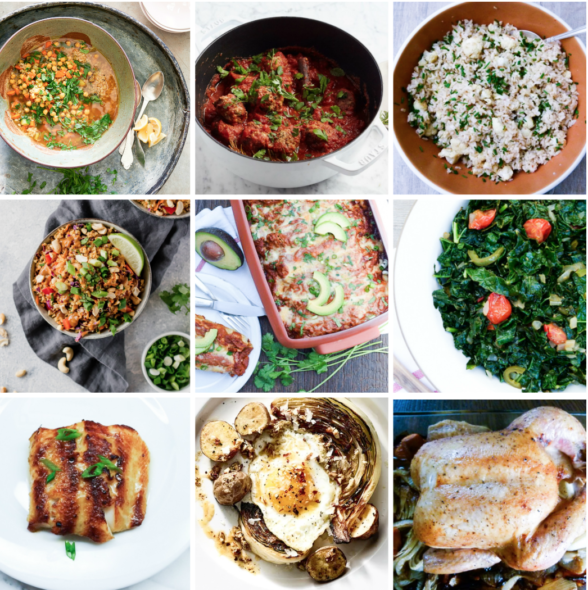 I took a Spring Break from the blog this week.  I traveled to Dallas to see my babies and then to the east coast to see my parents and sisters.  I am feverishly working on finishing my book.  (Although if my editor is reading this, JK!  I'm almost done!) So something had to give.  My last book was finished during the summer months when I have a very light teaching schedule.  Not so this time!  
For those of you who take my online classes, April will be uploaded any day now.  It is a GREAT one! Here's your dinner planner for the week:
Meatless Monday: Freekah Soup from my book 
Tuesday: Goop's Moroccan Turkey Meatballs served with Basmati Rice with Roasted Cauliflower
Wednesday: Asian veggie grain bowls – use your favorite fresh organic veggies (I like broccoli, asparagus and green onion) sautéed in sesame oil and olive oil, garlic, fresh ginger if you have it, black pepper and sea salt and a dash of tamari. Once veggies are sautéed, mix in your favorite cooked grain (try black rice for something new) and add in more tamari and some rice vinegar to taste. Simple and so yummy!
Thursday: Chicken Enchiladas Rojas with Mexican Sautéed Greens
Friday:Miso-Glazed Cod with sautéed greens and steamed rice 
Saturday Lunch: Roasted Cabbage and Olive Oil Fried Eggs with Spicy Almond Relish from Real Simple 
Sunday: Easy no-fail Roasted Chicken with carrots, fennel and potatoes 
Here's what you can do ahead if it helps you:
Sunday: 
Cook all grains
Make all dressings, sauces, marinades
Wash and prep veggies 
Make Freekeh soup
Wednesday: 
Prepare enchiladas
Thursday:
Marinate cod
Friday:
 Here's a link to my previous dinner planners.
I have LOVED seeing all your creations of my recipes on Instagram.
If you make any of my recipes, please tag me @pamelasalzman #pamelasalzman so I can check them out!
Click here to learn more about my online cooking classes!
If you like my recipes, you'll LOVE my cookbook!