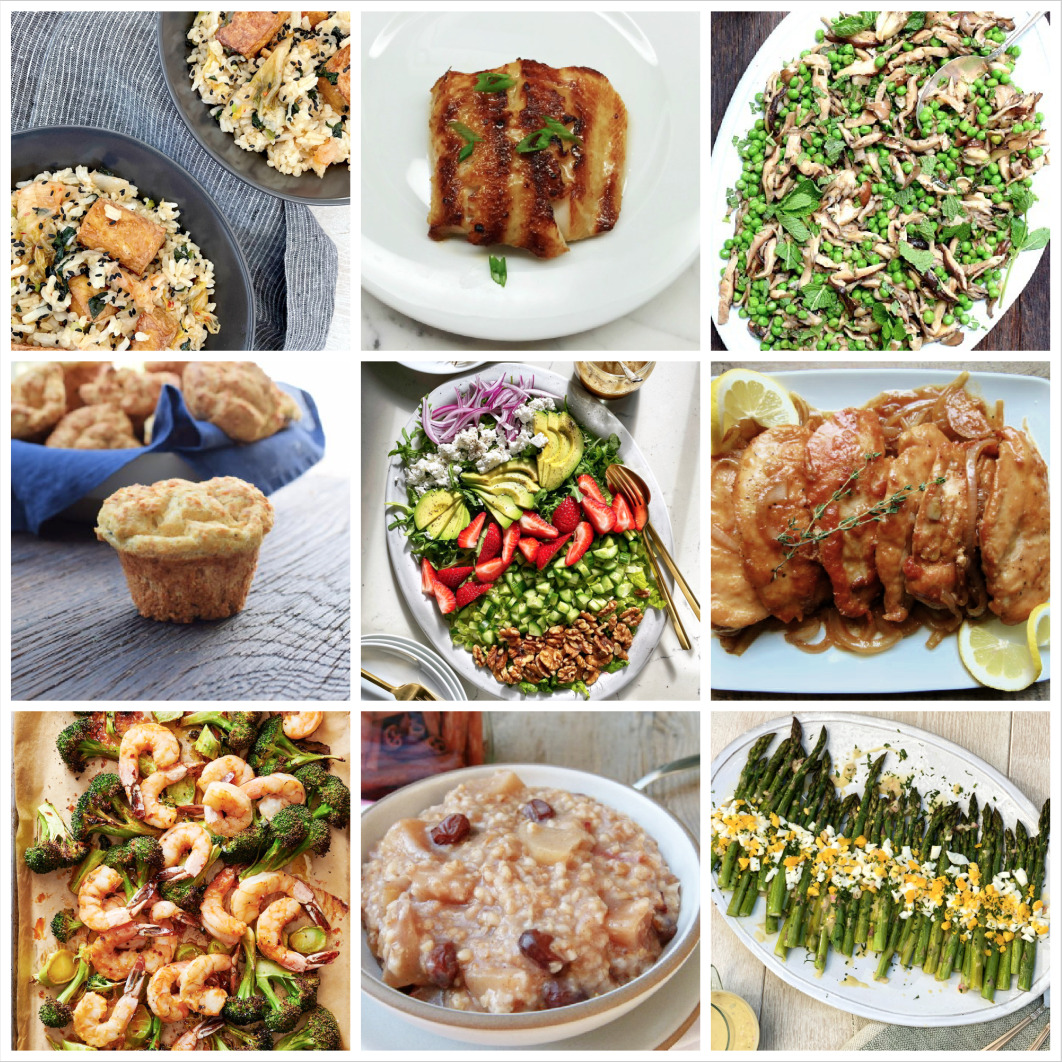 It's all about Passover on Wednesday night and Easter next Sunday! See my suggestions if you still need recipe ideas. I have already started making my desserts! On another note, if you take my monthly online cooking class, the April class will be uploaded this weekend! If you are not a monthly subscriber, you should be! The classes are informative and fun and you watch on your own time. Here's the menu for April:
Chipotle Tomato Bisque
Chopped Salad with Jicama and Pineapple
Grain-Free Mexican Chocolate Skillet Cookie
One Pan Green Enchilada Skillet
Sheet Pan Quesadilla
Here's your dinner planner for the week:
Meatless Monday: Kimchi fried rice with crispy tofu or a fried egg
Tuesday: Miso glazed black cod, pea and mushroom sauté
Wednesday (Passover): See this post and this post for some menu ideas. A few years ago I made brisket, a roasted vegetable platter, perfect spring salad, sweet potato casserole(using coconut instead of corn flakes), matzoh lasagne with vegetables, baked chicken with artichokes and capers, halibut with chermoula, maztoh ball soup, Passover popovers, fruit platter, coconut macaroons, fallen chocolate cake, lemon ice torte, cashew cheesecake, strawberry-rhubarb sauce, salted caramel cheesecake bars (use grain-free cookies for the crust), and carrot banana cake (using this recipe). Basically, any recipe that is gluten-free (other than containing oats) can be passover-compliant unless your family follows the old rules of no grains and no legumes.
Thursday: Lemon-thyme chicken, strawberry salad with balsamic vinaigrette from The Delicous Life
Friday: Sheet pan shrimp with broccoli p. 261 from QTQ, black rice or riced vegetable of your choice
Saturday brunch: Slow cooker apple pie steel cut oats
Easter Sunday: See this post for how to cook hard-boiled eggs and this post for what to do with all the leftover eggs after Easter. Here are some lovely recipes for Easter:
Asparagus salad with walnuts and mint
Baked chicken with artichokes and capers
Creamy, dairy-free asparagus soup
Three pea sauté with turkey bacon
Spring salad with avocado, radishes and pumpkin-seed brittle
Spring green pasta with asparagus and peas
Roasted sweet potatoes with leeks and roasted garlic dressing
Cauliflower steaks with cauliflower puree and mint pesto
Pea and mushroom sauté with mint
Pistachio-Crusted Salmon (see instructions for how to make on lamb)
Grilled artichokes with lemon-caper dipping sauce
Coconut almond tart with strawberries
Dairy-free strawberry cashew cheesecake
Grain-free balsamic roasted strawberry tart
Grain-free carrot cake with cream cheese frosting
Mini Strawberry Swirl Cheesecakes (can be made as a whole cake too)
Here's what you can do ahead if it helps you:
Sunday:
Cook rice for stir fry and make crispy tofu
Wash greens
Make salad dressings
Monday:
Wipe mushrooms clean and slice or buy pre-sliced mushrooms
Make miso-glaze for cod
Make sauce for shrimp and refrigerate
Tuesday:
Make desserts for passover
Thursday:
Cook black rice
Saturday:
Cook hard-boiled eggs
Make desserts for Easter
I have LOVED seeing all your creations of my recipes on Instagram. If you make any of my recipes, please tag me @pamelasalzman #pamelasalzman so I can check them out! I have a free Monday newsletter with my thoughts, new recipes, and things I'm loving lately. Subscribe here!
Order my cookbook, Quicker Than Quick! If you have 1 minute, would you mind leaving a review on amazon? I would be so grateful, thank you! Take a peek at my first cookbook "Kitchen Matters"!