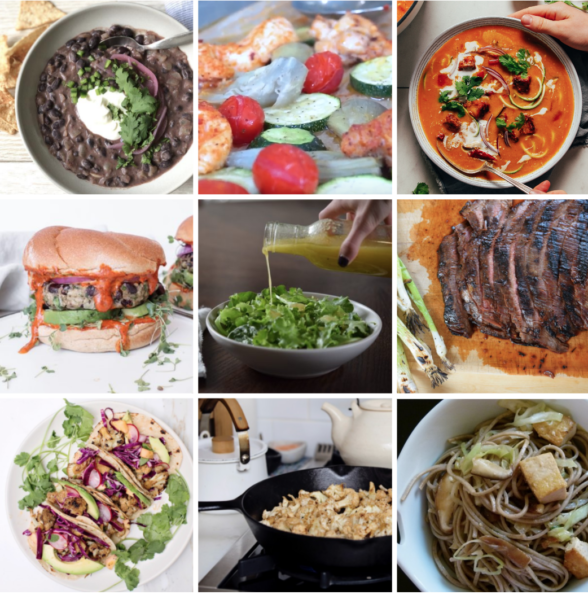 Ok, this is it.  Manuscript is due this week and then regular programming will resume.  I'll start filming YouTube videos, grocery store stories, Friday Favorites, etc. Not all at once, but I'll get back on track!  Writing a book and work full time is no joke OMG!  In the meantime, here's your dinner planner for the week:
Meatless Monday: Creamy Black Bean Soup
Tuesday: Sheet Pan Chicken, substitute red onion and asparagus for the cherry tomatoes and zucchini 
Wednesday: Vegan Tom Yum Soup from the Minimalist Baker
Thursday:  Black Bean Burgers with Smoky Red Pepper Sauce. Serve with a fresh herb side salad – toss together mixed greens, mint and basil (or whatever you have – chives and cilantro are great, too) and dress with one of my Everyday Salad Dressings!
Friday: Balsamic Herb Flank Steak from my book, sautéed snap peas and roasted broccoli florets with olive oil and flaky sea salt – I love these veggies with a little of the balsamic post-marinade too!
Saturday Lunch: Chipotle Cauliflower Tacos
Sunday: Stir-Fried Soba Noodles with Tofu, Roasted Cauliflower with Nori
Here's what you can do ahead of time:
Sunday
Make Black Bean Soup
Make all marinades, sauces and dressings
Wash and prep all veggies 
Tuesday
Make black bean burger patties 
Thursday:
Season steak
Here's a link to my previous dinner planners.
I have LOVED seeing all your creations of my recipes on Instagram. If you make any of my recipes, please tag me @pamelasalzman #pamelasalzman so I can check them out!
Click here to learn more about my online cooking classes!
If you like my recipes, you'll LOVE my cookbook!