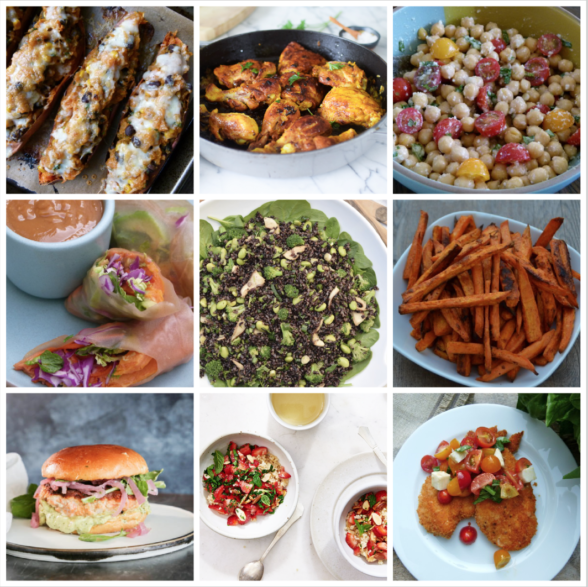 I had a bananas week, and I am sooooo happy for the weekend!  I do have some exciting news for you though.  I am repeating 2 previous bootcamps beginning the first week in May!!  Last spring I taught a 4-week course called Entertaining with Ease which was an absolute blast to teach and the feedback from the participants was incredible!  Who wants to start entertaining???  Exactly!  I will only be repeating it this year in May, so definitely sign up if you are at all interested.  I will also be repeating my advanced plant-based bootcamp called Plant-Based 2.0.  This might be my favorite course I have taught yet!  Here's the link to get on the waitlist for these courses.  It's only a waitlist, not a registration.  You will be the first to know when sign-ups are open and this list also receives a special discount code.  I will only teach one session of each and spots are limited!!  So excited!!   Here's your dinner planner for the week:
Meatless Monday: tex-mex stuffed sweet potato skins , mixed grilled veggies
Tuesday: Everyday turmeric chicken, cooked rice or cauliflower rice, favorite roasted vegetables
Wednesday: Chickpea and Deconstructed Pesto Salad. Replace the tomatoes with artichoke hearts, either from a jar or frozen/defrosted and roasted at 400 degrees for 20 minutes with olive oil, salt and pepper. Serve with roasted fish.
Thursday: Summer rolls with whatever you have in the fridge/pantry.  The rice wrappers are neutral in flavor so that you can add whatever you want.  Set up a DIY bar for the family!  Add black rice salad if you need more.
Friday: Wild Salmon Burgers , chipotle sweet potato fries, green salad with one of my Everyday Salad Dressings.
Saturday brunch: strawberry mint tabbouleh from QTQ
Sunday: baked parmesan chicken caprese, balsamic roasted broccoli and cherry tomatoes (but skip the cherry tomatoes since there are tomatoes on the chicken and use thinly sliced red onions), toss with warm lentils or white beans if you need more or serve grilled garlic bread on the side.
Here's what you can do ahead if it helps you:
Sunday:
Roast sweet potatoes, make filling, and assemble
Make salad dressing
Wash lettuce
Cook chickpeas, if making from scratch
Monday:
Season chicken
Wednesday:
Cook black rice
Make a sauce for summer rolls, if using
Thursday:
Cut sweet potatoes and measure spice mix
Cook quinoa for tabbouleh
Friday:
Wash and hull strawberries
Wash herbs
I have LOVED seeing all your creations of my recipes on Instagram. If you make any of my recipes, please tag me @pamelasalzman #pamelasalzman so I can check them out!
My cookbook, Quicker Than Quick, is discounted for the first time on Amazon!  If you have 1 minute, would you mind leaving a review on amazon?  I would be so grateful, thank you!
Take a peek at my first cookbook "Kitchen Matters"!