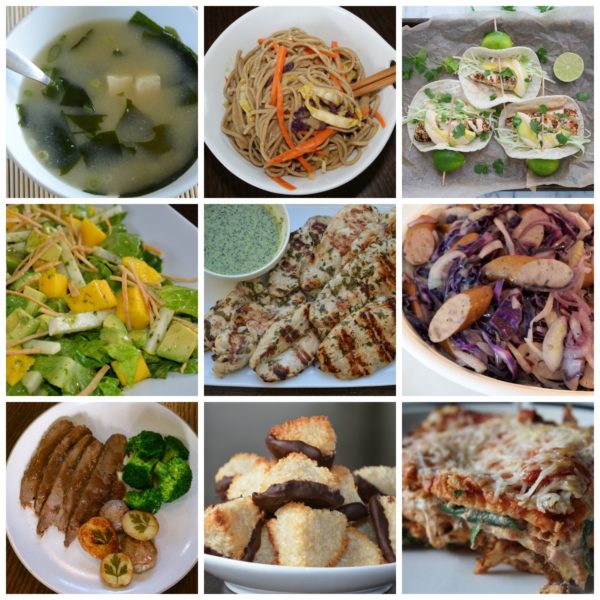 I have a crazy busy week coming up with classes, deadlines, getting read for my trip to Dallas which will include a class at my friend Lisa's house and participating in my daughter's sorority's mom weekend, annnnnd getting all the desserts prepared in advance for the Passover seders which I will obviously be missing.  Sitting down on the weekend to spend a little time planning the meals for the week is my lifesaver.
If you are celebrating Passover, please check out my post from last year which detailed my Passover seders including my timelines.  Enjoy!
Here's the dinner planner for this week:
Meatless Monday:  Miso soup (check out this post for a miso soup topping bar), Asian noodle salad
Tuesday:  Fish tacos, avocado, jicama and mango salad
Wednesday:  Grilled lemon-herb chicken with mint drizzle, mixed greens with strawberries, gorgonzola (sub another cheese if you want or omit) and almonds (this recipe, but subbing strawberries for grapes)
Thursday:  Turkey sausages with sautéed cabbage, fennel and onions
Friday:  Passover seder
Saturday:  Passover seder
Sunday:  Matzoh lasagnes (I hope to post these recipes before then.)
Here's what you can prep ahead if it helps you to do so:
Sunday
Make dressing for Asian noodle salad, jicama salad, and salad with gorgonzola
Prep veggies for Asian noodle salad
Make dry rub or marinade for fish (the recipe above gives two options, both of which can be prepped ahead)
Tuesday
Marinate chicken (in the evening)
Make mint drizzle
Prep cabbage and fennel for Thursday
Thursday
Make marinara sauce for Sunday's lasagne
Here's where you can find all previous dinner planners.