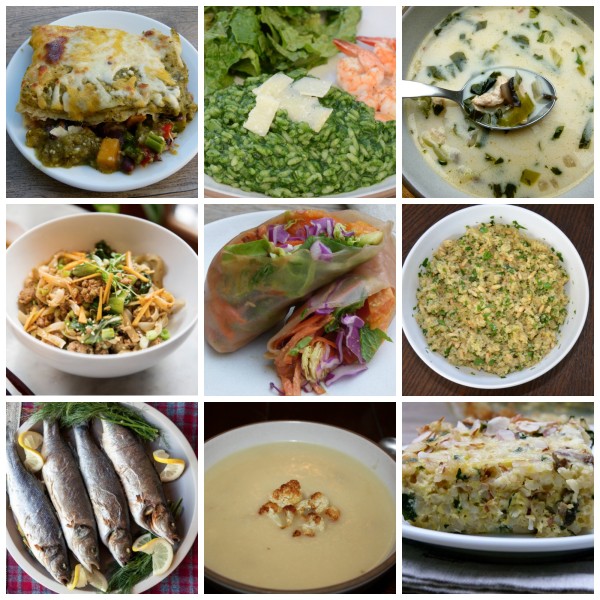 My husband and daughter just returned from visiting colleges in the Northeast and the Midwest and they have reported it is freezing cold over there!  The weather here has been rainy and cool, so I've included a couple of soups and warming recipes to keep everyone cozy until spring decides to show up.
Speaking of freezing, there are many foods that freeze beautifully.  Consider making a double batch of something that you can eat today and freeze for a busy day.  Sometimes if I am wondering if something can survive the freezer, I'll ask myself if I can find it in the freezer section at the market. Foods that generally freeze well:
cooked grains
cooked legumes (beans and lentils)
cooked sauces like tomatillo and marinara
stocks, soups (some dairy-based soups and soups with fresh leafy greens don't freeze as well), stews and chilis (check out this post for how to properly freeze liquids)
marinated chicken and beef
casseroles
cheese
cookie dough, baked goods, breads, pie dough
Happy cooking!
Meatless Monday:  Roasted vegetable and black bean enchiladas with tomatillo salsa
Tuesday:  Spinach risotto and sauteed shrimp
Wednesday:  Thai coconut chicken soup, veggie summer rolls
Thursday:  Melissa Clark's Spicy Ginger Pork Noodles with Bok Choy (I'm going to sub dark meat turkey and add some mushrooms)
Friday:  Zesty lemon quinoa, whole roasted branzino (so easy, try it!), grilled or steamed whole artichokes (using the dipping sauce in the recipe or just make a balsamic vinaigrette)
Saturday:  Cauliflower soup, hummus and crudités, cheese or dairy-free cheese and baguette
Sunday:  Kale, mushroom and brown rice bake, green salad with Everyday Salad Dressing #1
Here's what you can prep ahead:
Sunday
Roast veggies for enchiladas
Cook black beans for enchiladas, unless using canned
Make tomatillo salsa
Make stock for this week's soups (homemade chicken, vegetable or bone broth)
Prep veggies for summer rolls
Wash kale for rice bake
Make rice and freeze for rice bake (don't forget to defrost the morning of)
Prep cauliflower for soup
Roast garlic for soup
Here are all previous dinner planners.