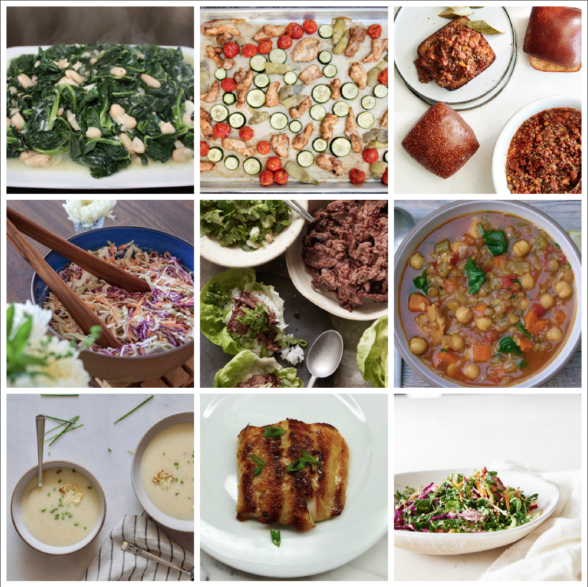 I had a great 2 days in New York! I was able to squeeze in a visit with my parents see one of my sisters and her family, and a couple of my cousins, plus some blogger friends and the highlight of my trip was doing a segment on The Rachael Ray Show.  It was one of the best media experiences I have ever had.  She is running a great operation over there and it was a total thrill to do a segment with her.  I'll let you know when the episode will air!  In the meantime, I need to plan some dinners for next week:
Monday: Braised greens and beans with roasted delicata squash (see this recipe or this recipe for how to roast) or garlic toast
HALLOWEEN: Sheet pan chicken with tomatoes and brown rice
Wednesday: Lentil sloppy joes from my cookbook, coleslaw
Thursday: beef bulgogi lettuce wraps from whatsgabycooking, serve with rice or asian noodle salad
Friday: Harira
Saturday lunch: Cauliflower and roasted garlic soup
Sunday: Miso glazed black cod and winter vegetable slaw with ginger and lime from my cookbook
Here's what you can do ahead if you need:
Sunday
Make chicken or vegetable stock
Wash your greens and herbs
Cook your beans and lentils, if not buying canned/pre-cooked
You can actually cook the collard greens up to the point of chopping and store them in the fridge, just remember to save some of the cooking liquid, if you plan on using it.
Make salad dressings
Monday
Add spices to chicken pieces tonight to save time tomorrow
Defrost artichoke hearts, if frozen
Wednesday
Marinate the beef
You can roast the garlic for the Saturday soup today and keep stored, wrapped tightly, in the fridge
Saturday
Marinate the cod for tomorrow
Here's alink to my previous dinner planners.
If you like my recipes, you'll LOVE my new cookbook!