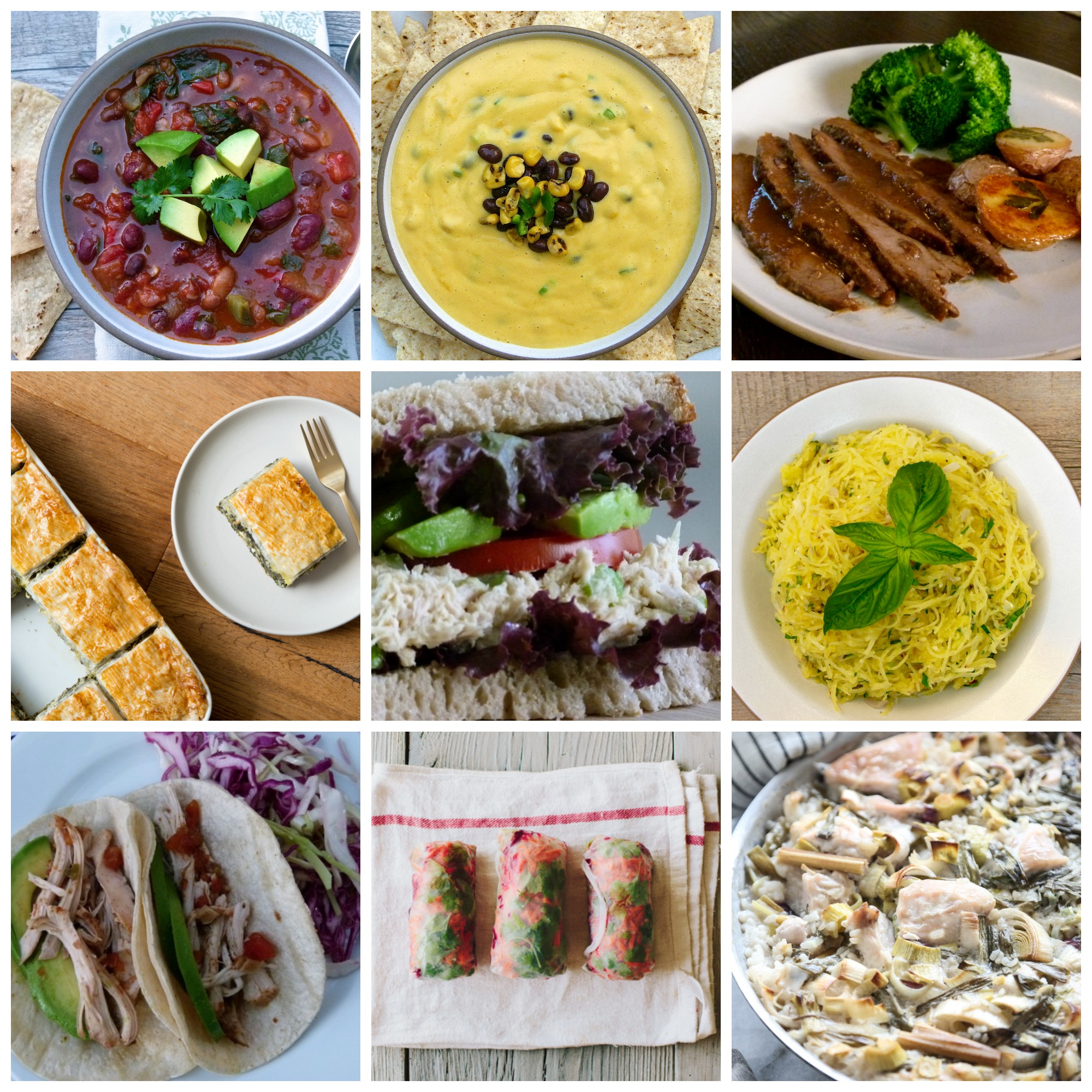 Happy weekend!  I'm in Palm Springs this weekend with my family and my sister-in-law and her family.  We are attending Desert Trip, also known as "OldChella," a three-day concert with "vintage" artists like The Rolling Stones, Bob Dylan, Paul McCartney, Roger Waters and others.  It has been very fun and very civilized watching music with other AARP members (and almost-members.)  Palm Springs is hot as you know what right now, so as soon as I get back home, I am going to make the biggest acai bowl ever!!
Monday: Chili cheese fries: baked fries, vegetarian chili, vegan cheese sauce
Tuesday:(my sister-in-law is cooking this meal!) Onion-braised beef brisket with potatoes and roasted carrots, green salad with persimmons and pecans
Wednesday: Break the Fast: chicken and matzo ball soup, spanakopita, noodle kugel, frittata, fish platter, tuna salad, salads, fruit, sweets
Thursday: Spaghetti squash with pesto, sautéed garlic shrimp (image is the herbed spaghetti squash with pecorino recipe)
Friday: Slow cooker chicken tacos (I will turn mine into a salad with salsa, avocado, and plantain chips), sprouted corn tortillas and black beans
Saturday lunch: Spicy lentil summer rolls from Sprouted Kitchen
Sunday: Tom Kai Ga rice casserole from Feed Me Phoebe
Here's what you can do ahead if you want:
Sunday
Soak and cook beans for the chili and make extra for Friday's taco salad
Make the veggie chili
Make the vegan cheese sauce
Prep swiss chard for frittata
Monday
Make the brisket and refrigerate
Make matzoh balls (my mother-in-law will make them for me!)
Assemble spanakopita
Make tuna salad
Make pesto
Make spice mixture for chicken
Tuesday
Cook Swiss chard for frittata
Make lentils for summer rolls
Here's a link to all my dinner planners.