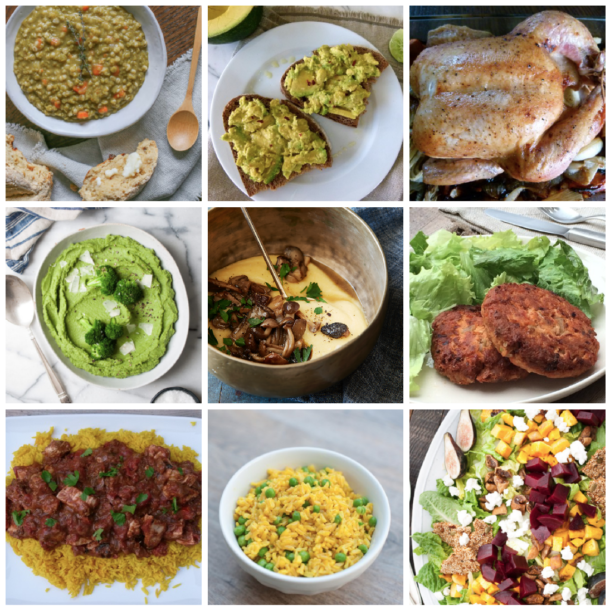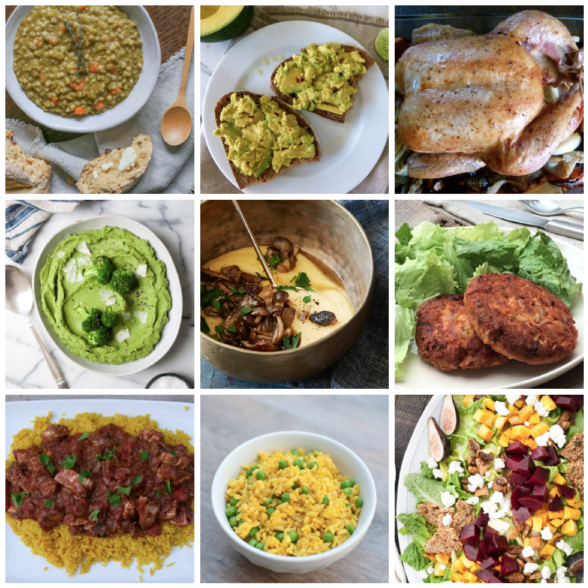 Happy weekend!  I picked a lot of easy recipes this week since I am working more than usual up until Thanksgiving.  I made the split pea soup the other night (easiest soup ever) and my husband requested it again this week.  No problem, dear!
Here's your dinner planner for this week:
Meatless Monday: Split pea and barley soup, avocado toast
Tuesday: Whole roasted chicken with carrots and potatoes, broccoli puree
Wednesday: Soft polenta with mushroom ragout, and garlicky kale, both from my cookbook
Thursday: Wild salmon patties, green salad with avocado and everyday salad dressing #2
Friday: Chicken tikka masala, basmati rice with peas, sautéed spinach
Saturday lunch: Fall salad with fig-balsamic vinaigrette and quinoa brittle (today is a good day to test out a new Thanksgiving recipe!)
Sunday: Miso soup and veggie sushi rolls with roasted sweet potato, avocado and a spicy sriracha aioli
Here's what you can do ahead if you need:
Sunday
Make chicken or vegetable stock, if using
Wash all your greens and herbs
Make salad dressings
Salt/dry brine the whole chicken for roasting on Tuesday
Make quinoa brittle, store in an airtight container
Monday
If you have time and more than one oven (or a toaster oven), you can make the entire broccoli puree and store it in the refrigerator, covered, until tomorrow. While you're roasting the chicken, just reheat, covered, in a 350 degree oven for about 45 minutes.
Wednesday
You can prepare the tuna patties up to the point of refrigeration and keep them covered in the fridge until tomorrow night, this can also be done on Thursday morning.
Make dashi (miso soup broth)
Friday
Marinate the chicken in yogurt sauce until dinner time
Soak your rice, if desired
You can prep the beets and squash for your salad tomorrow if you want to save time
Roast sweet potato for tomorrow
Here's a link to my previous dinner planners.
If you like my recipes, you'll LOVE my new cookbook!  If you have cooked from my book and you are enjoying it, it would mean so much to me if you would write a review on amazon.  🙂  Thank you!