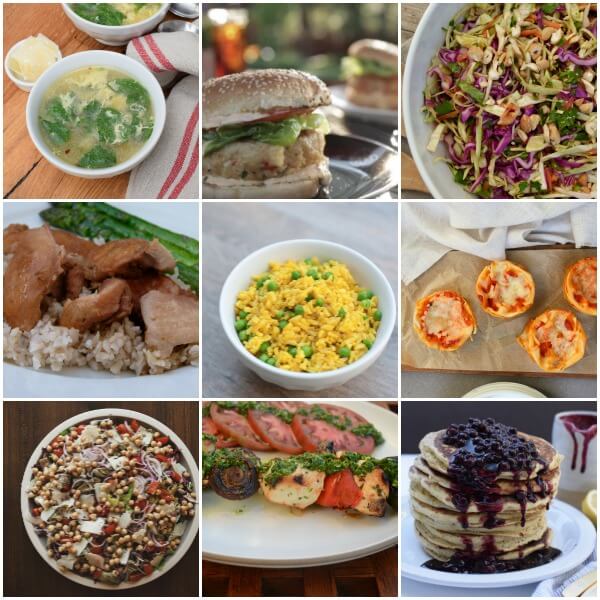 I just started a new menu in my cooking classes this past week!  We're doing a breakfast/brunch menu and it was absolutely delish.  I often post images from my classes on my Instagram stories, although sometimes my students eat everything before I have the chance!  This week is another busy week of teaching, working on an online course I am developing for Clean Eating Magazine, and trying to get the word out about pre-orders for my book (see below!)
Here's your dinner planner for this week:
Monday: Stratiatella soup, pizza quesadillas
Tuesday: Guy Fieri's tuna burgers, Asian slaw
Wednesday: Chicken adobo, turmeric basmati rice with peas, roasted broccoli
Thursday: Lasagne cupcakes (I am going to sauté some mushrooms and kale to add to the filling), Italian chopped salad
Friday: Chicken kabobs with chimichurri, roasted potatoes and red onions (400 degrees with ghee or olive oil about 30 minutes or until golden brown- make extra for Saturday lunch)
Saturday lunch: Scramble with eggs, leftover potatoes and onions and whatever else is in the fridge (like greens or mushrooms)
Sunday: Mother's Day!  Here are some great options that would be perfect for breakfast-in-bed to all of those deserving moms!
Yogurt and granola parfait, mixed berry buckle, strawberry scones, lemon ricotta pancakes with fresh blueberry sauce.  Although any mom would be happy to be served anything by their kids on Mother's Day.  Trust me!
Here's what you can do ahead if you need to:
Sunday
Make white beans for soup unless you're using canned.  Here's a link for how to make beans from scratch.
Make bone broth or stock for soup.  Recipes for chicken stock, and bone broth.
Make spicy mayo for tuna burgers
Prep your cabbage and dressing for the Asian slaw
Tuesday
Marinate chicken adobo (or the night before you plan to make it)
Saute veggies for lasagne cupcakes
Prep broccoli (wash, cut)
Wednesday
If you want, lasagne cupcakes can be assembled and refrigerated in the morning or the night before and baked the next day
Make dressing for Italian chopped salad
Make chimichurri sauce
Make chimichurri, but marinate the morning you plan to make it.
Click here for a link to all my previous dinner planners.
My new cookbook "Kitchen Matters" is available for pre-order!  Click here to order from amazon and here to order a signed copy from my local bookstore, Pages!