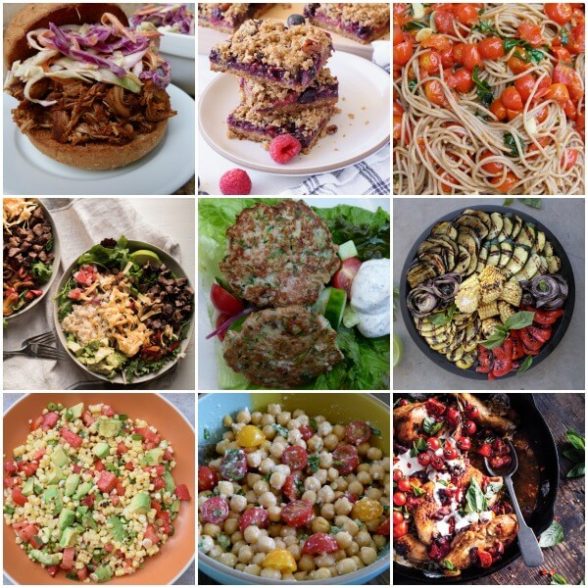 Happy Memorial Day weekend, friends.  I always feel very pensive on Memorial Day more than other holidays.  I am so thankful to live in a free country, one that values women's rights and free speech, among many other things.  But this freedom has come at a price.  And I just want to briefly express my heartfelt gratitude to the men and women who serve our country so bravely and to their families who also make a huge sacrifice.  In my professional space, Memorial Day weekend represents backyard BBQ's and recipes for red, white and blue tarts.  And it is always a good thing to be able to relax and spend more time with the people we love.  But I don't let these days go by without also saying my prayers for those have lost their lives so that we can enjoy our freedom.
Life goes on, and I do hope you are having a lovely weekend.  I have another dinner planner ready to go:
Memorial Day: Slow cooker pulled BBQ chicken sandwiches with cole slaw, corn on the cob, mixed berry oat bars
Tuesday: Gluten-free pasta with 5-minute cherry tomato sauce and shrimp (add the shrimp the tomatoes just as the tomatoes are done and saute until the shrimp are cooked through – about 3-4 minutes), grilled broccolini
Wednesday: skirt steak fajita bowls: steak fajitas with sautéed onions and peppers minus the tortillas, brown rice, guacamole and salsa, and simple cooked black beans
Thursday: Mediterranean turkey and zucchini burgers, grilled veggies with lemon-basil dressing
Friday: slow roasted Copper River Salmon, grilled asparagus, and charred corn salad with tomatoes and avocado
Saturday lunch: Chickpea and deconstructed pesto salad
Sunday: Pizza chicken from Melissa Clark, green salad with everyday salad dressing #2
Here's what you can do ahead if you need to:
Sunday
Make BBQ sauce, unless you buy premade
Make oat bars
shred cabbage for slaw
prep broccolini
Make salad dressing
Tuesday
Make marinade for fajitas
Prep peppers and onions
Prep veggies to grill on Thursday
Cook chickpeas for Saturday unless buying precooked
Wash salad greens
Thursday
Prep asparagus
Here's a link to all my previous dinner planners.
My new cookbook is available for pre-order on amazon ($13!!!) and signed copies are available from my local bookstore, Pages!!!!