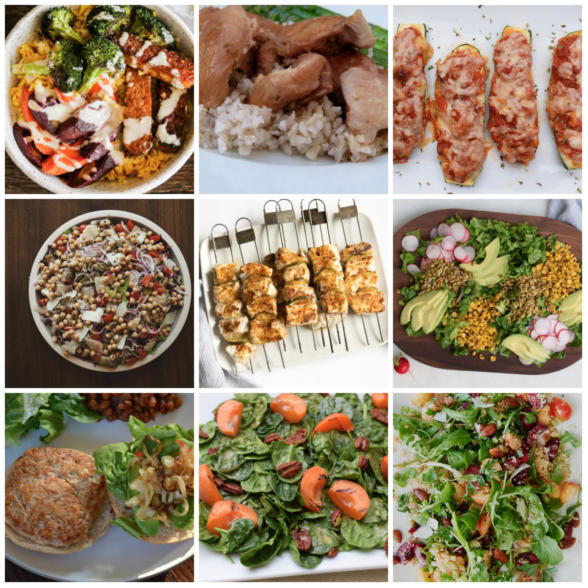 The end of the school year is intense!  So many events, projects, games, the school play, meetings, YIKES!  Staying organized is key right now.  On another note, for my Orange Counnty friends, I'll be doing a free 1-hour workshop in Newport Beach at Roger's Gardens on Sunday, June 3rd at 10:00 am.  RSVP if you can, otherwise come by to say hi!  RG will have my cookbook available for sale and I'll be signing books after the workshop!
Here's your dinner planner for the week.  (I really need to take another image of that chicken adobo LOL!):  Meatless Monday: Turmeric rice bowls
Tuesday: Chicken adobo, cauli-rice/brown rice combo, grilled asparagus
Wednesday: Zucchini pizza boats (add cooked ground turkey  or tempeh to the marinara if you want some more protein), vegetarian chopped antipasto salad
Thursday: Spiced halibut and lime skewers, fiesta salad with salsa vinaigrette
Friday: Tasty turkey burgers with bbq sauce and carmelized onions, spinach salad with grilled apricots and honey-mustard dressing
Saturday Lunch: Quinoa salad with cherries, almonds, celery and pecorino from my cookbook
Sunday: Sausage and pepper sheet pan supper from Smart in the Kitchen
Here's what you can do ahead:
Sunday
Cook rice
Wash/dry greens/lettuce and herbs
Make broccoli/kale for bowls
Make salad dressings and tahini drizzle
Trim tough ends of asparagus and place cut ends in a small amount of water in the fridge
Make spice mixture for fish
Make BBQ sauce, store in the fridge
Monday
Marinate chicken adobo
Tuesday
Defrost and roast artichoke hearts
Wednesday
Slice radish for fiesta salad
Thursday
Make turkey burgers and place on parchment lined plate to prevent sticking
Caramelize onions and store in the fridge, covered with plastic wrap
Cook quinoa, store in the fridge
Pit and quarter cherries, store in the fridge
Toast almonds, store at room temperature
Shave pecorino cheese, store in the fridge
Here's a link to my previous dinner planners.
I have LOVED seeing all your creations of my recipes on Instagram.  If you make any of my recipes, please tag me @pamelasalzman #pamelasalzman so I can check them out!
Click here to learn more about my online cooking classes!
If you like my recipes, you'll LOVE my cookbook!