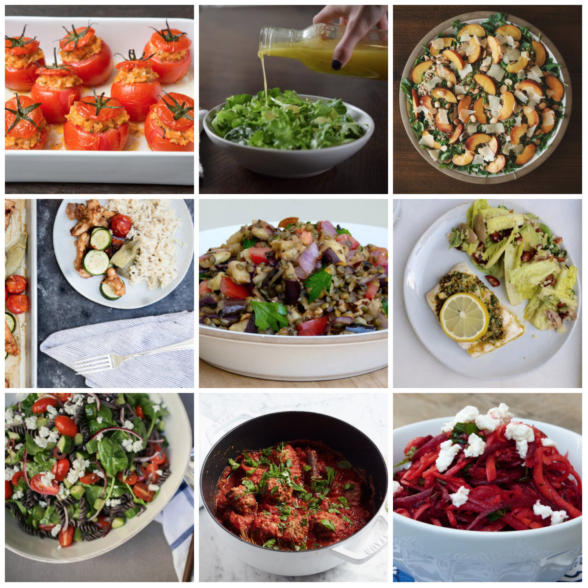 AH, the beginning of summer!  I don't really even have big plans this summer, but I am thrilled to have a more relaxed schedule.  Most of all, no making school lunches! I cook more simply in the summer and I take full advantage of the great produce which has a short window (I see you, tomatoes.)  I still write a dinner planner every weekend no matter what.  It's my routine and I couldn't live without it.  Here's your dinner planner for the week:
Meatless Monday: risotto stuffed tomatoes, green salad with grilled corn and avocado and everyday salad dressing #2 (use any extra dressing on your salad for Friday. If you tend to use dressing during the week for lunches, you can double this dressing so you have enough for Friday)
Tuesday: poached wild salmon from my cookbook, arugula and farro salad with peaches
Wednesday: sheet pan chicken with artichokes, zucchini and cherry tomatoes, brown rice with chopped herbs (I'll probably do dill and parsley)
Thursday: lentil and grilled eggplant salad, grilled asparagus
Friday: roasted fish with chermoula, green salad with cooked quinoa and shredded carrots and red cabbage (shred extra carrots for the beet salad on Sunday) and everyday salad dressing #2
Saturday Lunch: Greek pasta salad
Sunday: Moroccan turkey meatballs from Goop served over couscous, moroccan carrot and beet salad
Here's what you can do ahead if you need to:
Sunday
Make risotto for tomatoes and store in fridge
Make salad dressings
Wash and dry greens and herbs
Cook farro
Cook lentils, if not buying pre-made
Trim tough ends of asparagus and place cut ends in a small amount of water in the fridge
Monday
You can poach the salmon today and refrigerate until tomorrow, especially if you like to eat it cold
Defrost artichoke hearts, if using frozen
Tuesday
Make chermoula and store in the fridge
Friday
Carrots and beets can be shredded and stored in the fridge or the entire salad can be made and dressed (minus the herbs and cheese, if adding) and stored in the fridge.
Here's a link to my previous dinner planners.
I have LOVED seeing all your creations of my recipes on Instagram.  If you make any of my recipes, please tag me @pamelasalzman #pamelasalzman so I can check them out!
Click here to learn more about my online cooking classes!
If you like my recipes, you'll LOVE my cookbook!