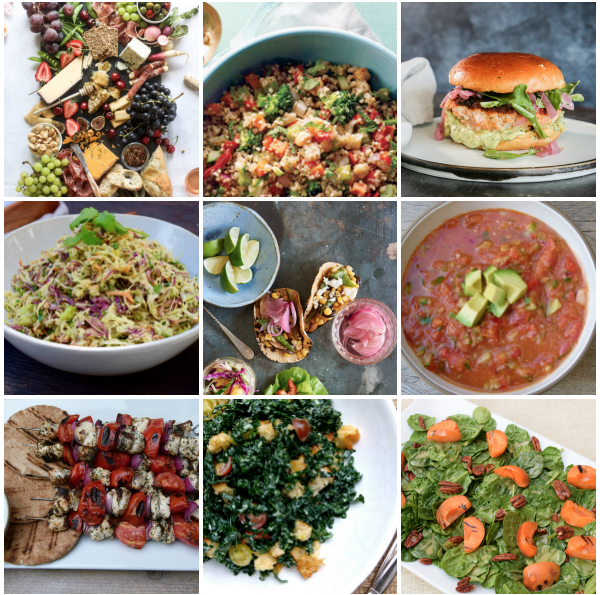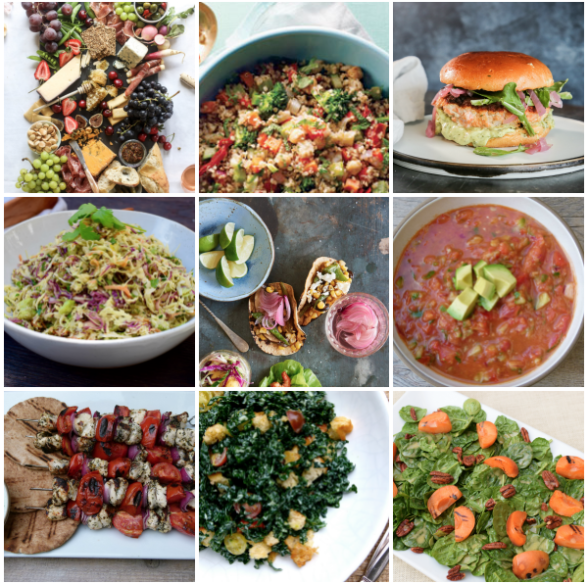 I know many of you started your summer last week or even several weeks ago, but my youngest was still in school up until this past Wednesday.  So we are just easing into summer right now and it feels GOOD!  I have all the kids home for the next week and then they go in different directions at different times.  Sigh.  I'll make the most of it. 🙂
Lest I forget to wish all the dads out there a Happy Father's Day, including my own amazing father and husband.  Thank you to all of you dads who are incredible role models for our children, and who help support raising them to be independent, kind, and meaningful contributors to our world.  I hope you enjoy the day and have the opportunity to spend it with the ones you love.
Here's your dinner planner for the week:
Meatless Monday: Try doing a summer snack/dinner board.  Take your biggest cutting board and arrange some delicious (but easy) bites like cheese (there are great vegan ones out there), sliced tomatoes, pesto, toasted bread, lettuce leaves, avocado, hummus, sliced raw veggies like carrots, cucumbers and sweet bell peppers.  Hit the olive bar at your local market and pick up some roasted red peppers and olives.  Open a bottle of rosé.  Dinner's done.
Tuesday: Cook 1 cup quinoa in 1 3/4 cups water for 15 minutes covered.  Allow to sit for 10 minutes and then transfer it to a serving bowl.  Take the leftovers from last nights snack board and chop them all up.  Stir into cooked quinoa.  Make Everyday Salad Dressing #1 and drizzle over everything and toss to coat.
Wednesday: Salmon burgers, creamy cabbage and avocado slaw (although any of my slaws would be awesome here.)  You can do a regular burger with buns and toppings or make the salmon burgers and eat on top of a salad.
Thursday:  Corn, poblano and mushroom tacos from my cookbook, gazpacho
Friday: souvlaki (use this recipe with chicken, beef or lamb) with tzatziki (or do a tahini sauce for dairy-free), grilled zucchini, pita or rice
Saturday Lunch: Kale salad with creamy lemon dressing, savory muffins with feta
Sunday: GF chicken tenders from Valleybrink Road, spinach salad with honey mustard dressing
Here's what you can do ahead if you need to:
Sunday
Cut up crudites for your board
Make hummus or dip if not buying from the store
Make pesto if not buying from the store
Make all salad dressings
Cook quinoa
Tuesday
Form salmon burgers
Shred cabbage
Roast poblano peppers
Make gazpacho
Thursday
marinate souvlaki meat
Make tzatziki
Wash and slice kale
Here's a link to my previous dinner planners.
I have LOVED seeing all your creations of my recipes on Instagram.  If you make any of my recipes, please tag me @pamelasalzman #pamelasalzman so I can check them out!
Click here to learn more about my online cooking classes!
If you like my recipes, you'll LOVE my cookbook!