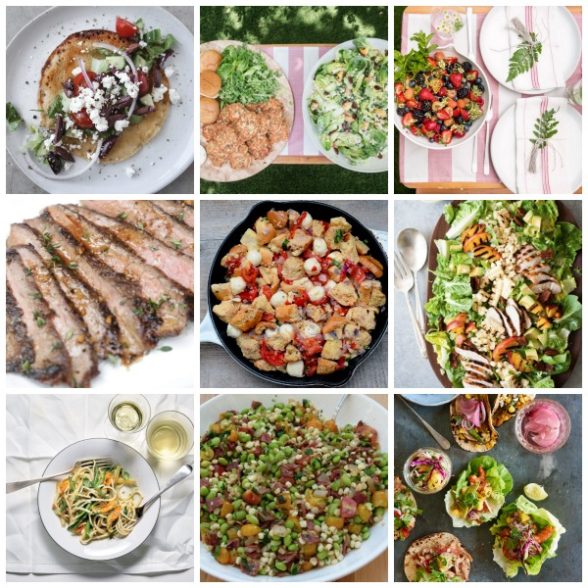 What a week I had!  Thank you to Seattle and Portland for showing me a great time.  I loved visiting both cities, doing TV segments, meeting people at Book Larder and Bob's Red Mill.  I will definitely be back!  In the meantime, I will be keeping it pretty mellow this week to get back on track before I get busy again next weekend.
I hope you have a wonderful weekend and restful July 4th!  Here's your dinner planner for the week:
Monday: Socca with Mediterannean toppings
Tuesday: 4th of July! Check out this post for tons of menu ideas from the blog, or have done several 4th of July menus with Jenni Kayne: 2013, 2014, 2016 .  If you have my new cookbook, I think the following recipes are great options for 4th of July (or all summer long!) entertaining:
Mains:
Wild Halibut Burgers
Balsamic-Herb Steak
Sweet and Smoky Chicken (use pounded breasts and grill them!)
Salads:
Saturday Chopped Salad
Quinoa Salad with Cherries (sub figs if you can't find cherries)
Zucchini Carpacccio
Sides/Veg:
Grilled Eggplant with Pomegranate Molasses
Herbed Mixed Grain Pilaf
Sauteed Zucchini with Shallots
Pasta with Kale, Walnuts, and Ricotta
Dessert:
Mason Jar Strawberry Shortcakes with Whipped Greek Yogurt
Bluberry Crumb Bars
Sweet Potato Chocolate Pudding
Roasted Peach Sundaes with Date-Caramel Sauce
My new book can be purchased on Amazon or you can order signed books from my local bookstore Pages!
Wednesday: Tomato and basil strata with leftover hamburger/hot dog buns (and if you didn't host and have no buns, use bread or make a frittata), green salad (I like a simple arugula salad with lemon, olive oil, and sea salt)
Thursday: Grilled Summer Salad with Chicken and Spicy Cashew Dressing
Friday: Spaghetti with Squash Blossom Butter and Summer Beans from Food and Wine
Saturday lunch: Corn and edamame succotash
Sunday: Taco night! (shredded chicken tacos, ground turkey tacos, or fish tacos), salsa, guacamole, tortillas, cilantro-lime slaw
Do ahead (not including any 4th of July prep):
Sunday
Make socca batter and refrigerate
Make taco seasoning
Tuesday night or Wednesday morning
Make strata and refrigerate overnight before baking
Make spicy cashew dressing and refrigerate
Trim green beans for spaghetti
Friday
Cut corn off cobs for succotash
Prep veggies for slaw
Here's a link to all my previous dinner planners.