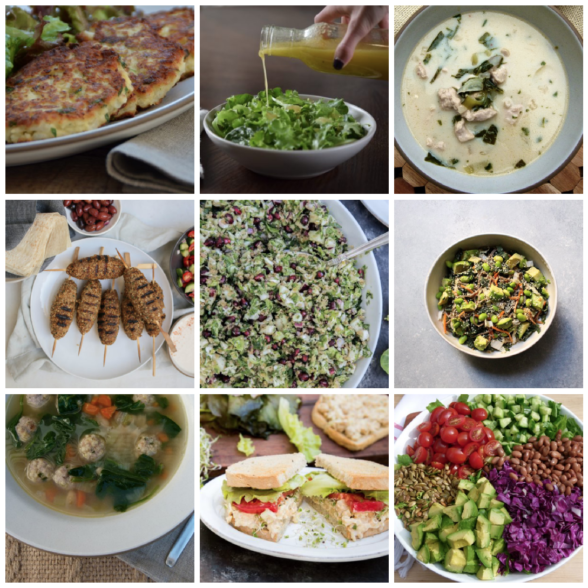 Every year at this time, I spend some time organizing my pantry and freezer.  Whereas many people might be throwing out bags of food, my goal is to use as much of what I have as possible as quickly as possible.  My new year's challenge for myself is to try to use what I have and don't go grocery shopping unless it's really necessary (i.e. when I run completely out of fruits and vegetables – including frozen.)  This forces me to be a little creative, to waste less, to realize that what I have is enough, to get back in the habit of planning my meals around what we have first, rather than what I'm in the mood for. Some really delicious and satisfying meals have come from this challenge, but nothing as satisfying as throwing away empty bags and cartons because I finished off what was in them!
Here's your dinner planner for the week:
Meatless Monday: Cauliflower fritters and green salad with cooked lentils, white beans, shredded carrots, walnuts, avocado and everyday salad dressing #2
Tuesday: Thai coconut chicken soup (we are totally satisfied with a big bowl of soup for dinner, but if my son or my husband needs a little something more, I'll make a salad or some avocado toast.)
Wednesday: Kibbeh kebabs with lavosh, tzatziki sauce and fall tabbouleh
Thursday: Kale and Soba salad with miso ginger almond dressing (I might add some roasted shrimp or tofu) from The Crunchy Radish
Friday: Italian wedding soup
Saturday Lunch: chickpea "tuna salad" served with butter lettuce leaves, sprouts and avocado
Sunday: Mexican millet casserole from my cookbook and Mexican chopped salad
Here's what you can prep ahead if you need to:
Sunday
Wash greens and herbs
Make chicken or vegetable stock
Cook beans, if not using canned
Make salad dressings
Steam cauliflower for fritters
Shred carrots (you can use your food processor shredding disc attachment to make this job easier and quicker! See this video for a how-to)
Make quinoa
Make millet
Make lentils
Tuesday
Kebab meat mixture can be made today and refrigerated until tomorrow night
Make tzatziki sauce
Prep all ingredients for fall tabbouleh (with the exception of the apple) and refrigerate
Thursday
Prep the meatballs for the soup and refrigerate until tomorrow
Here's alink to my previous dinner planners.
If you like my recipes, you'll LOVE my new cookbook!  If you have cooked from my book and you are enjoying it, it would mean so much to me if you would write a review on amazon.  🙂  If you make anything from the website or the book, please tag me on Instagram @pamelasalzman.  I love seeing all your creations! xoxo