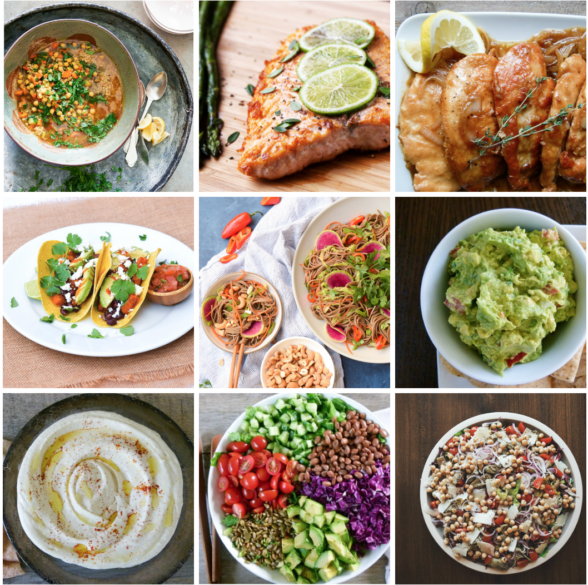 Hello, lovelies!  I had a great week back teaching classes again.  But even better is the quick weekend getaway happening right now in Park City.  My son has a long weekend from school, so my daughters decided to meet up with us here.  Nothing better for me.  I don't even care that it's too cold and I have drank more hot chocolate (really it's cacao-collagen-maca) in the last 24 hours than I usually do in a month.  Yippee!  Here's your dinner planner for the week:
Monday: Middle Eastern Vegetable Soup with Freekeh from my cookbook – this is plenty for my family but if you need something more, you could serve it with avocado toast or a green salad
Tuesday: Ginger Salmon from Kale and Chocolate served with roasted sweet potatoes and carrots
Wednesday:  Chicken Piccata (i have no image, so I'm repeating the lemon-thyme chicken image), served with polenta and sauteed spinach. 
Thursday: Sweet Potato and Black Bean Tacos and green salad with radish, avocado and Homemade Ranch Dressing
Friday:  Asian Noodle Salad with seared tofu and stir-fried bok choy from my cookbook
Saturday lunch: egg salad with grain-free seed crackers.
Superbowl Sunday:  Here are some of my favorite options:
      

Turkey and Black Bean Chili

,

Vegetable Chili

, slow cooker sweet potato and black bean chili, 

Cornbread

,

Baked Potatoes

and topping bar,

Mexican Chopped Salad

      

Meatball

subs, homemade pizzas,

Vegetarian Antipasto Chopped Salad

,

Mini Lasagne Cupcakes

, Italian 7-layer dip

       Taco bar (

Ground Beef

 , barbacoa, slow cooker chicken, and

Fish

),

Refried beans

,

Cilantro-Lime Slaw

,

Arroz Verde
I generally make Guacamole and Baked Tortilla Chips,  plus jicama cut into thin "chips," "Vegan Queso" with chips and baked sweet potato rounds, crudités with Hummus.  
I have also done sliders/mini burgers, Mini Chicken Tostadas, Roasted Baby Potatoes with Broccoli and Cheese, spinach and artichoke dip
Here's what you can do ahead if it helps you:
Sunday: 
Make all sauces, marinades and dressings
Make all stocks/broths.  Freeze anything that won't get used within 4 days.
Wash salad greens
Cook dried beans unless using canned.
Make rice, if using
Saturday: 
Make vegan queso
Make hummus
Prep any veggies (i.e. chop veggies for chopped salad)
Prep any ingredients or recipes for the taco bar
Make any of the chilis 
Here's a linkto my previous dinner planners.
I have LOVED seeing all your creations of my recipes on Instagram.  If you make any of my recipes, please tag me @pamelasalzman #pamelasalzman so I can check them out!
Click here to learn more about my online cooking classes!
If you like my recipes, you'll LOVE my cookbook!