It has been so fantastic having my girls home from college, but they are going back this weekend.  Sad face.  I am already counting the days until spring break.  But life goes on, and so do work and school.
I wanted to mention that I am having some problems with my website loading.  I won't be able to connect with my web programmer until Tuesday, so we'll all have to hang in there a few more days.  Keep trying to load the page and it comes up eventually.  I apologize for the inconvenience.  I know it's annoying to have to wait for a website to load. In the meantime, there are lots of delicious recipes you can make this week.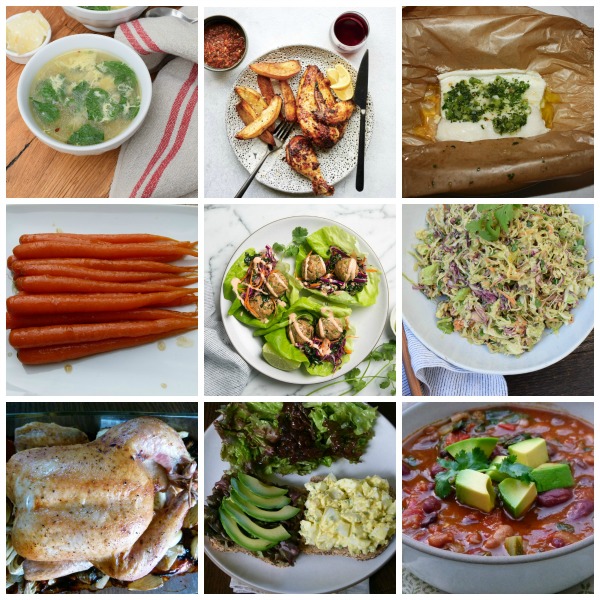 Here is your dinner planner:
Monday: Stracciatella soup, whole wheat naan with whole roasted heads of garlic (instructions for roasting the heads of garlic here. After squeezing it out of the skins spread onto toasted naan.)
Tuesday: Piri Piri chicken and roasted potatoes from Food and Wine, sautéed spinach
Wednesday: Halibut in parchment paper with cilantro and ginger, jasmine rice, ginger-glazed carrots
Thursday: Asian turkey meatballs, creamy cabbage slaw
Friday: Whole roasted chicken, kale salad with roasted vegetables and currants (roasted parsnips, baby beets, carrots, fennel, shallots) I made this last week and posted it on Instagram.  I took my classic kale salad and roasted the veggies in one layer with coconut oil, salt and pepper at 400 until tender, about 20 minutes, depending on the size.
Saturday lunch: Egg salad sandwiches or in avocado halves
Sunday: Veggie chili with toppings bar (avocado, sour cream, cheddar, scallions, tortilla chips)
Here's what you can do ahead if you need to:
Sunday
Make stock for soup (chicken stock recipe here, chicken bone broth recipe here)
Make beans for soup if making from scratch
Make the marinade for the piri piri chicken and refrigerate (I will put chicken in marinade 30 minutes before roasting, per recipe's instructions)
Wednesday
morning or anytime day of: Make parchment packets and refrigerate until ready to bake
Prep carrots for ginger glazed carrots
Shape asian turkey meatballs and refrigerate until ready to bake
Shred cabbage for slaw
Salt chicken as soon as you get home from the market
Prep kale for kale salad and any veggies you are roasting
Make salad dressing
Hard boil eggs for egg salad
Here's a link to all my previous dinner planners.