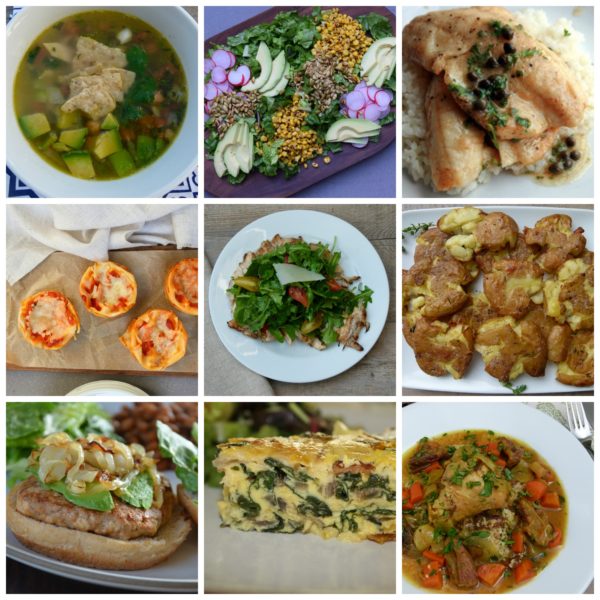 Happy Weekend, friends!  This week, I started a new menu in my classes and it's so fantastic!  I know most of you don't live close to me and can't take my classes, but you can always check to see what I am teaching by clicking on this link. I hope to post some of these recipes soon.  After seeing my posts of the finished dishes on my Instagram feed, many people will ask me if the recipes are available anywhere and unfortunately I always wait until I have finished teaching every class over the month before I post the recipe online.  Stay tuned!  Today I'm making a gigantic batch of vegan queso to bring to a Super Bowl party tomorrow and I am doing a little prep for a TV segment I am taping with KABC's Lori Corbin on Monday.  I'll let you know when it airs!
Have a great week!  Here's your dinner planner for the week:
Monday: If you have Super Bowl leftovers like tacos, enchiladas, any casserole or baked pasta dish, just add enough chicken or vegetable stock to make a soup.  It works with everything and it's like an instant meal.  Leave me a question in the comment section if you're not sure.  You can also use leftover salsa in this soup or as a dressing for this Fiesta Salad
Tuesday: Dover sole piccata, cauliflower rice, sautéed spinach; for the sole piccata, season the fish fillets with salt and pepper and dredge them lightly in the flour of choice (all-purpose, multi-purpose GF flour, or coconut flour, for example); saute in ghee or olive oil and butter until lightly golden on both sides; remove from skillet and add 1/4 cup white wine, scraping the skillet and simmer for a minute.  Add 1/4 cup of lemon juice and a little butter (2 T.) and some capers.  Stir until incorporated and taste.  Does it need more salt?  More lemon juice?  Pour on top of the fish and garnish with chopped fresh parsley if you have it.
Wednesday: mini lasagne cupcakes, big green salad with chickpeas, red cabbage, radishes, grated carrot, and Everyday Salad Dressing #2
Thursday: chicken paillard with pesto (kale pesto or basil-parsley pesto), smashed potatoes, roasted cabbage
Friday: tasty turkey burgers with sautéed onions, avocado, lettuce, broccoli crunch salad
Saturday: Swiss chard frittata (or use whatever needs to get used up in the fridge — whatever you add to the eggs needs to be cooked, so leftover sautéed onions or potatoes are great or sauté any bits of fresh veggies in the crisper)
Sunday: Moroccan chicken with dates, plain couscous or quinoa or here's a great recipe for couscous with dried apricots, simple roasted carrots (see this recipe and eliminate the yogurt) or just throw a bunch more carrots into the stew
Here's what you can do ahead if you need to:
Sunday
Make stock in case you want to do a soup on Monday with leftovers.
Pulse cauliflower for cauli-rice
Make marinara sauce for lasagne cupcakes or use store-bought
Make salad dressing
Wash greens for salad
Make pesto
Thursday
Make the turkey patties, cover well and refrigerate
Saute onions to be reheated for burgers
Wash, dry and cut up broccoli
Saturday
Prep carrots (wash, dry, cut)
Here's a link to all my previous dinner planners.