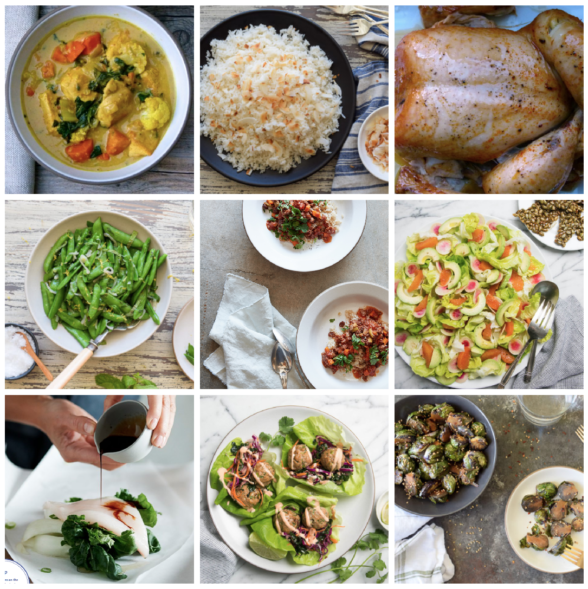 I arrived in NYC for the 40th annual IACP conference and things are off to a great start!  I have already snuck off for a few great meals (Okonomi and Loring Place) and connected with some food friends.  I haven't forgotten about planning my dinners for next week though:
Meatless Monday: Vegetable Curry (this recipe without the chicken and more veggies), coconut rice
Tuesday: Slow cooker whole chicken, minted sugar snap peas
Wednesday: Picadillo from my cookbook with brown rice or cauli-rice, sautéed beet greens or kale
Thursday: Spring salad with oranges, radish, avocado and pumpkin seed brittle (this could be a full meal if you wanted to add some cooked quinoa and/or feta cheese to the salad), naan pizzas with spinach sauteed in garlic and red pepper flakes and topped with kite hill ricotta cheese
Friday: Asian Steamed Halibut with scallions and bok choy from GOOP, green salad with shredded carrots and miso dressing
Saturday Lunch: Cranberry bean soup
Sunday: Baked asian turkey meatballs and sesame-ginger brussels spouts
Here's what you can do ahead if you need to:
Sunday
Wash/dry greens and herbs
Toast coconut flakes, store in airtight container at room temperature
Make chicken or vegetable stock (you can make some stock by re-using the carcass from Tuesday's slow cooker chicken, see this post on how to make stock in the slow cooker after you roast a chicken in it)
Make salad dressings
Wash and trim snap peas, store in a bag in the fridge
Make the pumpkin seed brittle, store in airtight container at room temperature
Friday
Soak the cranberry beans
Here's a link to my previous dinner planners.
I have LOVED seeing all your creations of my recipes on Instagram.  If you make any of my recipes, please tag me @pamelasalzman #pamelasalzman so I can check them out!
If you like my recipes, you'll LOVE my new cookbook!