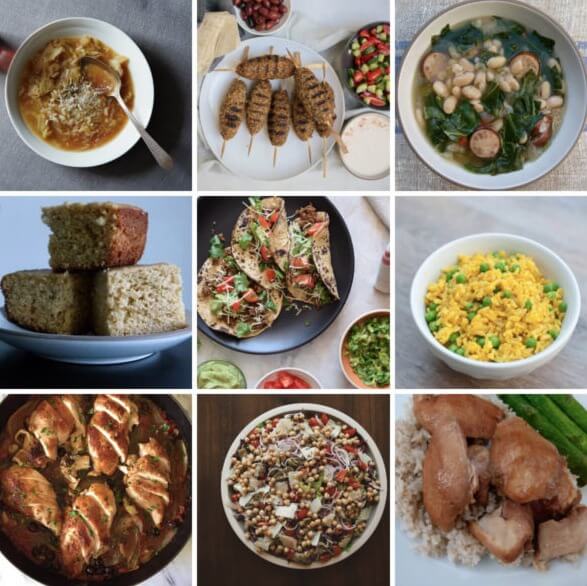 I just wanted to say thank you to everyone who has given me such great feedback about my Insta Stories. One day close to the first of the year, I did a bunch of Insta Stories at the supermarket about foods I like and why, and tips for navigating the grocery store.  I had no idea how much this would resonate with my Instagram followers and I couldn't be happier.  The downside to Insta Stories is that they're only up for 24 hours.  You access them by clicking on my profile picture (which is a circle) in Instagram.  At the moment, I'm in Palm Springs, so no grocery shopping this weekend!  But I'll make sure to do a few every time I'm at the market.
Here's your dinner planner for the week:
Monday: Marcella Hazan's rice and smothered cabbage soup; if everyone seems extra hungry, I'll make some avocado and radish toasts or a quick naan pizza (take naan bread from the supermarket, add toppings and bake until heated through/cheese melted, if using)
Tuesday: Kibbeh kebabs, pita or lettuce cups, tahini sauce, Shirazi salad (tomatoes and cucumbers are definitely not in season, so feel free to do a cabbage slaw or classic green salad instead)
Wednesday: Slow cooker white bean soup with sausage (omit for vegetarian) and collard greens, corn bread
Thursday: Chicken adobo, turmeric rice with peas, roasted cauliflower
Friday: Turkey tacos, (make extra for soup the next day) mexican black beans, simple green salad with radishes, red cabbage, cumin vinaigrette (use the vinaigrette from this salad)
Saturday lunch: taco soup (take leftover taco meat, chopped corn tortillas and salsa and add chicken or vegetable stock, warm through until soup is hot and tortillas are soft)
Sunday: Baked chicken with tomatoes, olives and capers, vegetarian chopped antipasto salad
Here's what you can do ahead if you need to:
Sunday
Prep (wash, dry, cut) cabbage for soup (You can actually prepare the slow simmered cabbage the day before)
Make stock for all soups.  Freeze for Saturday's soup.
Make kibbeh mixture and refrigerate.
Wash collards
Make taco seasoning mixture
Make salad dressings
Wednesday
Marinate chicken
Prep cauliflower florets
Wash salad greens
Soak and cook black beans.  Reserve cooking liquid and refrigerate for making Mexican beans the next day.
Soak and cook chickpeas for Sunday salad
Here is a link to all my previous dinner planners.