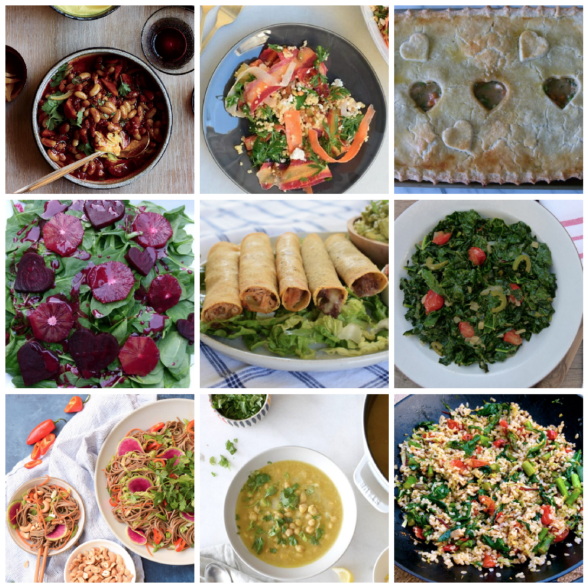 I snuck away to Park City for two days for some fresh air and a change of scenery!  I am looking forward to skiing since I didn't get much in when we were here in December.  I do no take a break from the dinner planner though, especially with a few holidays happening!  Here's your dinner planner for the week:
Meatless Monday: White bean harissa stew from Food and Wine (I used 1 TBS. of harissa total and it was plenty spicy); a salad or avocado toast is a nice accompaniment
Tuesday: Wild salmon in parchment from my cookbook and rainbow carrot salad with millet, feta and lemon-yogurt dressing
Valentine's Day:  I always make Chicken pot pie on Valentine's Day, but some other dinner and dessert options could be a salad with roasted beets cut into hearts, a valentines day snack board, pitaya pancakes for breakfast, flourless chocolate cakes with raspberry sauce or chocolate bundt cake with chocolate ganache
Thursday – Taquitos, homemade guacamole, Mexican sauteed greens
Friday – CHINESE NEW YEAR – See this older post for lots of ideas and information on the significance of food for Chinese New Year. These are some yummy chinese-inspired recipes you could make: Asian turkey lettuce cups, stir-fried ginger beef with shiitake mushrooms, stir fired grass-fed beef with broccoli, sesame spinach salad, green salad with miso-ginger dressing, stir-fried soba noodles with tofu, vegetable fried rice, stir-fried baby bok choy or the Asian grain bowl from my cookbook, Asian slaw, Asian noodle salad or black rice salad with edamame
Saturday lunch – Lemony chickpea soup (this is such a quick and easy soup)
Sunday – Italian fried rice or just empty out the fridge and follow the recipe as a guideline. You can also use riced cauliflower in place of the regular rice.  I might add a fried egg to mine and peas for my husband.
Here's what you can do ahead if you need to:
Sunday
Wash/dry greens and herbs
Make chicken or vegetable stock
Make salad dressings and turmeric yogurt
Soak beans
White bean stew can be made ahead and refrigerated until dinnertime tomorrow night
Cook millet
Toast seeds, store at room temperature
Make pastry for chicken pot pie
Monday
If you didn't make the stew on Sunday, make sure you start it early in the day so it's ready for dinner.
Tuesday
Cook chicken for pot pie
Wednesday
Cook chicken for taquitos, if using
Make rice
Make chickpeas unless buying canned
Here's a link to my previous dinner planners.
I have LOVED seeing all your creations of my recipes on Instagram.  If you make any of my recipes, please tag me @pamelasalzman #pamelasalzman so I can check them out!
If you like my recipes, you'll LOVE my new cookbook!