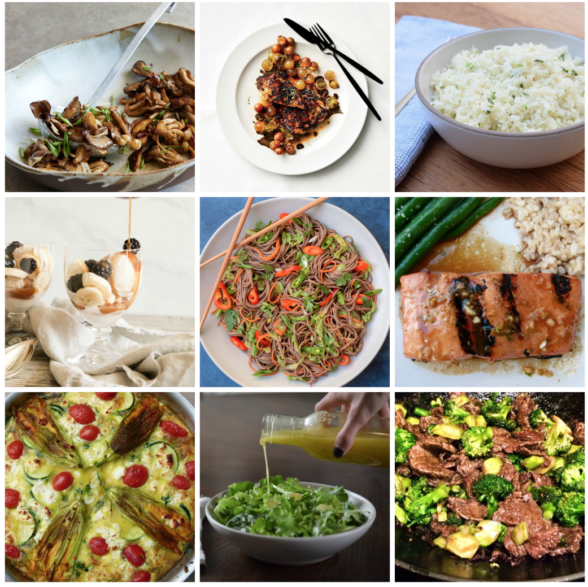 I've had the best week on Long Island with my family, as usual.  Even though I love LA, East Coast summers are my favorite.  I'm heading back home and back to reality.  It's time for me to get cracking on lots of work that I have allowed to pile up.  I'm not mad about it.  It means I allowed myself to have a vacation :).  Here's your dinner planner for this week:
Meatless Monday: Veggie bowl with cauli-rice, vegetables, and Miso Glazed Japanese Mushrooms from my book
Tuesday: Food and Wine's Grilled Chicken with Grapes
Wednesday: Asian Noodle Salad with Tuesday's leftover chicken
Thursday: Summer Garden Frittata w/ mixed greens dressed with my Everyday Salad Dressing
Friday: Steak served on a bed of your favorite mixed greens, use this method, with yesterday's salad dressing (technically this image is my beef with broccoli, but I didn't have an image of what I had in mind here 😉
Saturday Lunch: Stuffed pita bread filled with your favorite ingredients (i.e.hummus, chickpeas, lettuce, onions, sprouts, tomatoes)
Sunday: Fresh grilled fish, use this grill method, served with a side of grilled veggies plus a Fruit Sundae with Coconut Dulce De Leche if you're craving something sweet.
Here's what you can do ahead if you need to:
Sunday
Make all dressings
Make all marinades
Wash all vegetables and greens
Wednesday
Cut vegetables for Frittata
Make Coconut Dulce De Leche
Here's a link to my previous dinner planners.
I have LOVED seeing all your creations of my recipes on Instagram.  If you make any of my recipes, please tag me @pamelasalzman #pamelasalzman so I can check them out!
Click here to learn more about my online cooking classes!
If you like my recipes, you'll LOVE my cookbook!