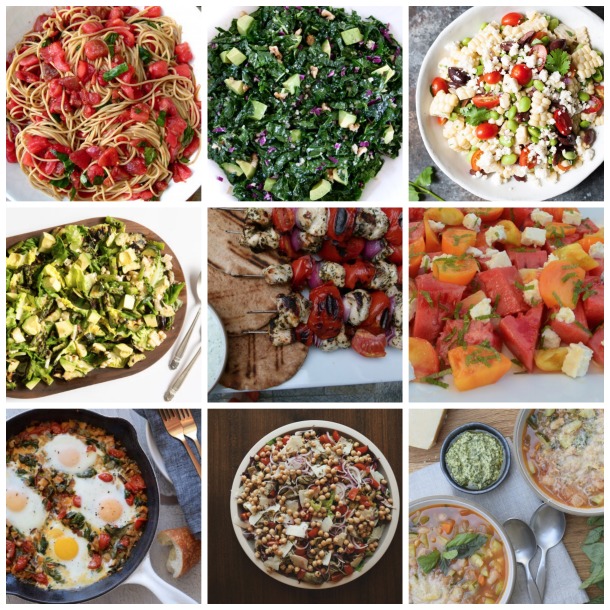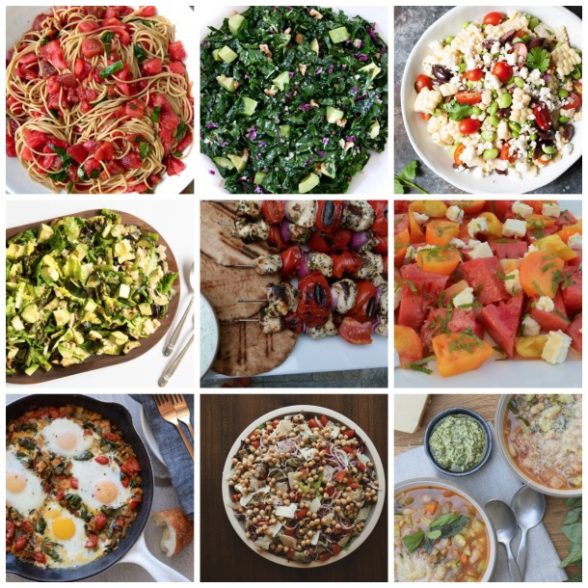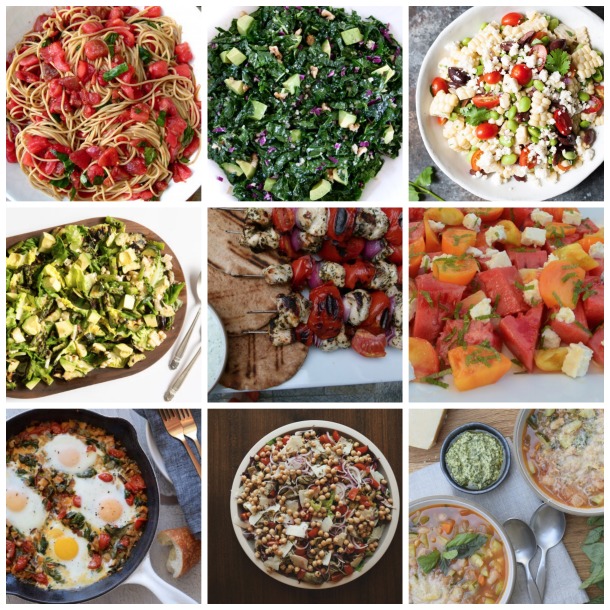 I had such an incredible week with two stops in Dallas and Houston (got out just before the storm hit!)  I love meeting new people, especially ones with whom I have interacted on social media or here on the blog.   Then I was lucky enough to have two beautiful book parties hosted for me back in LA and I have a book signing Sunday 8/27 at the Barnes & Noble in Calabasas from 2:00 to 3:30!  If you have bought my book and you're enjoying it, may I ask a huge favor?  Would you please write a review on amazon?  The more reviews I have, the more the amazon algorithm recommends my book to potential customers.  Thank you!
Also, check out Friday's post about the online cooking course on Batch Cooking that I developed for Clean Eating Magazine.  Sign-ups are now and the 7-week course begins on September 11!
Here's your dinner planner for the week:
Meatless Monday: Pasta alla checca with Gluten-Free pasta and raw kale salad with red peppers, red cabbage, quinoa (or choose a different protein like feta or walnuts)and hemp seeds
Tuesday: South American roast chicken with green sauce from my cookbook and solterito
Wednesday: Chopped grilled vegetable salad with slow roasted salmon
Thursday: Chicken souvlaki served with pita and tzatziki sauce and watermelon and tomato salad with feta and mint
Friday: Green shakshuka with crusty bread and green salad
Saturday lunch: Chopped antipasto salad
Sunday: Late summer minestrone with pesto
Here's what you can do ahead if you need:
Sunday
wash your herbs and greens for the week and store in the fridge
cook the quinoa for the kale salad and refrigerate
shuck corn
trim asparagus and place in a jar with a small amount of water and refrigerate
make pesto and refrigerate for sunday
Make stock for soup and freeze
Monday
marinate chicken
make the green sauce
Wednesday
make tzatziki sauce
Thursday
marinate chicken in the morning
Here's a link to my previous dinner planners.