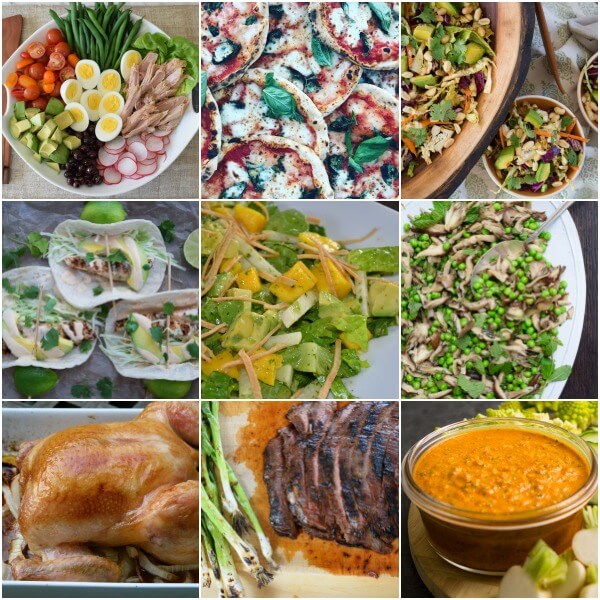 Happy Easter!  I hope you are able to enjoy a relaxing day with your loved ones.  One of my fondest Easter memories is hunting for plastic eggs in the backyard and then continuing to find them months later in the summertime!  My sisters and I also used to save a few jelly beans for the next year by tucking them under the fake grass in our baskets and sure enough, they were in perfect condition one year later.  Go figure!
Here's your dinner planner this week:
Monday: Spring Nicoise Salad — use up some of your leftover hard boiled eggs from Easter!  I would look at my California Nicoise recipe here and sub blanched asparagus for the green beans and cooked golden beets for the tomatoes. I might use canned salmon for the tuna, but you can omit the fish to make this meatless for Meatless Monday.  White beans like cannellini or great northern would be a great sub.  Use the white wine vinaigrette in the Nicoise recipe or the mint dressing from this recipe.  Here is a previous post about what you can do with those leftover hard boiled eggs.
Tuesday: breaking Passover with PIZZA at a preview night at Pizzana, my friend Candace Nelson's new pizza restaurant in Brentwood.  I think it's open to the public in a few short weeks!
Wednesday: Thai Crunch Salad, I'm going to either roast or poach chicken to serve with
Thursday:  Fish tacos, avocado, jicama and mango salad
Friday: Pea and mushroom sauté with mint, whole roasted chicken
Saturday: Frittata using leftovers of the pea and mushroom saute, I might add goat cheese (8 eggs for a 10 inch skillet or pie plate)
Sunday: Grilled skirt steak, roasted cauliflower, sautéed greens, Amanda Fredrickson's romesco sauce.  (I might make a little rice to go with it all.)
Here's what you can do ahead if you need to:
Sunday
Nicoise dressing
Blanch asparagus or green beans
Roast beets
Make romesco sauce
Make Thai Crunch dressing
Monday or Wednesday
Slice cabbage for Thai Crunch salad
Make spice rub for fish tacos and white sauce if using
Peel and dice jicama
Peel and dice mango
Make dressing for jicama mango salad
Wash, de-stem, and slice the mushrooms
Friday
Salt chicken when you get home from the market
Make marinade for steak
Marinade steak the morning you plan to cook it
Here's a link to all my previous dinner planners.