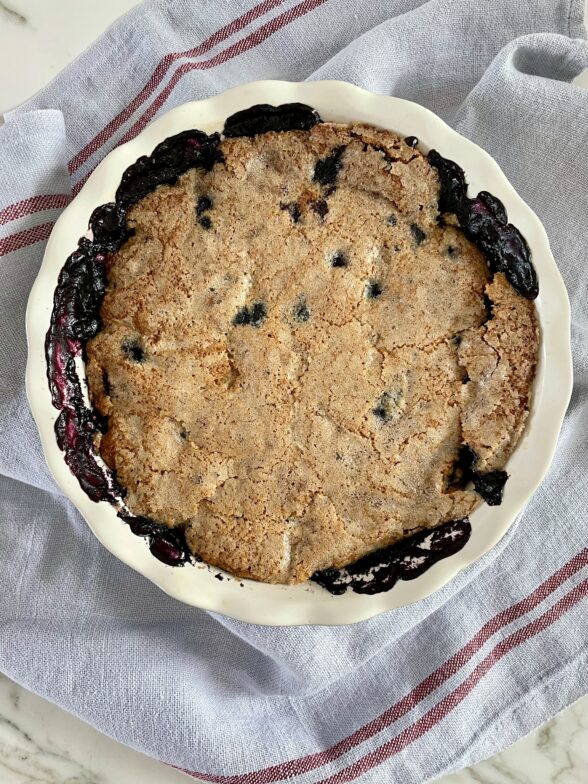 This crackle top blueberry cobbler was my go-to summer dessert in 2020 and because I didn't entertain as much last year (ahem #quarantine), it is my go-to summer dessert in 2021!  Fruit cobblers and crisps are nothing new, but when you serve them, everyone's face lights up.  Dare I say they will always be in style?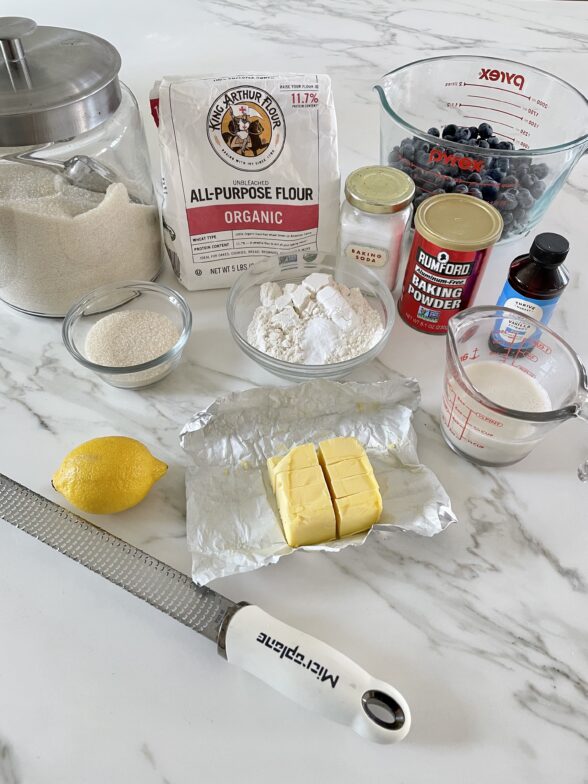 I adapted this recipe from the King Arthur website (this is NOT sponsored by the way) and happen to be using King Arthur organic all-purpose flour because Hubs ordered a case of it when he was making daily sourdough bread.  He settled on this one as his favorite and I will admit, I like it quite a lot, too.  He feeds his starter regularly, but isn't making bread very often.  Anyone need some flour??  😉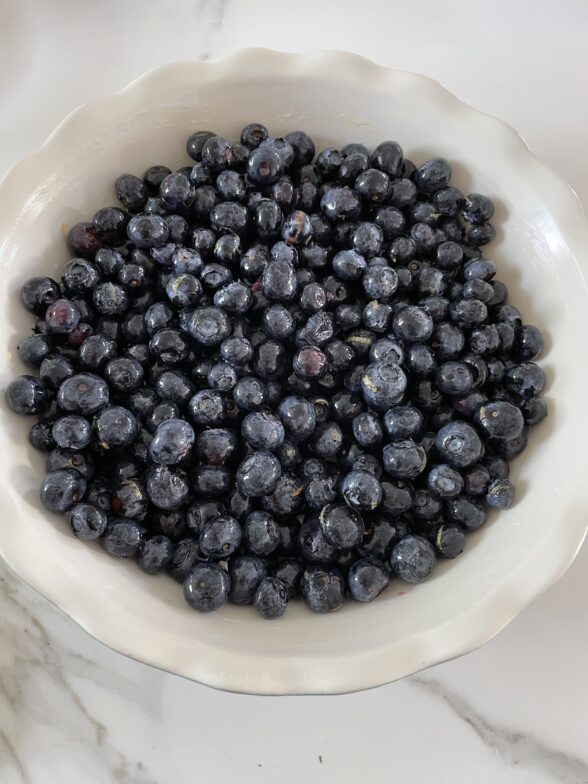 I thought the idea of a crackle top cobbler sounded interesting and a little different and it is!  But not too different.  The top of the batter gets a little sugar and hot water which melts the sugar and then creates a bit of a crust when baked.  Sounds weird, I know.  But just follow the directions – super easy!  You can do this with any summer fruit, but blueberries are hard to beat.  You know how I feel about fruit desserts – don't overwhelm them with sugar.  You want it to taste like blueberries, not just sugar!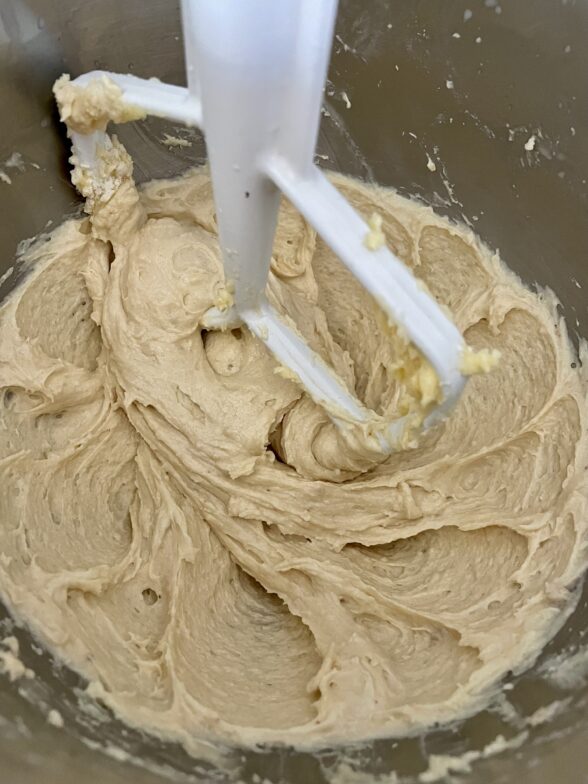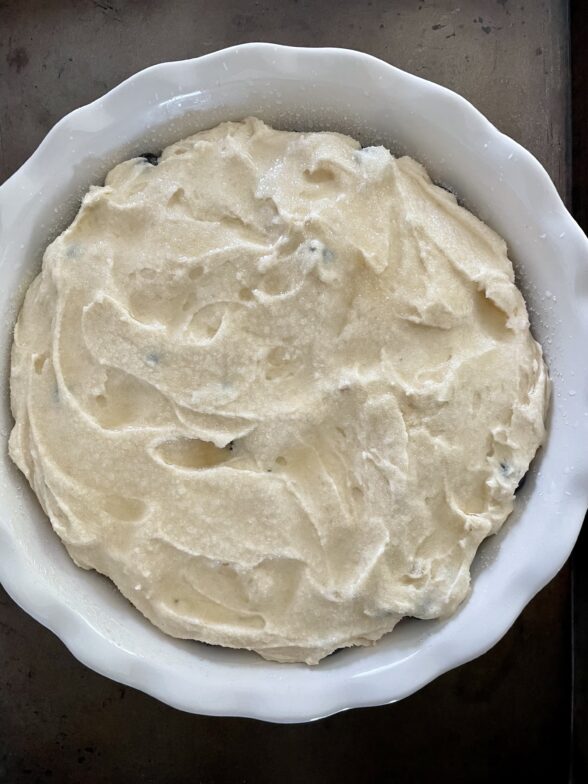 This is one of the easiest desserts ever.  You can absolutely pull this together at the last minute or make it in the morning to serve later that evening.  If you want to serve it warm, just stick it in the oven at 350 for 15 minutes.  Serve it with vanilla ice cream if you're living it up or lightly sweetened whipped cream or even Greek yogurt for brunch.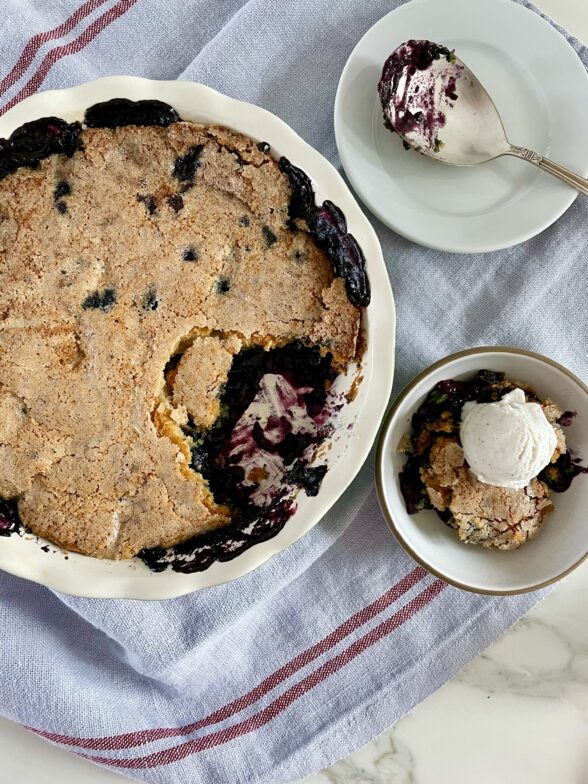 You can even make this when blueberries are out of season if you use frozen blueberries.  Just defrost them first so the cobbler batter cooks properly.  Mix in some other berries or peaches if you want to use up some other fruit you have.  There is no way this will not be fantastic and a crowd-pleaser.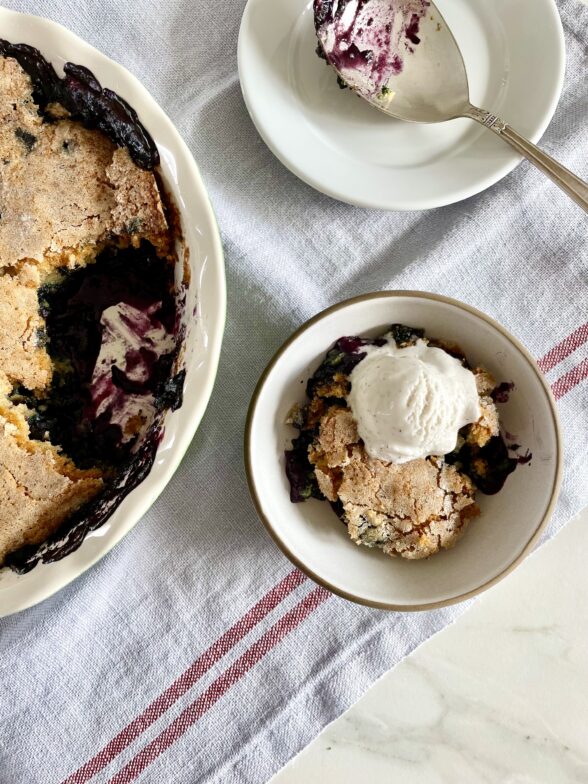 As always, check the notes for ingredient substitutions, or feel free to leave me a comment or a question if you're not sure about a swap.  If you make this recipe or any of my recipes, please tag me on Instagram so I can see your beautiful creations @pamelasalzman #pamelasalzman!
You can shop the tools I used for this recipe by clicking on the images below:

Crackle Top Blueberry Cobbler
Author:
Adapted from King Arthur Baking
Ingredients
5-6 cups fresh or frozen/defrosted blueberries (amount depends on depth of your baking dish), about 24 ounces or 2 pints
Zest and juice of half a lemon, about 1 ½ Tablespoons
8 Tablespoons (1 stick) unsalted butter or vegan butter, at room temperature
⅓ cup + 2 Tablespoons maple sugar or organic cane sugar, divided
½ cup buttermilk, kefir, or plain yogurt*
1 cup unbleached, all-purpose flour, einkorn flour, GF oat flour, or spelt flour
½ teaspoon baking soda
1 teaspoon aluminum-free baking powder
½ teaspoon sea salt
1 teaspoon pure vanilla extract
1-2 Tablespoons warm water
Instructions
Preheat the oven to 350 degrees. Lightly grease a 9-inch round baking dish. Make sure it is not too shallow, otherwise the topping will overflow.
Toss blueberries with lemon zest and juice and transfer to the prepared pan. Resist the urge to toss with sugar or flour. It's not necessary.
In a medium mixing bowl, beat together the butter and ⅓ cup sugar until light and fluffy, about 4 minutes. This can be done with the paddle attachment of a stand mixer. Scrape down the sides of the bowl and add the buttermilk, flour, baking soda, baking powder, salt and vanilla. Beat until smooth, about 2 minutes.
Pour the batter over the blueberries. I like to dollop big spoonfuls in different areas and then spread out the batter evenly to cover all the fruit. Sprinkle remaining 2 Tablespoons of sugar over the batter as evenly as possible. Using a small spoon, drizzle the water over the sugar, getting it all wet. If you didn't wet all the sugar before you used up all the water, take a little more water. Place the baking dish on a rimmed baking sheet.
Bake the cobbler for 50-60 minutes until the surface is cracked and golden brown and a toothpick inserted into the cake topping comes out clean.
Remove from the oven and place it on a rack to cool for at least 30 minutes to allow the topping and fruit to settle. Serve warm or at room temp. It's great with vanilla ice cream for dessert or Greek yogurt for brunch.
Notes
*or place ½ Tablespoon apple cider vinegar or lemon juice in a measuring cup and add enough milk or non-dairy milk to come up to ½ cup.