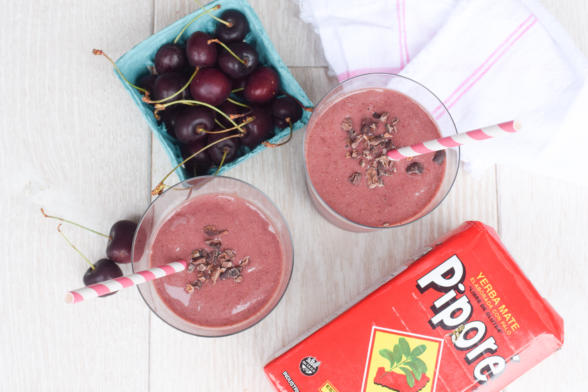 This post is sponsored by the National Institute for Argentine Yerba Mate. All opinions are my own.
It's smoothie season!  I never drink smoothies or smoothie bowls or anything cold for that matter when the weather is anything less than warm.  Cold drinks and foods, as well as too much raw food, cool down the body.  That's not good if you're trying to stay warm.  I also find that many people do better with warmer foods since they're easier on the digestive system.    My son is 15 and can pretty much handle anything, so he has a smoothie almost every morning for breakfast.  That said, we live in Southern California where it never really gets too chilly.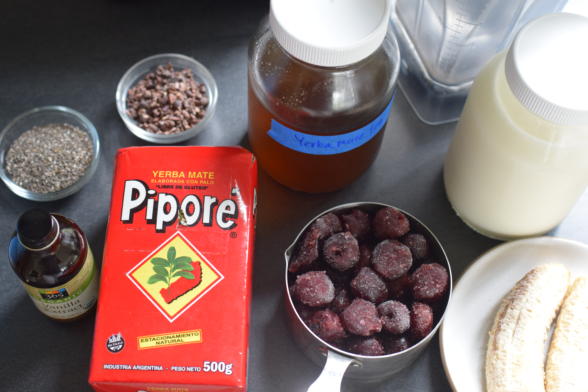 I have gotten my whole family into Argentinian Yerba Mate which we brew like tea.  I drink it several times a week hot, but my husband and son like it cold, like iced tea.  I have shared my love of tea many times on this blog and on my instagram, and I believe it's a wonderful addition to a well-balanced, whole food diet. Yerba mate, however, is a step up from your typical bag of green tea. Originated and grown in Argentina from the yerba mate tree, this tea is LOADED with powerful antioxidants (shown to be even higher than green tea) and nutrients such as vitamins B and C, zinc, potassium and manganese. Yerba mate has been found to be 'hepatoprotective' which translates to: 'protecting your liver cells' and can help in weight loss. I also love that it provides as much energy as a cup of coffee but is easier on your digestive system.  I personally cannot drink coffee because it makes me feel ill.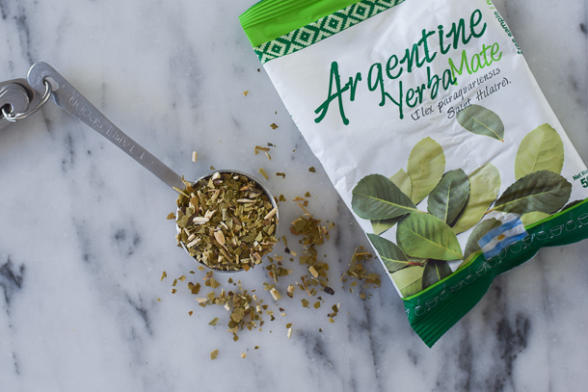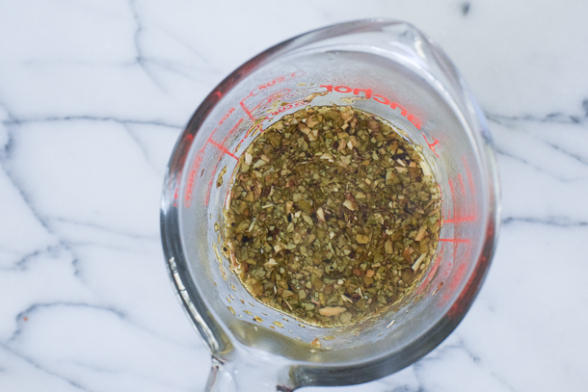 One day I took some of the cold yerba mate from the fridge and threw into a smoothie in place of almond milk, and WOW!  Delicious!  Our favorite one was this recipe with frozen cherries.  Let me just come right out with this disclaimer though – I never measure ingredients when I make a smoothie unless it's something that should only be used in small quantities, like almond extract.  I wing it every time.  I do have a certain formula, of course.  I use a little fruit (not too much otherwise it's a sugar bomb), some kind of protein (e.g. nut butter, tofu, collagen peptides, hemp seeds), and a little fat (e.g. nut butter, coconut butter, chia seeds) + some liquid to make everything blend.  Usually I use a nut milk, but the cold yerba mate was awesome.  And then I killed two birds with one stone – complete breakfast in a glass with no need for another drink.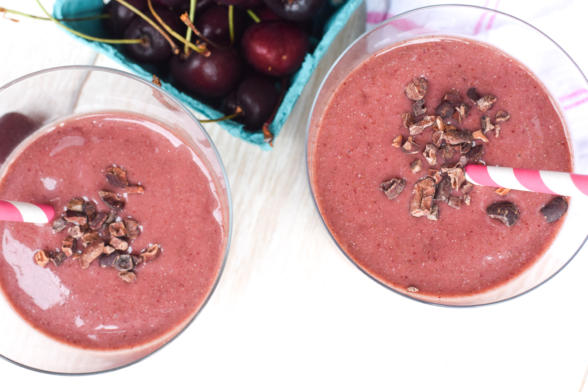 The big question is, where do you buy yerba mate and what kind?  I always prefer Argentinian yerba mate for the best flavor and quality.  Some brands to look for are Rosamonte and CBSe.  Have you tried yerba mate yet? What do you think?
As always, I love when you make any of my recipes and it is the biggest thrill for me to see them out there.  So tag me @pamelasalzman #pamelasalzman so I can check them out!
Shop the tools for this recipe by clicking on the images below:

Cherry-Vanilla Yerba Mate Smoothie
Ingredients
1 cup + 1 Tablespoon hot water
2 Tablespoons loose yerba mate tea
2 cups frozen, pitted sweet cherries
1 frozen banana
2 Tablespoons chia seeds or hemp seeds (my son preferred the version with hemp seeds)
1 teaspoon pure vanilla extract
¼ cup unsweetened almond milk or milk of choice
1 scoop collagen peptides or 2 Tablespoons almond butter or raw cashew butter
optional: raw cacao nibs for garnish
Instructions
Steep the yerba mate in a mug with the hot water for 5 minutes. Strain into a jar and refrigerate until cold.
In a blender, add all smoothie ingredients including the cold brewed yerba mate and excluding the cacao nibs. Cover the blender and blend on high speed until smooth and creamy. Taste and adjust flavor accordingly. If you need more sweetness, you can add a drop of honey or blend in a pitted date.
Pour into 2 glasses and top with cacao nibs, if desired.