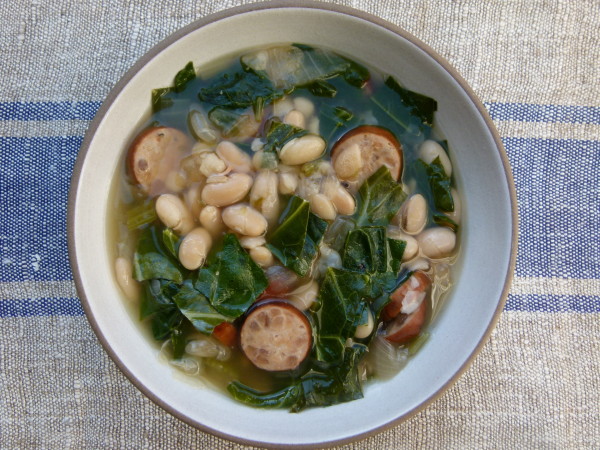 I know so many of you are fighting cold weather and stuffy noses, so I thought I would share with you a new favorite soup in our house.  My friend and student Lynette gave me the recipe because it has been popular with her family.  Nothing beats a warm and hearty bowl of soup when you're not feeling 100% and this one is particularly fantastic since you place everything into a slow cooker in the morning and it's ready by dinnertime (also great when you're not feeling 100%.)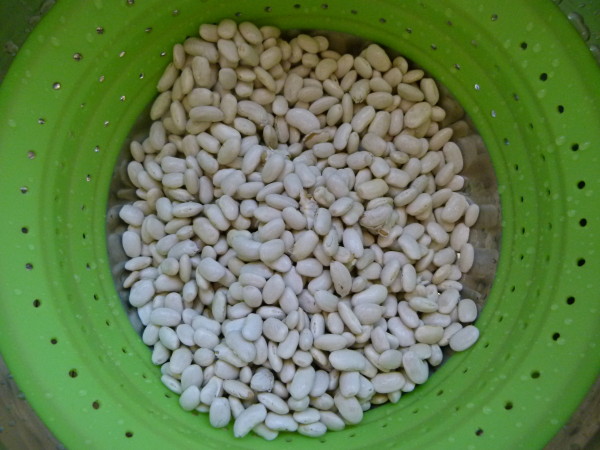 People in my classes have been begging me for more slow cooker recipes, especially the dump-and-start kind.  If you don't have a slow cooker, do not fear.  I will give you directions for a stovetop version.  Whereas I normally prefer to saute aromatic vegetables before using them in a soup or stew since it adds more flavor, in this recipe the extra step doesn't make much difference.  Lucky us!  Although the original recipe doesn't call for it, I prefer to soak my beans to neutralize the phytic acid, a hard-to-digest anti-nutritient.  Soaking is optional though, as the slow cooker will easily cook the beans to a creamy softness without soaking.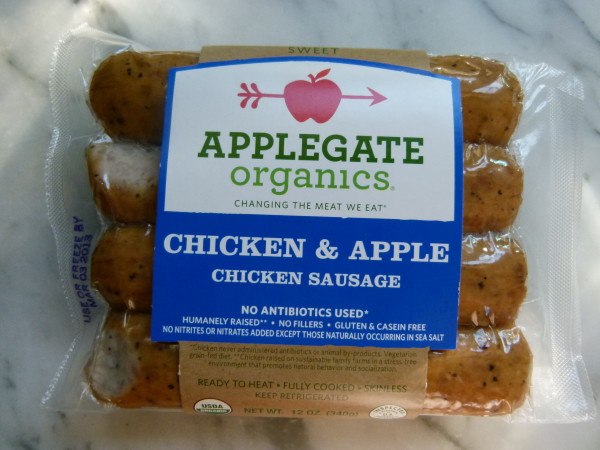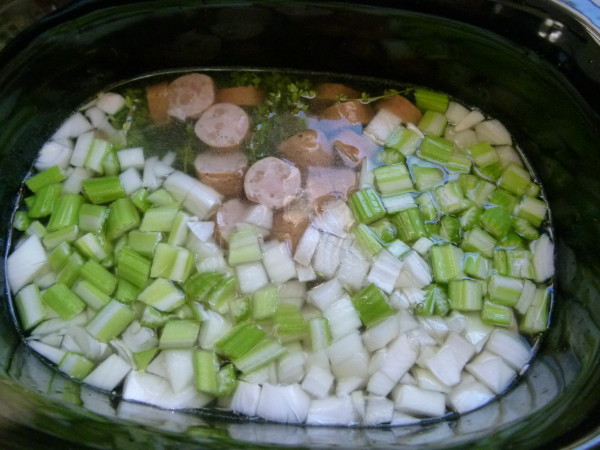 This was a perfect entree soup for dinner paired with corn muffins and a green salad.  More importantly, all my kids, including the picky one, just loved it.  I know some people can't get into the idea of "just" soup for dinner.  But I promise this is a hearty one.  Beans are loaded with protein and fiber which both help keep you full for longer.  There is also a small amount of sausage in the soup (I used chicken sausage) which you can omit if you're vegetarian or vegan or use your favorite vegan sausage to add a little smokiness to the soup.  For a more affordable dish, you can use a small ham hock for flavor instead of the sausage.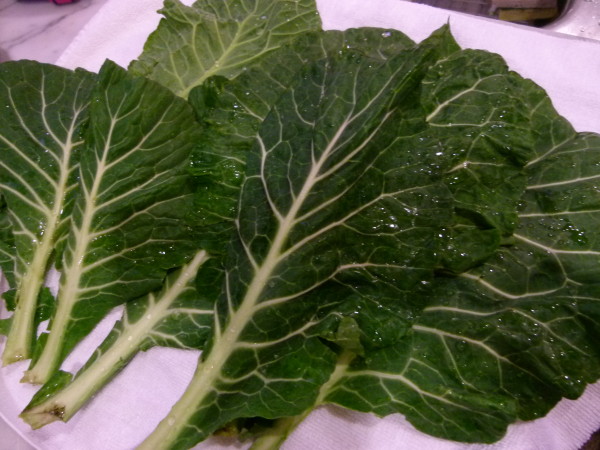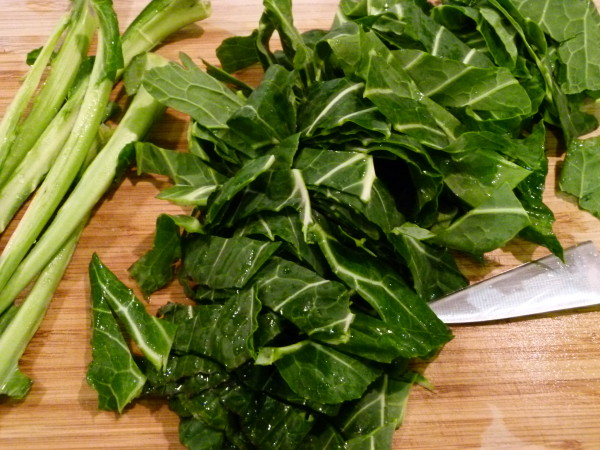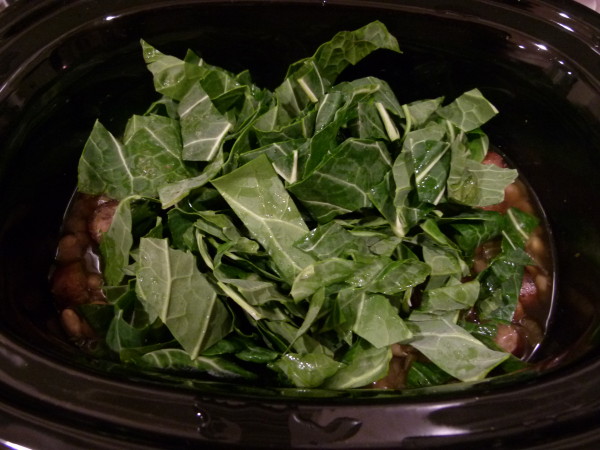 In my opinion everything is better, more alkalizing and more nutritious with dark leafy greens.  I hope you are finding new and delicious ways to incorporate this food group into your diet.  Kale seems to be the "it" leafy green of the moment, that it's nice to see another leafy green in a recipe.  Collard greens are used in this soup, but I'm sure cabbage or kale would be equally delicious here.  This recipe is a keeper no matter how you make it!

Slow Cooker White Bean Soup with Sausage and Collard Greens
Author:
adapted from my friend Lynette who adapted it from Real Simple Magazine
Ingredients
1 pound dried beans (such as cannellini or great Northern), picked through for stones or debris, soaked* for at least 6 hours in cold water and drained
½ pound andouille sausage links, halved lengthwise and sliced crosswise (I used a 12-ounce package of Applegate Farms chicken apple sausage)
1 large onion, chopped
2 stalks celery, chopped
4 sprigs fresh thyme
8 cups low-sodium or unsalted chicken or vegetable broth, preferably homemade
1 bunch collard greens, stems discarded and leaves cut into-bite-size pieces (about 8 cups)
1 Tablespoon apple cider vinegar or red wine vinegar
sea salt and black pepper to taste (salt will vary based on what stock or sausage you use)
unrefined olive oil for drizzling (optional)
Instructions
In a 4-6 quart slow cooker (mine is a 6.5 quart and it turned out great), combine the beans, sausage, onion, celery, and thyme. Add the broth and stir to combine.
Cover and cook until the beans are tender, on LOW for 7 to 8 hours or HIGH for 4-5 hours.
minutes before serving, remove and discard the thyme sprigs and add the collard greens. Cover and cook until the greens are tender, about 15 to 20 minutes. Stir in the vinegar and salt and pepper to taste.
Drizzle with olive oil, if desired.
Notes
*You don't have to soak the beans if you don't have time, but it makes them more digestible. You do need to soak them for the stovetop version.

For a stovetop version, sauté onions and celery in 2 Tablespoons olive oil. Add soaked, dried beans, sausage, thyme and stock. Bring to a boil, lower to a simmer and cook covered until beans are tender, bout 60-90 minutes. Add greens and cook until tender, about 10-15 minutes. Stir in vinegar and season with salt and pepper to taste. Drizzle with olive oil if desired.