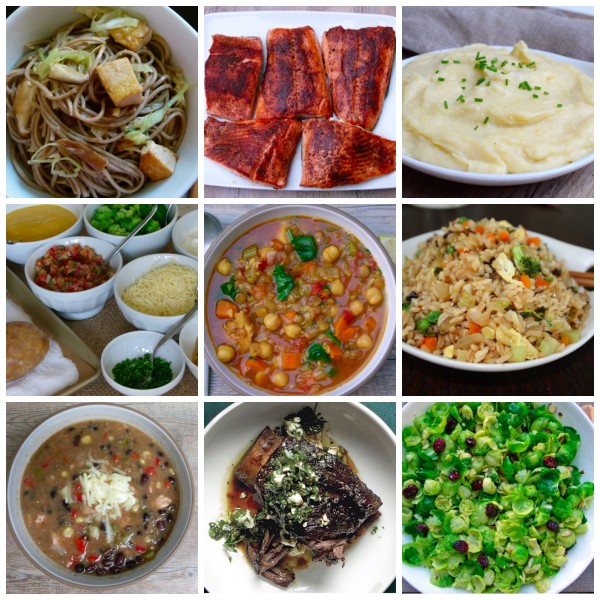 Here's my dinner planner for the week with some ideas for how to prep ahead:
Meatless Monday: Stir fried soba noodles with cabbage, carrots, mushrooms, and tofu (use this recipe as a guide and use whatever noodles or vegetables you like)
Tuesday:  Spice-rubbed wild salmon with millet-cauliflower mash, sautéed cabbage (slice cabbage thinly and saute in a little unsalted butter plus a pinch of salt — I'm addicted to this.)  This is a very quick dinner.
Wednesday: Baked potato bar.  I like to put out things like the vegan "cheese" sauce from vegan mac and cheese, just cook it a couple minutes after bending, steamed broccoli, sautéed onions, and salsa.
Thursday:  Harira (one of my favorites!  Omit the chicken and sub 1 1/2 cups of chickpeas to make this vegan.)
Friday:  Veggie Fried Rice.  You can add cooked shrimp, chicken or pork if you like. Good recipe to clean out the crisper.
Saturday:  Deer Valley turkey chili.  I usually don't make anything else, but a green salad is always nice.
Sunday: Short ribs with salsa verde from the Lucques Cookbook, polenta, roasted Brussels sprouts or a Brussels sprout salad
How you can prep ahead (which doesn't mean you must, just some ways you can relieve some of the prep right before dinner):
Sunday:
Prep (wash, dry, cut) veggies for noodle stir-fry
Prep cauliflower for mash
Prep cabbage for stir-fry and saute.  I would just take a handful for the stir-fry and use the rest for the saute.
Make vegan cheese sauce for baked potato bar and refrigerate.
Make brown rice for fried rice and refrigerate or freeze.
Make stock
Make black beans for chili and chickpeas for harira
Make salad dressing if making a green salad this week, including the brussels sprout salad
Saturday
Blanche and spin dry Brussels sprout leaves for salad