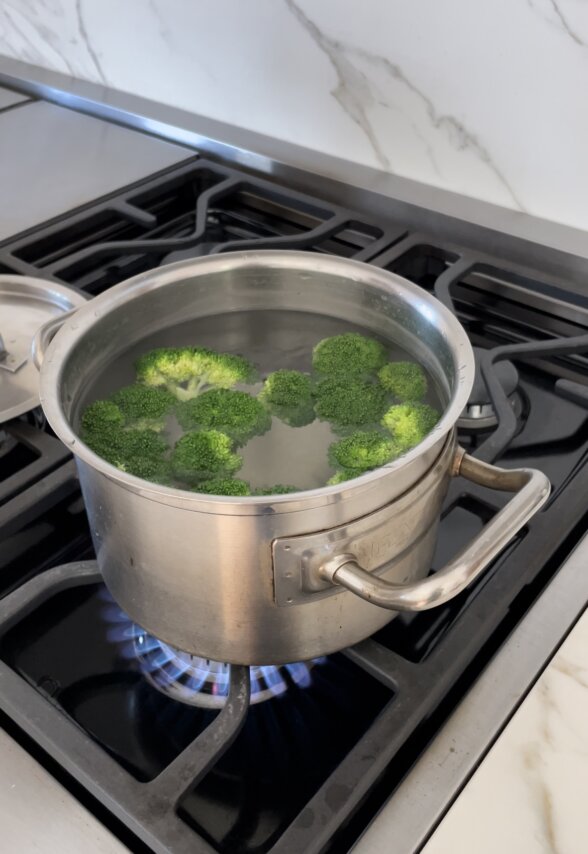 Pesto is in my plasma.  I've been eating copious amounts of pesto since I was a baby and it is by far my favorite condiment.  It wasn't until I started teaching cooking classes that I experimented with pesto that didn't have basil, or nuts, or cheese.  Pesto, after all, derives from the Italian verb pestare, which translates to "to pound" or "to crush."  Sure, traditional Genovese pesto has basil, pine nuts, Parmesan cheese, olive oil and garlic, but there are infinite ways to make a pesto.  Ironically, I always use my food processor and never crush or pound the ingredients with a mortar and pestle. Such a slacker.  But today I share a REALLY different pesto – one made with BROCCOLI and it's SO GOOD!!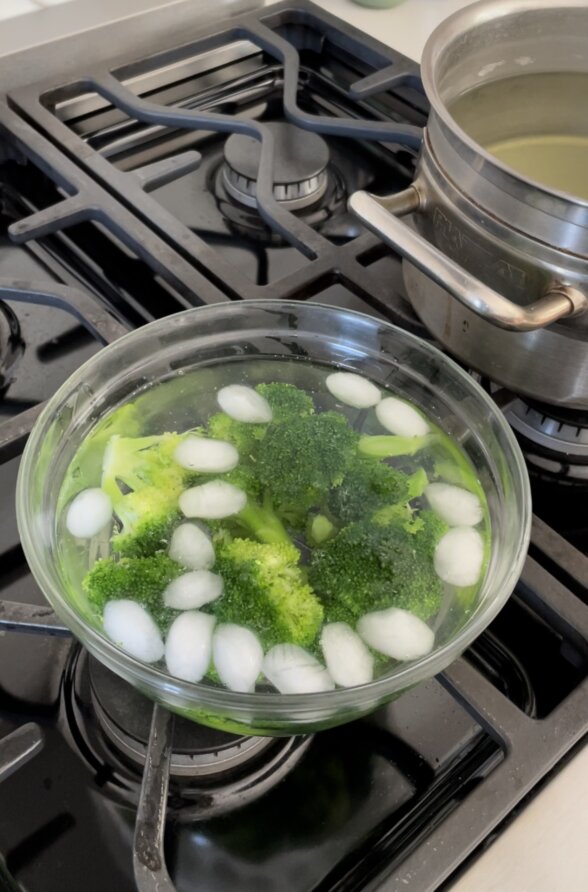 Why you'll love this recipe: 
It's quick
Easy
Nutritious
NUT-FREE 
Delicious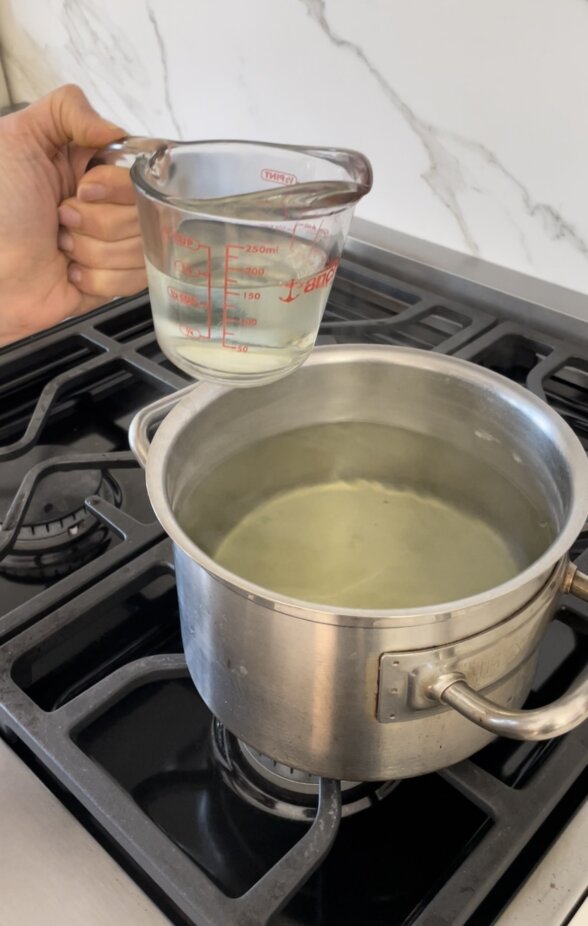 Broccoli Pesto Ingredients
Broccoli: you can use fresh or frozen broccoli. Fresh broccoli needs to be cooked for a few minutes before pureeing in the pesto. If using frozen, it's best to thaw and pat dry.  
Fresh Basil: Basil gives this pesto a familiar flavor.  It's the only herb I store on the counter in a glass jar with an inch of water (like a bouquet of flowers). Basil thrives at room temperature by a window. 
Parmesan cheese: I love using freshly grated Parmigiano Reggiano (cow's milk cheese), but you can use pecorino (sheep's milk cheese).  If you have a favorite vegan Parmesan, absolutely use that instead.
Garlic: I always keep a jar of peeled (I do it myself) garlic in the fridge. It's a game changer.  
Olive oil: use a good olive oil. There are several brands I like such as Jovial, Lucini, California Olive Ranch, Thrive Market and the organic Italian olive oil from Costco.
Lemon juice: use freshly squeezed lemon juice. You'll need about half a lemon. 
How to Make Broccoli Pesto 
If using fresh broccoli: cook florets in a pot of salted boiling water for 3-4 minutes. Remove a cup of the cooking liquid before draining the broccoli in case the pesto needs to be thinned out. Drain broccoli and submerge in a bowl with ice and cold water for 5 minutes. Shocking the broccoli in ice water stops it from cooking further and help preserve its bright green color. If using frozen broccoli, this step has already been done so you just need to defrost it before proceeding with the recipe. 
Place broccoli, basil, parmesan cheese and garlic in a food processor and process until very finely chopped. With the motor running, pour the olive oil and lemon juice through the feed tube and process until emulsified. Check the consistency of the pesto. If you prefer a thinner consistency, you can add a few tablespoons of the broccoli cooking water or pasta water (if you're serving this with pasta). Taste and season with salt and pepper, if needed.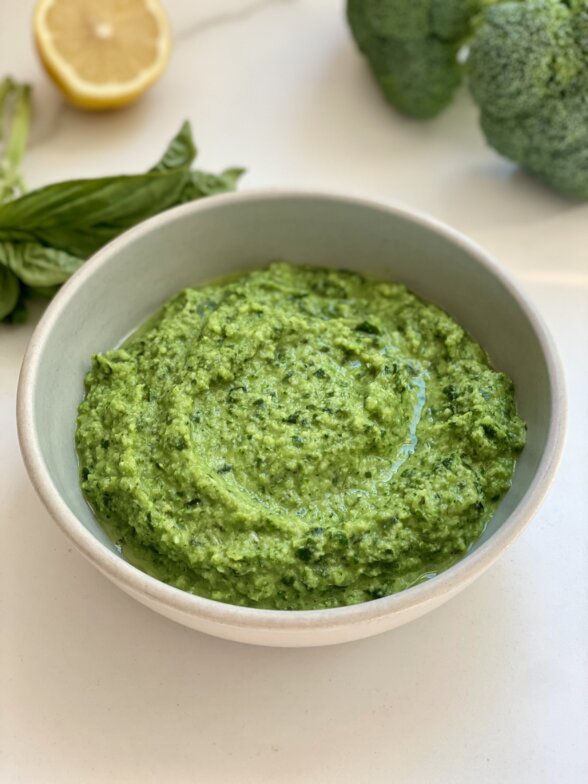 Tips for Making Broccoli Pesto
Use the freshest ingredients for best flavor
This recipe only makes about 1 cup of pesto. Feel free to double or triple the recipe for a bigger batch. 
I always make pesto in a food processor since it helps the ingredients move around much better, but you can probably use a blender if you don't have a food processor.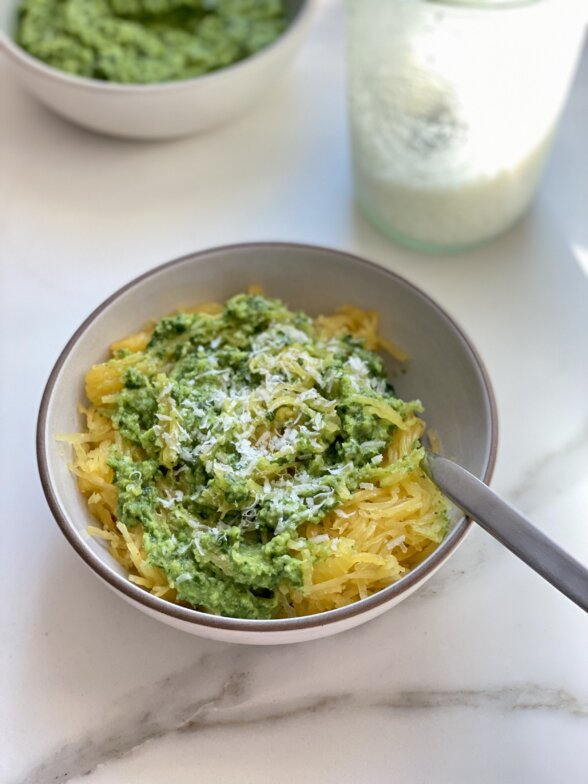 Substitutions for Broccoli Pesto 
Broccoli: you can use cauliflower or jarred or frozen/defrosted artichoke hearts
Cheese: vegan parmesan would work well here
Basil: fresh parsley
Garlic: use a pinch of garlic powder or omit if you can't have garlic or use a garlic-infused olive oil
Serving and Storing Suggestions
This is delicious with cooked pasta or roasted spaghetti squash;
On toast, pizza, slathered over salmon
Store in an airtight container in the fridge for up to 7 days.
If you give this recipe a try, snap a pic and tag @pamelasalzman so I can see your beautiful creations. I also really appreciate readers taking the time to leave a rating and review! Lastly, subscribe for free to my site for the latest recipes and updates.
For more delicious recipes, check out my monthly online cooking classes. 

Broccoli Pesto
Serves:
about 1 cup of pesto
Ingredients
2 cups frozen chopped broccoli, defrosted or fresh broccoli florets blanched in salted water (see notes) for 3-4 minutes and submerged in ice water. Drain and pat dry.
1 cup fresh basil leaves
½ cup grated Parmesan or Pecorino or vegan Parmesan
1 garlic clove
¼ cup unrefined, cold-pressed extra-virgin olive oil
1 Tablespoon freshly squeezed lemon juice
Sea salt
Instructions
Add broccoli, basil, parmesan, and garlic to a food processor fitted with the metal s blade. Process until very finely chopped. Add the oil and lemon juice. Process until mostly smooth. Add a few tablespoons of broccoli cooking water or pasta water if you would like to thin out the consistency. Taste and season with salt to taste. Use as you would regular pesto.
Notes
Save pasta water or broccoli cooking water in case the pesto needs thinning out.