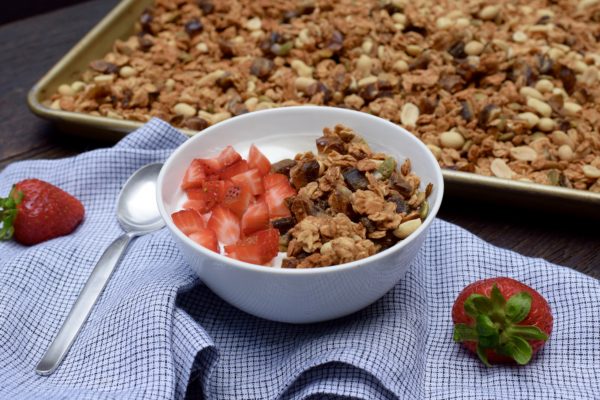 I am a nut butter addict.  I would be so skinny if nut butter didn't exist!  I love them all — almond, cashew, hazelnut, pecan, mixed nuts and my childhood favorite, peanut.  Yes, yes, yes, I know peanuts are not actually nuts, but legumes.  And I know peanuts are less healthy than other nuts and that you must buy organic because they are heavily sprayed.  But I love the roasted nutty flavor of peanut butter and a little goes a long way.   I actually eat peanut butter pretty sparingly, but when I do, I convince myself that it has a lot of protein (which it does) and I try to eat it with other things, rather than off the spoon as I was apt to do in college and during my three pregnancies.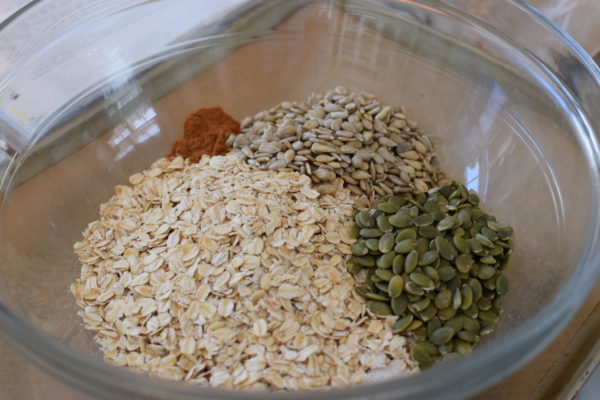 I also love my homemade granola recipe.  Granola + yogurt + fresh fruit is my go-to breakfast when I'm running late, or haven't prepared anything else in advance.  I actually never get tired of it. If I don't post my breakfast on Instagram on a particular day (like Monday,) it's because I'm probably having a granola-yogurt parfait.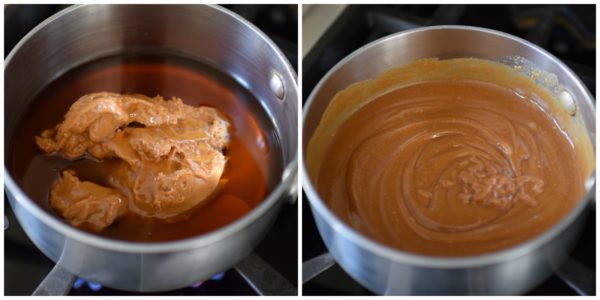 Last spring I decided I needed to spice up my life a little, so I went out on a limb and decided to make my granola recipe with peanut butter.  Oh yeah, I am a risk-taker if you don't know that by now!  Well, let's just say I became super obsessed with this peanut butter version and my kids went crazy for it, too.  Truth be told, I think they were starting to get bored with my standard granola which I have been making the same way for at least 15 years.  I need everyone in this house to be into granola — with yogurt or almond milk, it's the easiest, balanced, instant breakfast I've got up my sleeve.  So this new version was just the thing to get everyone interested again.
The recipe is actually not much different from my original granola.  All I did was replace the coconut oil with peanut butter and swap peanuts for almonds and pecans.  So it's still vegan and gluten-free (if you use GF oats, if that's important to you.)  I've done lots of different dried fruits with this granola, depending on what I have on hand, but diced dates are my favorite.  I still keep this barely sweet so we don't get any blood sugar spikes first thing in the morning.  You'll test it out and see for yourself if it's the sweetness that you like.  If not, the next go round you'll add some more syrup.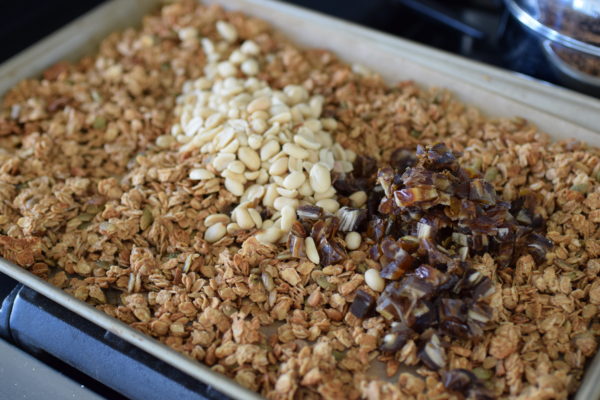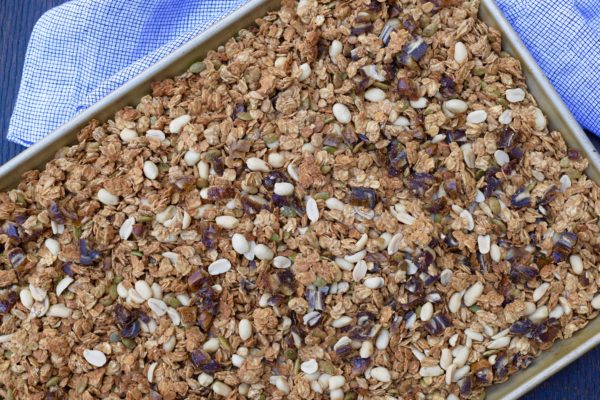 We eat granola in the obvious parfait, but we also dip bananas in nut butter and sprinkle them with granola, use it to top oatmeal, I have even started making yogurt popsicles with layers of granola inside.  I also eat it out of hand when I need a little pick me up in the afternoon the car waiting for Mr. Picky to get off the bus. Zzzzzzzz.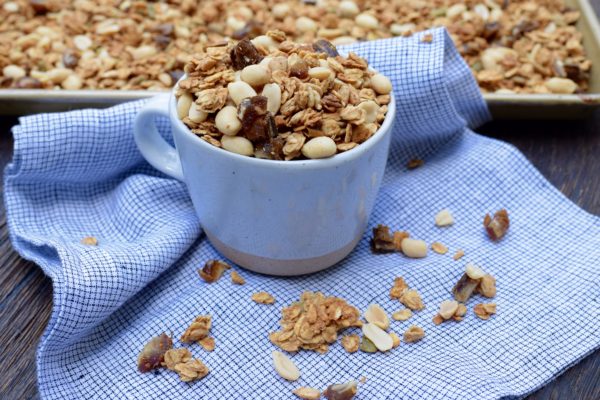 Mother's Day is on Sunday!  Buy those cards and flowers!  Make a homemade gift!  Bring her breakfast in bed, like peanut butter granola with strawberries and a side of almond milk!  Above all, if you are a kid, no bickering with your siblings on Mother's Day and do something that will pleasantly surprise your mama, like clean your room or the whole house, do the dishes or eat a green vegetable.  Happy Mother's Day to everyone!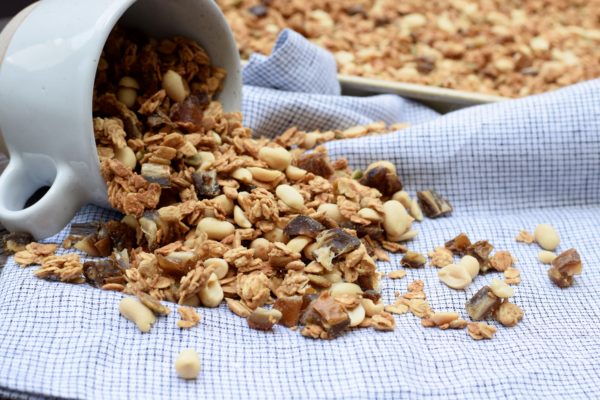 Peanut Butter Granola
Ingredients
3 cups old-fashioned rolled oats (look for gluten-free oats for a gluten-free granola)
½ cup raw pumpkin seeds (pepitas)
½ cup raw hulled sunflower seeds
1 teaspoon ground cinnamon
¼ teaspoon fine grain sea salt
½ cup unsalted, unsweetened peanut butter*, creamy or crunchy, preferably organic
⅓ cup 100% pure maple syrup, Grade A or Grade B
¼ cup brown rice syrup (or honey)
1 teaspoon pure vanilla extract
1 cup roasted and salted peanuts, preferably organic
1 cup pitted chopped dates (about 8 dates) or other dried, unsulphured fruit
Instructions
Preheat oven to 350 degrees. (If your oven runs hot, preheat to 325 degrees.) Line a rimmed baking sheet or cookie sheet with unbleached parchment paper.
In a large bowl stir together the oats, seeds, cinnamon and salt.
In a small saucepan combine the peanut butter, maple syrup, brown rice syrup and vanilla and heat over low, whisking to combine well. It is really important to mix the peanut butter and syrups so that everything is well blended, otherwise the syrups may burn. Add the peanut butter and syrup mixture to the bowl with the oats and stir to coat well.
Transfer the oat mixture to the prepared pan. Bake for 25-35 minutes (ovens vary), stirring occasionally until golden brown. The mixture will not be crunchy yet. Add the peanuts and dates to the pan and allow to cool. Transfer granola to an airtight container and store at room temperature or freeze.
Notes
*You can also use almond butter.