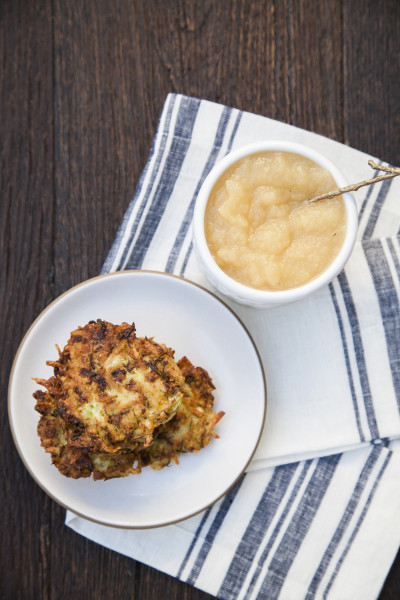 I think I've mentioned this before, but I learned how to make latkes from an unlikely source — my Puerto Rican mother-in-law, who like me, also did not grow up Jewish.  But let me tell you something.  That woman makes the best latkes I have ever had.  The. Best.  And I've had a lot.  They're a cross between lacy and meaty, with the perfect crispiness and seasoning.  No one even cares what else is on the Hanukkah dinner menu since we all practically make a meal of latkes as they come out of the frying pan.
Since there are still 4 nights of Hanukkah left, I thought I would squeeze in this recipe.  Full disclosure though, these are not my mother-in-law's latkes.  She wouldn't dare mess around with Brussels sprouts or anything too healthy.  She's pretty straightforward — all potato and onion.  And no one complains.  But I taught these in my classes this month and everyone has been raving.  Personally, I would love to substitute a little more Brussels sprout for potato, but my family stopped me here, the point where they couldn't tell there were Brussels sprouts in there.   I am crazy for Brussels sprouts and love the taste, so I think a little more would be a good thing.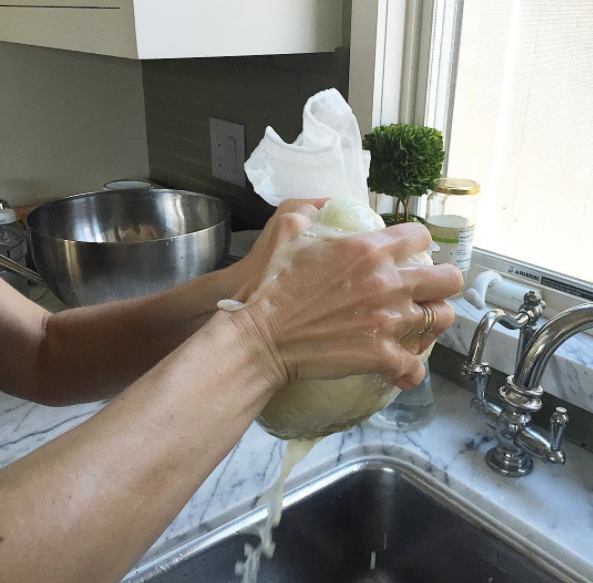 I originally got the idea for using Brussels sprouts from my talented friend, Phoebe Lapine, who has a blog called "Feed Me Phoebe."  She actually makes her latkes with all Brussels sprouts!  How about that?  And she serves them up with an anchovy aioli.  So fun to be young and cooking for not picky children.  I would love anchovy aioli.  I digress.  I merely took my basic latke recipe and subbed in 1/2 pound of Brussels sprouts which I sliced in my food processor.  And yes, I use a food processor to make latkes.  They do not taste better when the potatoes and onions are grated by hand.  That is an old wives tale meant to make all the ladies who lost their knuckle skin feel better.  Using a food processor is awesome, fun and the way to go.  See my post for how to use your food processor if this intimidates you.  If you know how to use a toaster oven, you can use a food processor!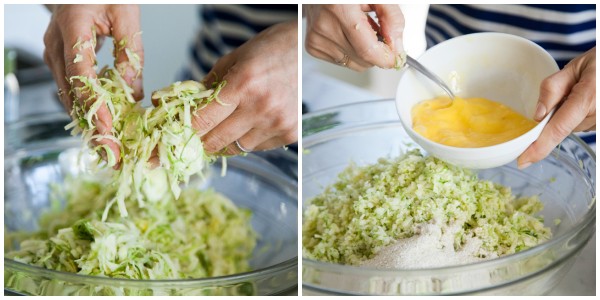 A couple of latke-making tips:
Latkes taste best right out of the frying pan.  But you can make them ahead and freeze them if you want.  Fry them until the are barely golden, i.e. underdone, and freeze them in one layer on a sheet pan.  Once they are frozen, scoop them up and store them in a container or a resealable bag until ready to use them.  Bake them frozen on a cookie sheet at 425 degrees until hot and crisp, about 10-15 minutes, and serve.
You can also make them an hour ahead and keep them warm in one layer in the oven at 200 degrees.
Do not make the latke mixture ahead of time though.  It will turn all shades of ugly.
Frying, as opposed to baking, makes them taste the best, so just let go of the fact that you will be overheating your oil and crating all sorts of inflammatory particles and free radicles.  Life is about balance.  Enjoy the fried latkes.
You can use any number of binders including matzoh meal, potato starch, all-purpose flour, panko crumbs and even ground up cereal.  I use potato starch if I am serving to anyone gluten-free, but I think it also makes a lighter latke.
Do squeeze the living daylights out of your potatoes and onions.  The less moisture, the crispier the latkes.  I posted a picture of me on Instagram squeezing the mixture in an extra-large nut milk bag.  Best method ever.  Then just wash the bag in soapy water and let air dry.  I only use this one for veggies, not making nut milk.  This is the one I use and it's $9 on amazon.  You'll have it for years.  Otherwise use a thin flour sack towel or cheesecloth.
When the bottom of the bowl starts to get liquidy, just pull the mixture from the top.  You don't want a drippy, soaking wet mixture.  The latkes won't be crispy and the oil will splatter everywhere.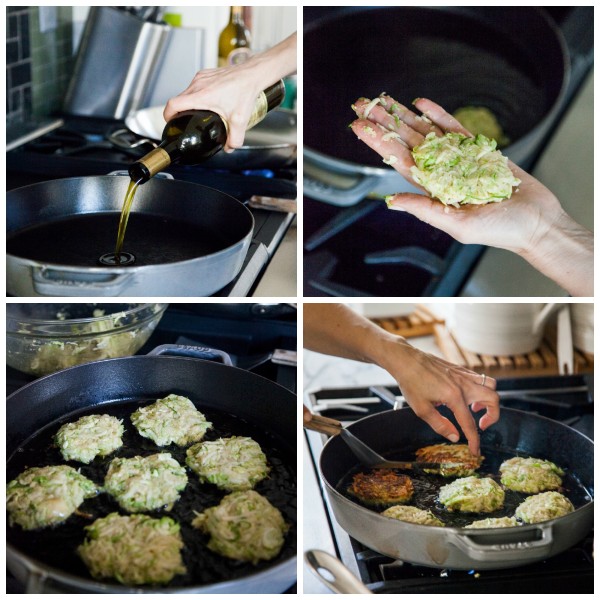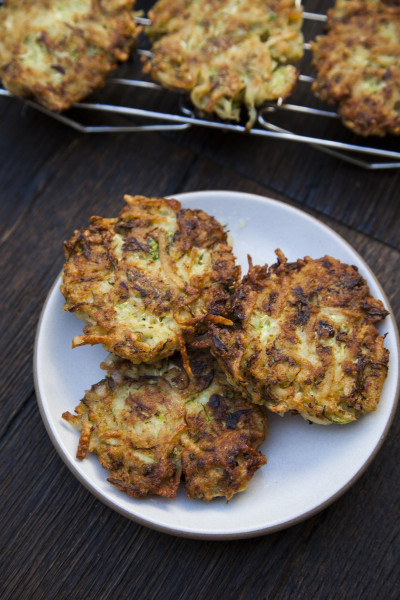 If you do celebrate Hanukkah, have a joyful rest of the holiday.  For everyone else, I've got you covered with some fab Christmas and party recipes coming up!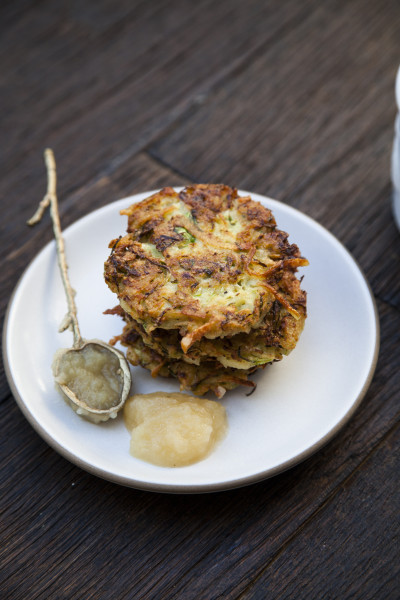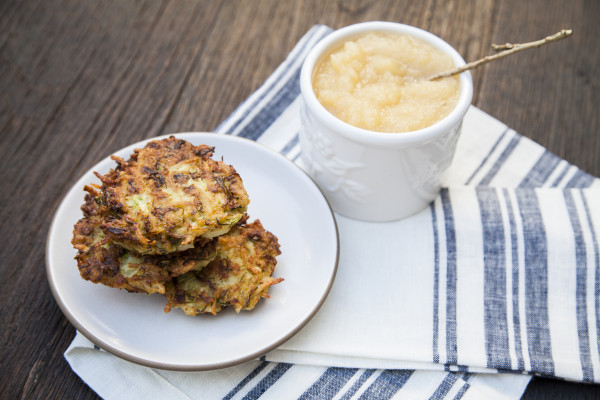 Shop the tools I used for this recipe by clicking on the images below:

Brussels Sprout Latkes Recipe
Ingredients
½ pound Brussels sprouts, ends trimmed (or 3 cups pre-shredded)
1 ½ pounds Russet potatoes, about 2 or 3, peeled or unpeeled, and cut to fit a food processor, if necessary
1 medium yellow onion, peeled and quartered
3 large eggs, lightly beaten
1 Tablespoon sea salt
A few grinds of black pepper
½ - ¾ cup potato starch, panko bread crumbs, all-purpose flour, or matzo meal
Olive oil for frying (or a refined peanut oil or grapeseed oil has a higher smoke point, although not exactly healthful)
Instructions
In the bowl of a food processor fitted with the slicing disc attachment, thinly slice the Brussels sprouts. Place in a large mixing bowl.
Change the disc to a shredding disc and shred the potatoes and onions. Squeeze out as much liquid as humanly possible. I like to do this by placing the shredded vegetables in a thin kitchen towel and wringing it out. Let the mixture rest for a few minutes and squeeze again.
Add the shredded potatoes and onions to the Brussels sprouts. Mix well. Remove 2 cups of this mixture and add to the food processor this time with the metal S blade and pulse twice until everything is finely chopped.* Add back to the mixing bowl.
Add the eggs, salt, pepper and bread crumbs to the vegetables and combine well.
Heat the olive oil in 2 large skillets until hot, but not smoking. You want more than a thin layer.
Using about 2-3 tablespoons of the Brussels sprout-potato mixture, form the latkes into 2 ½-inch pancakes. Flatten slightly and carefully place into the pan. When the edges are brown and crisp, turn them over and continue cooking until deep golden. I usually flatten them in the pan when I flip.
Lay paper towels on a cooling rack or brown paper bag. Transfer the latkes from the pan to the rack. Sprinkle with sea salt if desired. Serve immediately with applesauce or sour cream (if you must).
Notes
*If you don't want any "meatiness" to your latkes and prefer all lacy-ness (not really a word, but you know what I mean), don't pulse the vegetables.