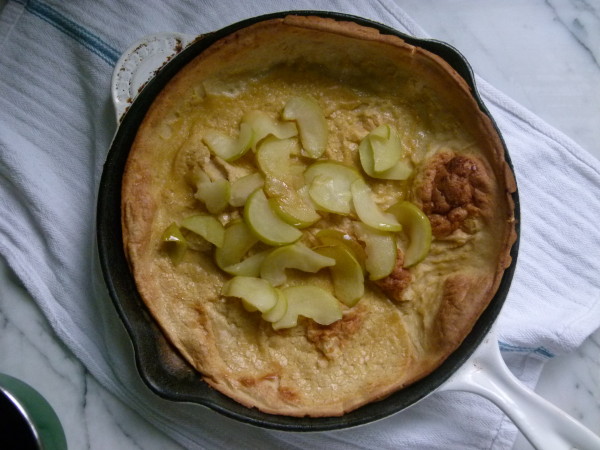 When I think back to my childhood, I don't think "deprivation" or "missing out."  But the fact that I didn't know about and had never had a Dutch Baby until I was an adult makes me a little sad, like my family was out of the loop.  So many people recall fond memories of leisurely Sunday family breakfasts with Mom pulling a puff of sweet heaven out of the oven.  Wow.  My mom did not get that memo.  My husband came home when we were first married with a small pizza box from a restaurant called Dinah's by Los Angeles International Airport.  Inside was a very buttery, cinnamon and sugar-covered disc of sliced apples held together with a minimum of batter.  "It's a German apple pancake.  Have you never had one of these before?"  Wow.  No, I had not.  A Dutch Baby pancake, similar to the German apple pancake, is a puffed, kind of ugly pancake that is more egg-y than flour-y.  It's not quite like a pancake that you make on the stove in that it's a little denser, but very delicious it its own way and so much easier because you make the batter in a blender and then bake the whole thing in the oven.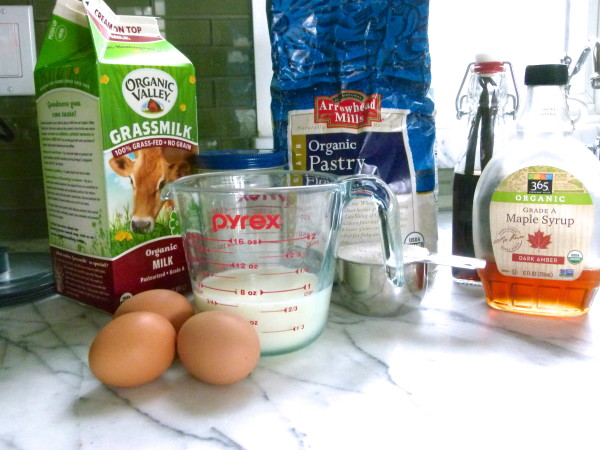 The best part of a Dutch Baby oven pancake is when you first pull it out of the oven.   It goes in as a thin batter in a skillet, and comes out as an irregularly puffed, golden, warm pancake with a sweet aroma of vanilla.  The. Best.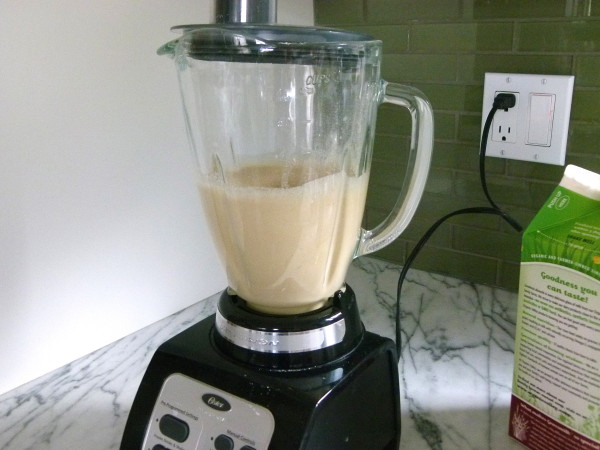 The Dutch Baby pancake recipes I have seen involve the regular suspects: white flour, white sugar, milk, eggs and butter.  Those suspects are easily changed to whole grain or even gluten-free flour, maple syrup, almond milk, but I still keep the eggs and butter.  You can change the butter to Earth Balance if you need to.  But I'm not quite sure how to make a Dutch Baby without eggs.  Plus that's where the protein comes into play if you are wanting to serve this for breakfast on its own.


What you put on a Dutch Baby can vary from lemon juice and butter (very popular actually,) to fresh or cooked fruit to powdered sugar or maple syrup.  We keep it simple in our house with seasonal fruit, like sautéed apples and pears in the fall/winter and berries in the summer.  It is incredibly good with fresh blueberry sauce.  Recipe here and you can make it with frozen blueberries!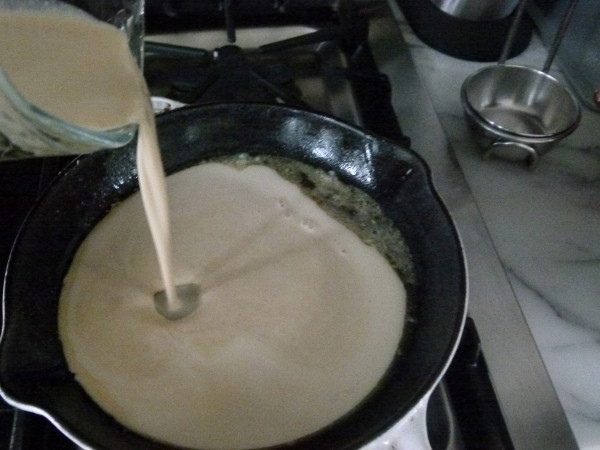 I always take two weeks off around Christmas and New Years to spend with my family.  Maybe you have a little time off too, or perhaps you are having friends for brunch on New Years Day.  These are the days that I like to make breakfasts that are a little more special, that we can sit a savor for a bit longer.  Hoping you can find some time to do just that this week.  And if you do, this Dutch baby recipe is the perfect one to try.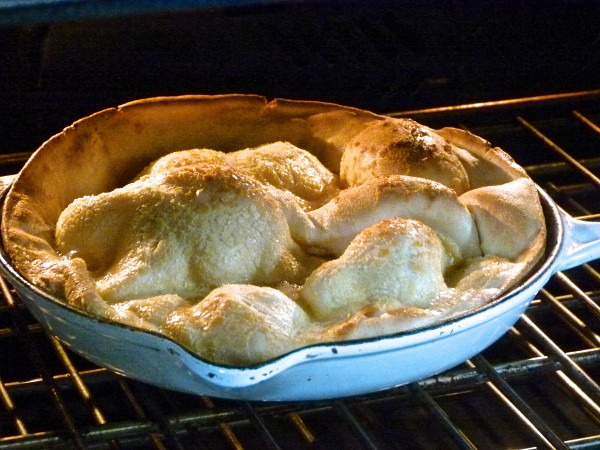 Wishing you and yours a happy, healthy, peaceful and joyous 2015!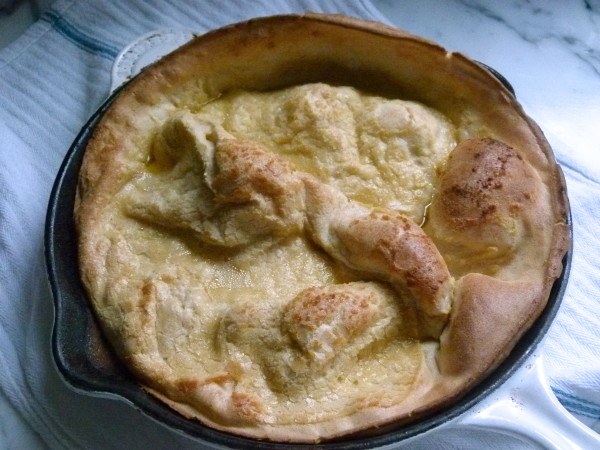 Dutch Baby Pancake
Serves:
4 (but I swear I could eat the entire thing myself)
Ingredients
2 Tablespoons unsalted butter
3 large eggs, at room temperature
¾ cup whole milk or almond milk, at room temperature
⅔ cup whole grain flour, such as spelt or whole wheat pastry or ¾ cup all-purpose flour or your favorite GF flour blend
¼ teaspoon fine sea salt
1 Tablespoon pure maple syrup or sweetener of choice
2 teaspoons pure vanilla extract
Accompaniments: fresh fruit, preserves, butter, powdered sugar
Instructions
Preheat the oven to 425 degrees. Place the butter in a 9-inch skillet or pie plate and transfer the skillet to the oven until the butter is melted. Brush the sides of the skillet with the melted butter.
Add eggs, milk, flour, salt, syrup and vanilla to a blender and process for 1 minute.
Pour batter into the skillet with the melted butter and bake until puffed and set, about 20 minutes.
Serve immediately with desired accompaniments.
Notes
Room temperature ingredients, as well as whole milk and all-purpose flour make the pancake rise the best.  But it will still turn out well with whole spelt flour and almond milk.