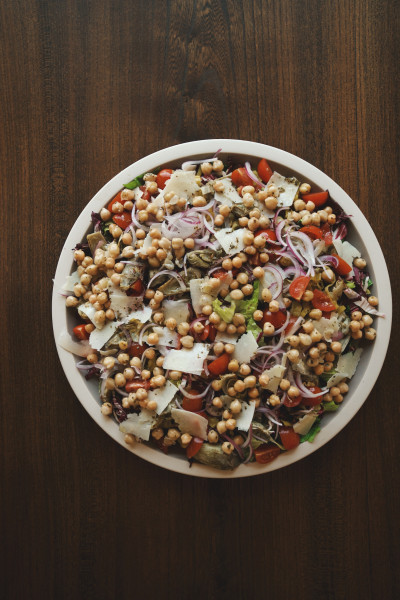 I learned via osmosis from watching my parents entertain that an antipasto platter is really all you need with drinks before dinner.  It's certainly simple enough for the busy host to put together, and always popular with guests because all those salty foods taste wonderful with cocktails.  But there are antipasto platters and there are antipasto platters.  My parents always had the best stuff because every time my father went to Italy, he would wedge all sorts of cheeses and salamis in his suitcases to bring back home.  Actually, he still does it!  But beyond delicious cheeses and cured meats were always beautiful olives, marinated artichokes, homemade roasted peppers with garlic and herbs and some crusty bread to put it all on.  I don't eat most of that anymore, but I still reminisce about the delicious flavors.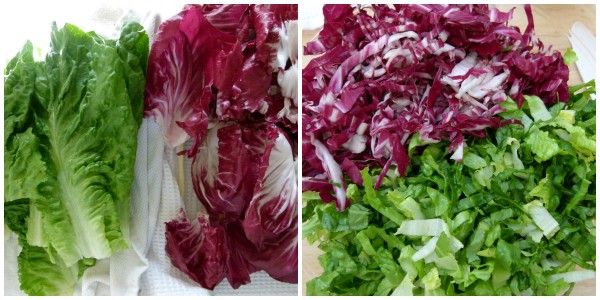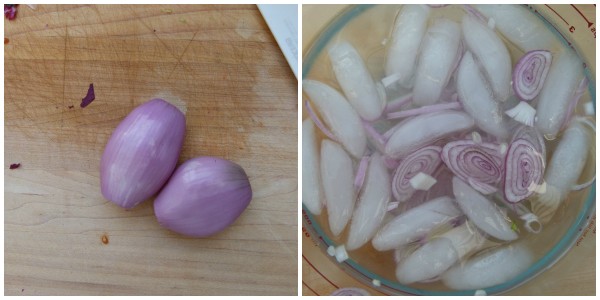 When I saw this amazing salad at Mozza, Nancy Silverton's restaurant, it reminded me of my parents' antipasto platters, but probably better for you since it's disguised as a salad.  I have been a Nancy Silverton fan since her days at Campanile and The La Brea Bakery.  I think everything she creates is utterly delicious.  It's called the "Nancy's Chopped Salad" and it's almost famous in LA.  Chock full of chickpeas, provolone cheese, salami and tomatoes, and a zesty oregano dressing, it's similar to, but way better than, a lot of house salads I have had at Italian restaurants in the US, including the one they had at the old La Scala restaurant in Beverly Hills.  That said, I couldn't help but tinker with this salad to make it vegetarian, and a little lighter.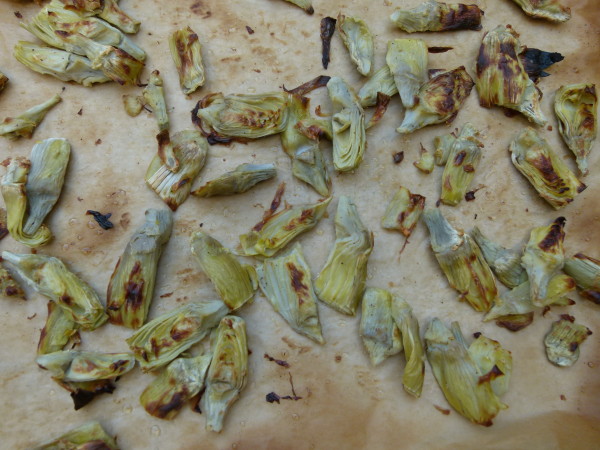 I taught my version of this salad in my classes this year, but encouraged everyone to adjust the ingredients to suit their tastes.  I love, love, love bitter lettuces like radicchio, but when I am hoping to appeal to younger kids with this salad, I substitute red cabbage which is much milder, but just as crunchy and healthful.  Sometimes I'm feeling cheesy and with a vegetable peeler I'll shave lots of Pecorino or Parmesan into the salad (see top image), but if I'm not in the mood, I'll just take my microplane and dust a bit on top (see image below.)  My favorite part is the roasted artichoke hearts, which is my sub for the salami.  Obviously they don't taste the same.  I haven't completely gone off the deep end.  But there is something really hearty and substantial about the artichokes, especially if they get a nice crispy edge to them.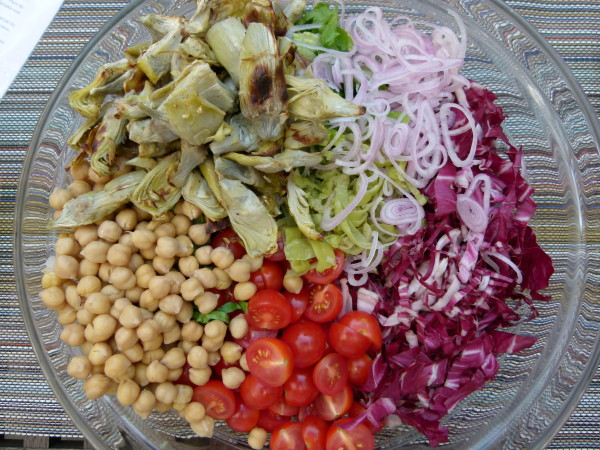 During the summer, it's not unusual for me to make a hearty salad for dinner.  I always have Mr. Picky take out what he wants before I dress it because he's not open to vinaigrettes yet.  He will eat plain chickpeas, cherry tomatoes, romaine lettuce and the occasional pickled pepper.  And Mr. Picky's dad, my husband, has really come around to the Meatless Monday schedule.  He used to look at me with raised eyebrows when I made a dinner without animal protein, but lately he's been much more open to a very veggie dinner or weekend lunch.  They all come around, don't they!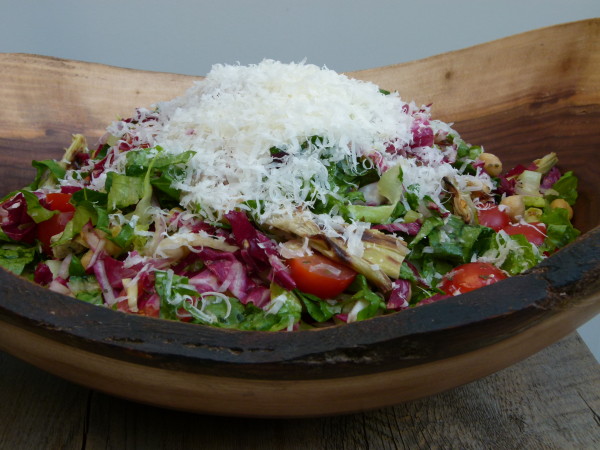 Vegetarian Chopped Antipasto Salad Recipe
Author:
Pamela, adapted from the "Mozza Cookbook"
Ingredients
10 ounces of frozen artichoke hearts, defrosted, quartered and patted dry
1 Tablespoon unrefined, cold-pressed, extra-virgin olive oil
Half of a small red onion or 2 large shallots, thinly sliced
1 head romaine lettuce, sliced thinly, about 8 cups
1 head radicchio or half of a small head of red cabbage, sliced thinly, about 4 cups
1 pint cherry tomatoes, quartered or halved
1 ½ cups cooked chickpeas or 1 15-ounce can, drained and rinsed
4 ounce block of Pecorino Romano or Parmigiano Reggiano, shaved with a vegetable peeler and crumbled or grated with a microplane (feel free to use less)
5 pepperoncini, stems cut off and discarded, thinly sliced (about ¼ cup)
Dressing:
2 Tablespoons apple cider vinegar, preferably unpasteurized
1 teaspoon fresh lemon juice or white wine vinegar
1 garlic clove, smashed
2 teaspoons dried oregano
¾ teaspoon fine sea salt
freshly ground black pepper to taste
½ cup unrefined, cold-pressed, extra-virgin olive oil
Instructions
Preheat oven to 400 degrees. Line a baking sheet with unbleached parchment paper. Place the artichoke pieces on the prepared baking sheet and toss with the tablespoon of oil. Sprinkle with salt and pepper. Roast for 20 minutes or until lightly golden brown around the edges.
Optional: in a small bowl, soak the onion slices in ice water for 15-20 minutes. Drain and pat dry with paper towels. This will cut the harsh flavor of the raw onion. If you don't mind raw onion, don't bother soaking.
Place the lettuces in a large serving bowl. Add the roasted artichokes, cherry tomatoes, chickpeas, cheese, pepperoncini, and onion.
Prepare the dressing: in a medium bowl or in a screw-top jar, whisk together all the dressing ingredients.
Drizzle enough dressing on salad to lightly coat. Toss and taste for seasoning. Serve immediately.
Notes
Do not for a minute think you need to follow this recipe exactly.  Just don't add so many extra ingredients that you don't have enough dressing.  Cannelini beans are a great sub for chickpeas, you can add sundried tomatoes in the winter instead of fresh, add chunks of fresh mozzarella or pieces of fontina or Havarti cheese instead of Parmesan.  The original recipe calls for provolone.  Radicchio looks so pretty, but arugula would taste great, too.