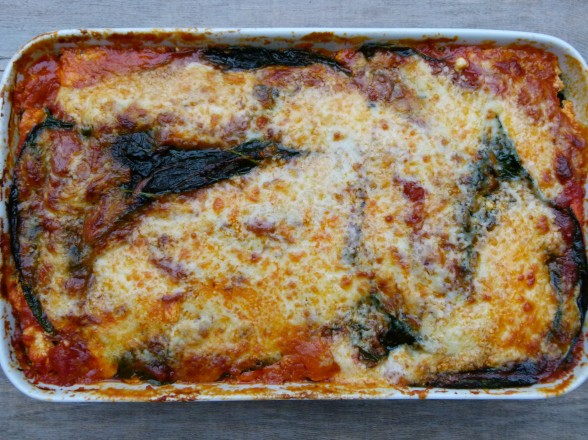 I feel like my universe is in a state of transition right now.  Although I'm sensing this shift in energy in lots of people, not just me.  We've transitioned from vacation to school, about to move from summer to fall, and we're starting to change what we wear.  It's natural for us to adapt from warmer to cooler weather by adding an extra layer or wearing warmer clothes.  We can think of food in the same way.  It has the ability to warm us up or cool us down.  Even the way you cook or don't cook your food can change how "warming" or "cooling" it is.  The most cooling form of a vegetable is its raw state, which is why I favor lots of salads and raw soups like gazpacho in the summer.  But today we had the first break in our heat wave and as I scoured the farmers market feeling a little chilly in my short sleeves, I had a hankering for roasted vegetable lasagne.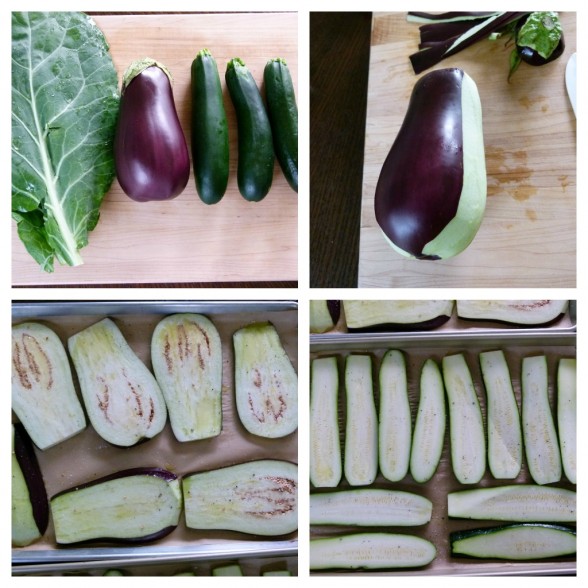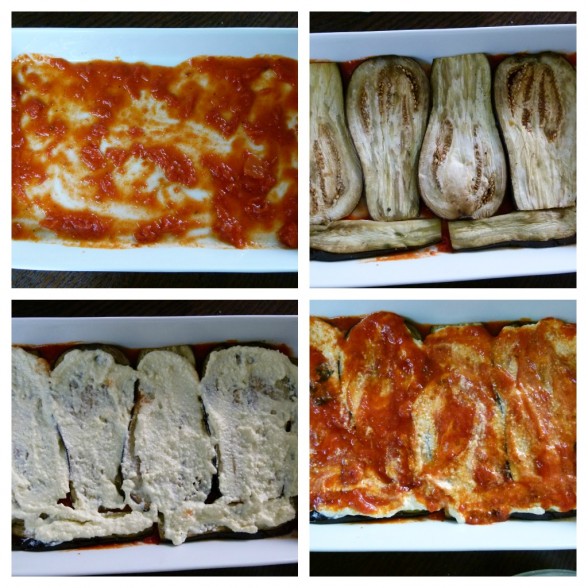 But before you think of the lasagne you eat in the dead of winter — the heavy, cheesy, carb-y, stick-to-your-ribs-and-thighs kind — think again.  Let's call this one "Transition Lasagne."  It's warm, flavorful and satisfying, but it's mostly vegetables with a mere couple of ounces of pasta in the entire pan, so it's super light too.  I also use mozzarella only on the top layer and no one seems to have noticed the difference.  If you've made lasagne before, you follow the same basic steps of layering except here we use thick slices of roasted vegetables in place of sheets of pasta.  There's still one layer of pasta, though.  I tried this with all veggies and it was a little too watery.  The top layer of blanched collard greens is really pretty too.  I got the idea from NY Times columnist, Martha Rose Shulman, who published a beautiful "Lasgana with Collard Greens" a few months ago.  Just like Ms. Shulman's, not only is this lasagne lighter and fresher than the traditional, but no doubt more healthful too.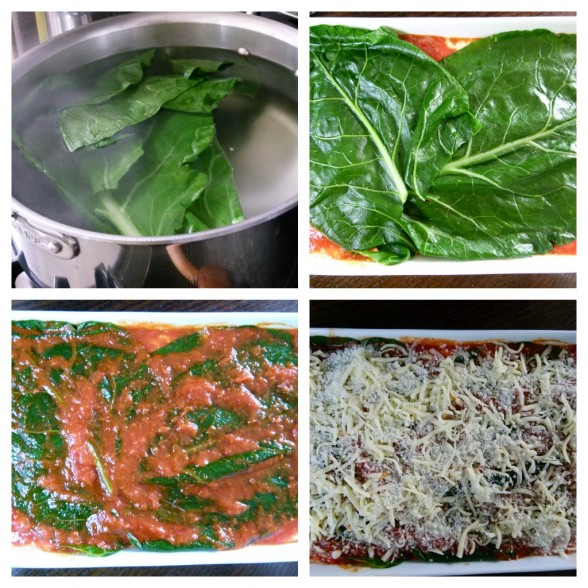 This is exactly what I wanted on a day like today and my family was pretty psyched when they came to the table, too.  Mr. Picky psyched about vegetable lasagne?  Ok, no, he wasn't.  He picked it apart, scraping the cheese off both the pasta and the zucchini so that it was more palatable to him and the eggplant came over to my plate.  This is actually progress.  Last year he wouldn't have eaten any of it!  Does this make me crazy?  Not really.  Because I know that transitioning to being a good eater doesn't just happen with a change in the weather.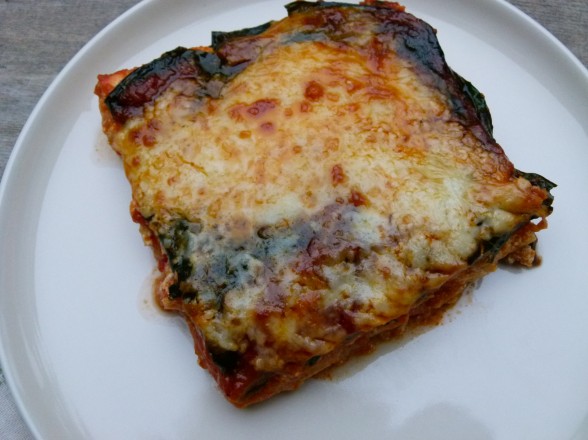 Roasted Vegetable Lasagna
Ingredients
1 medium eggplant, about 1 ¼ pounds
1 ½ pounds of zucchini, about 3 medium, trimmed and cut lengthwise into ½-inch slices
Olive oil for brushing on vegetables
Sea salt and freshly ground black pepper
3 large collard green leaves
3- 3 ½ cups of marinara sauce (depending on how saucy you like it)
15 ounce container whole milk ricotta
1 large egg (helps to bind the ricotta)
½ cup grated Parmesan or Pecorino cheese, divided
4 sheets no-boil lasagna noodles or your favorite gluten-free pasta, cooked and drained
4 ounces grated mozzarella cheese, about 1 cup
Instructions
Preheat oven to 375 degrees. Line 2 baking sheets with unbleached parchment paper.
Slice the stem off the eggplant and with a vegetable peeler, peel a few strips off the eggplant so that you don't get 2 end pieces that are all peel. It will be hard to cut through the lasagne otherwise. Slice the eggplant lengthwise into ½-inch slices. Arrange the eggplant in one layer on one baking sheet and the zucchini in one layer on the other. Brush both sides of the vegetables with oil. Sprinkle with sea salt and pepper. Roast until tender, about 30 minutes. Then lower the temperature to 350 degrees.
Bring a large pot of water to a boil. Add a tablespoon of kosher salt and the collard leaves. Pull them out after 2 minutes.
In a medium bowl, combine the ricotta, egg and 6 Tablespoons of Parmesan cheese.
Spread ½ cup of marinara sauce on the bottom of a 13 x 9 baking dish. Arrange the roasted eggplant slices on top of the sauce in one layer, squishing them together a bit so there aren't too many open spots. Take ⅓ of the ricotta mixture (about ⅔ cup), and with a spoon gently spread it over the eggplant slices. Spread ⅔ - ¾ cup of marinara sauce over the cheese mixture.
Next, spread half the remaining ricotta mixture over the pasta sheets (I usually hold the pasta in my hands to do this.) Arrange the pasta in one layer over the eggplant/cheese/sauce and top with another ¾ cup of sauce.
Repeat with the zucchini slices, remaining ricotta mixture and ⅔ - ¾ cup of sauce.
Finally, place the collard greens in one layer on top. Spread ⅔ - ¾ cup of sauce on top of the greens, then sprinkle the mozzarella cheese and Parmesan over the sauce. Cover the dish tightly with foil and bake for 30 minutes. Remove from the oven, uncover and bake another 15-20 minutes until cheese is bubbly and golden. You can broil the top if it doesn't brown enough. Lasagne is easier to cut (use a serrated knife) if you allow it to sit for a few minutes.
Notes
You can replace one of the layers of vegetables with a layer of pasta, if you prefer. You can also make this "cheesier" by adding a sprinkle of mozzarella in between each layer.

Vegetables can be cooked the morning of or the day before to save yourself some time.