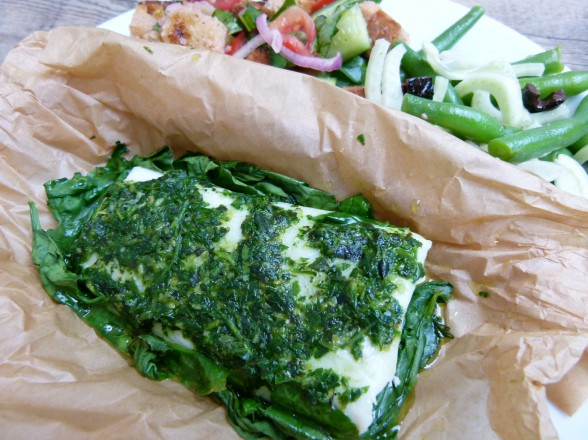 We're baaaack!  What an amazing trip.  The five of us had an unbelievable 3 1/2 weeks together in Europe.  We shared so many great experiences, met interesting people and really grew together as a family.  People have been asking me what was the best part of our trip and I know it sounds corny, but what I enjoyed most of all was the five of us just being together.  Most importantly, and this is the mother in me talking, no one got sick, hurt or lost and we made it home in one piece.  Hooray!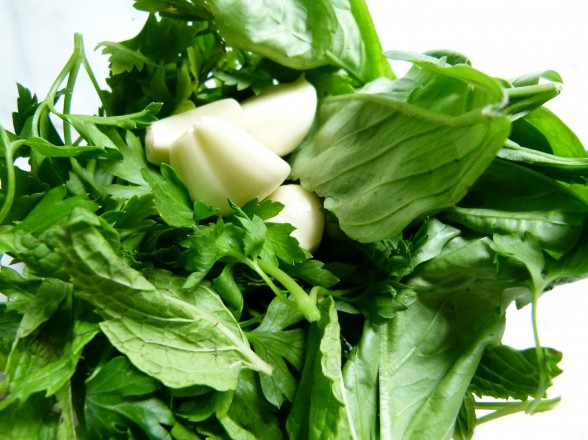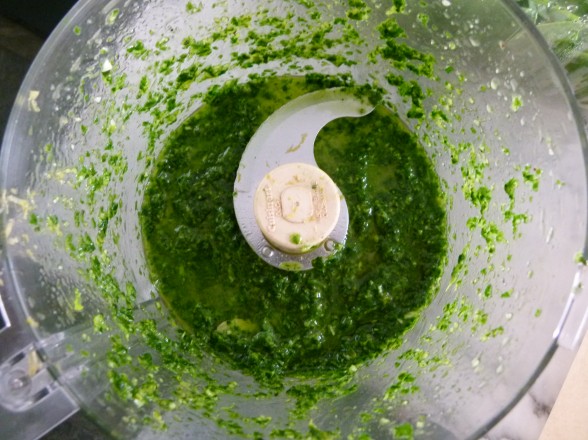 I learned a new expression on this trip and it's not in a foreign language.  My daughters kept saying to me, "YOLO, Mom.  YOLO."  Huh?  Is that Dutch?  Apparently YOLO stands for "You Only Live Once."  This often came up in regard to food.  The first five days of the trip I was able to avoid bread, pizza (except for that tomato and cheese pancake in Amsterdam), pasta and desserts, but my family was going for it.  Big time.  Eventually, I think around Copenhagen, I gave in and basically had a carb fest for 2 1/2 weeks.  It was fun while it lasted, but it also reinforced what I already know about wheat and refined foods — overdoing it is never a good thing.  And I've got my tight jeans to prove it.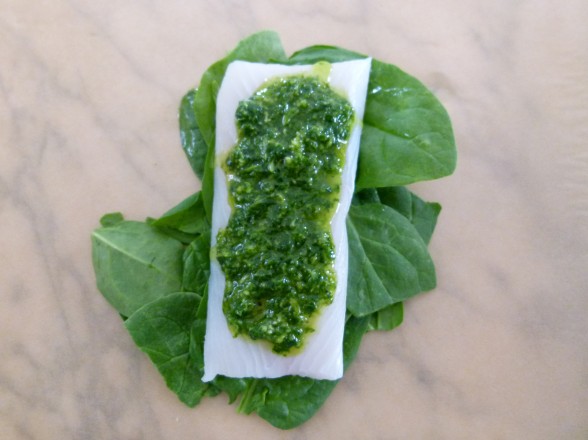 Although it was a nice break to be out of the kitchen for a few weeks, I am happy to be back, cooking the food that makes me feel good.  I especially have a craving for fish and vegetables since the last half of our trip focused mostly on apple strudel, meat, apple strudel, potatoes, apple strudel, and bread.  This fish in parchment recipe is one of my favorite, easiest and most healthful ways to prepare fish.  It's also the perfect light dinner for summertime, especially if you have some herbs growing in your garden.  Feel free to change the herbs in the recipe to suit your tastes or you can even add some thinly sliced, quick-cooking vegetables to the packets.  I used baby spinach leaves in these photos, but I also like diced fresh tomatoes and zucchini.  Or if you have some roasted or grilled vegetables from last night's dinner, throw those in.  You really can't go wrong.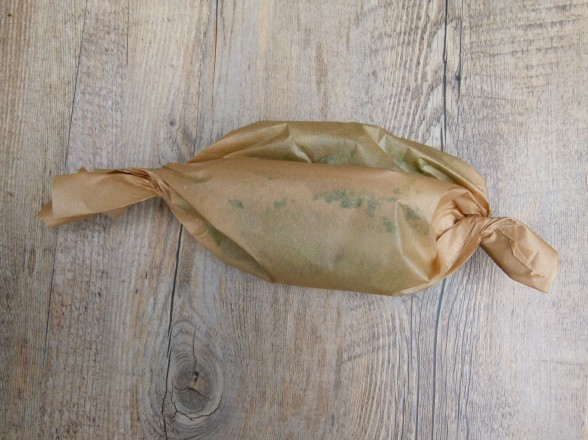 Lucky for me, only Daughter #2 is still holding out on seafood, but everyone else loves fish, including this preparation.  Wild, cold water fish is high in important anti-inflammatory Omega-3 fats, which help support brain and cardiovascular function, as well as balance inflammatory influences in our lives, both from diet and lifestyle.  Steaming the fish in parchment actually helps to protect those fats from oxidation since the temperature inside the packets is low.  I am eager to start cooking for family again the way I know they and I should be eating.  Because like I always say friends, YOLO.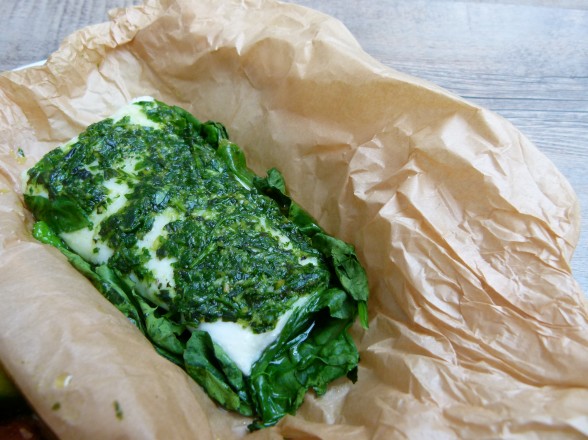 Wild Fish in Parchment with Summer Herbs
Ingredients
1-2 cloves garlic (2 if small)
½ cup fresh parsley leaves
2 Tablespoons fresh basil leaves
1 Tablespoon fresh mint leaves
½ teaspoon sea salt (you can use an extra pinch if you like salt)
freshly ground black pepper to taste
¼ cup unrefined, cold-pressed extra-virgin olive oil
zest of 1 lemon
6 4-6 ounce portions of wild fish, such as halibut, salmon or mahi-mahi, defrosted, if frozen
6 14-inch squares of unbleached parchment
Instructions
Preheat oven to 400 degrees.
Place the garlic, herbs, salt and pepper in the bowl of a mini-food processor and process until the herbs are finely chopped. Add the olive oil and process until well combined. Add lemon zest and pulse once or twice.
Place each piece of fish in the center of a sheet of parchment. Spread a heaping spoonful of the herb mixture on top of each piece of fish.
Bring 2 opposite sides of the parchment together and fold. Continue to fold all the way down until you reach the fish. Twist both ends of the parchment so that it looks like a hard candy wrapper. Place each packet on a baking sheet and bake for 12-15 minutes based on the thickness of the fish.
Transfer each packet to a plate and use caution when opening – the steam will be very hot!
Notes
You can make the fish packets in the morning if you like and keep them refrigerated. If you cook them straight out of the fridge, add an extra minute or two to the cooking time.

Other suggestions: you can also add to the packets quick-cooking vegetables such as baby spinach leaves, julienned zucchini or finely diced tomatoes. For longer-cooking vegetables, blanch or steam them first, then add to packets.

If you enjoy this, check out my other recipe for Halibut in Parchment with Cilantro and Ginger! There you can see step-by-step photos for how to fold the parchment paper.