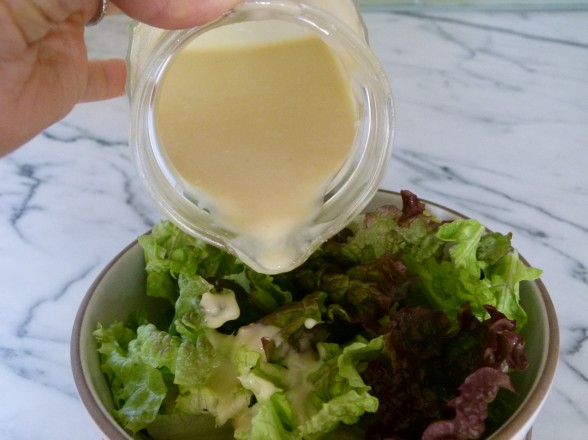 When I was at Whole Foods the other day, at I was amazed by the dozens of people cradling ingredients for the big Cleanse.  I can't imagine choosing to drink lemon juice and maple syrup mixed with cayenne pepper even once, let alone for several days straight in order to detoxify my body.  Sorry peeps, no cleanse recipes here!  I hate to disappoint you if you were expecting instructions on how to starve yourself cranky, but why not just eat clean, real food?  I know, it's not a fad and we are obsessed with fads, especially diet-related.  If a cleanse is the only way for some people to break some bad habits, then ok.  But I haven't seen any research-based evidence that our bodies need such a crazy drink to get rid of toxins.  In fact, I actually think it's pretty cool how efficient our bodies can be at eliminating toxins, provided we don't overload our systems non-stop.  Just a thought.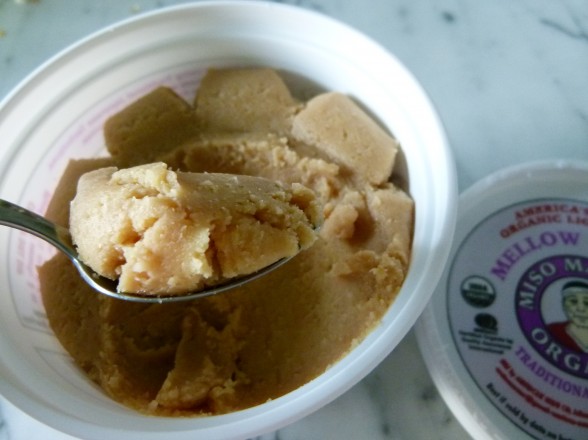 I personally have never done a "cleanse."  I really don't do well when I'm told there are entire food groups that are off limits.  So I indulge a little more than normal during the holidays, but then I make a commitment to start eating normally again.  I especially like to pay particular attention to vegetables which never seem to be controversial in any diet, new or old.  I think it's pretty unanimous advice that we should be consuming loads of vegetables.  In the winter I eat fewer raw vegetables since they tend to be more cooling to the body, but I do love my salads.  So to "warm" them up a bit, I like to make this delicious cream-less dressing which is based on fresh gingerroot and miso.  Ginger is perfect for winter since it's warming to the body, and did you know it's incredibly anti-inflammatory?  Fresh ginger has a real hot and spicy kick to it, so a little goes a long way.  I found that out the hard way when I juiced a big piece of ginger once with some kale and celery and I thought my eyes would pop out of my head.  Peel it like I did here with a vegetable peeler and then get into the hard-to-reach spots by scraping the peel with a small spoon.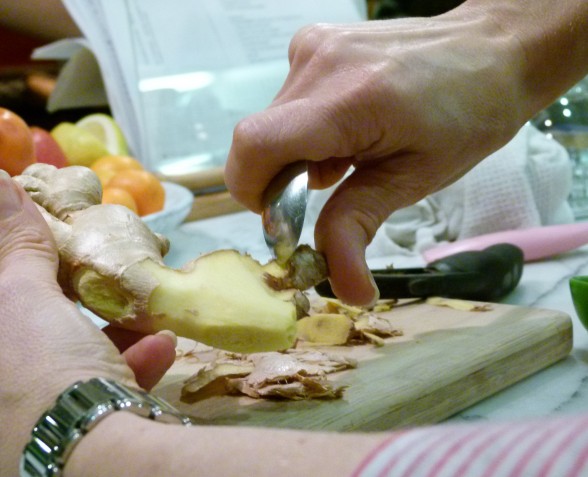 Although most of you are likely familiar with ginger, I don't meet a lot of people who know what miso is or how to use it.  It's your lucky day!!  Miso is a fermented soybean paste made by combining cooked soybeans, mold (called koji), salt and various grains.  Then it's fermented for 6 months to several years.  There are dozens of varieties of miso, as well as different colors from pale beige.  As you would imagine, each type has its own distinctive flavor ranging from meaty and savory to sweet and delicate.  In general, the darker and deeper the color, the longer the miso has been fermented and the richer the flavor.  The first time I tasted miso straight out of the tub, it reminded me of parmesan cheese, which is how I came to use miso to make a vegan/dairy-free pesto.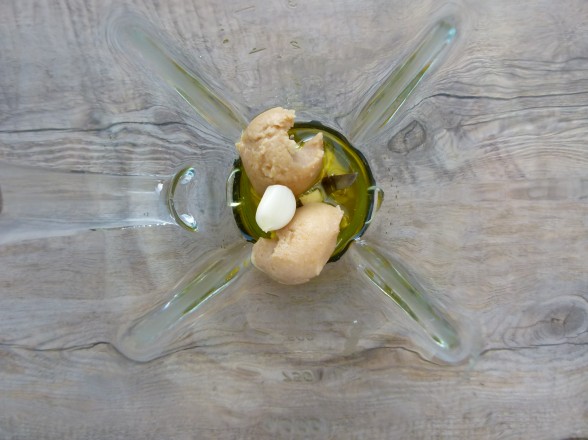 I usually buy the white miso to make soup and use in sauces and dressings, like this one.  It seems to be the most versatile, although a word of caution — not all miso pastes are gluten-free.  Miso is a live food with many microorganisms that are beneficial to your digestion.  That said, you must only buy unpasteurized, refrigerated miso and you must avoid boiling it otherwise you will kill the good bacteria.  Since most soy in this country is genetically modified, also look for miso labeled "organic" or at least "non-GMO."  I prefer to buy miso sold in glass jars, like South River Miso, but I can't always find it, so Miso Master packaged in this plastic tub is the next best thing.  My family has eaten at enough Japanese restaurants and Benihanas to know what miso soup and miso salad dressings are, so that's how I introduced miso at home.  It's always easier for me to present a "health food" to the kids if it looks reasonably familiar, and most importantly, if it's delicious.  Because for this girl, deprivation ain't no way to welcome a brand new year.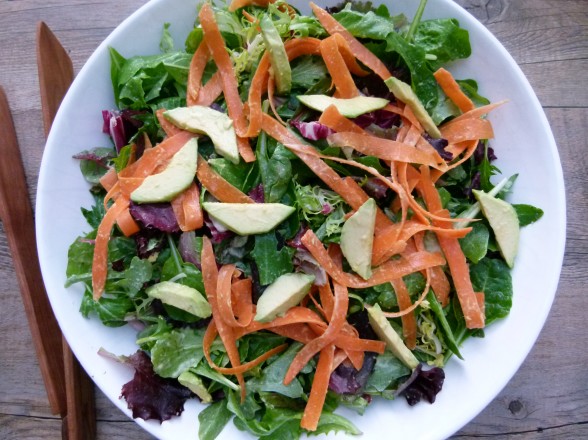 Mixed Greens with Creamy Miso-Ginger Dressing
Ingredients
Vinaigrette:
2 Tablespoons unpasteurized organic white miso
2 Tablespoons unseasoned rice vinegar
2 teaspoons raw honey
2 Tablespoons water
1 Tablespoon chopped, peeled fresh ginger (use less for a more subtle ginger flavor)
1 small clove garlic, peeled
¼ cup unrefined, cold pressed, extra virgin olive oil
8 ounces mixed baby greens
Optional vegetables: thinly sliced radishes, julienned carrots or sweet bell peppers, sliced avocado, thinly sliced unpeeled Japanese cucumber
Instructions
Puree all vinaigrette ingredients in a blender until smooth. Taste for salt.
Place greens and any vegetables you are using in a serving bowl. Add enough vinaigrette to coat lightly and gently toss.
Notes
You can also use this dressing on top of poached or roasted fish, lightly cooked broccoli or greens with brown rice, and quinoa salads.

Fresh ginger freezes really well. Peel it first, then tightly wrap it before storing it in the freezer. Allow it sit on your countertop a few minutes before cutting it. It is not a good idea to use a ceramic knife to cut frozen ginger (ask me how I know this.)