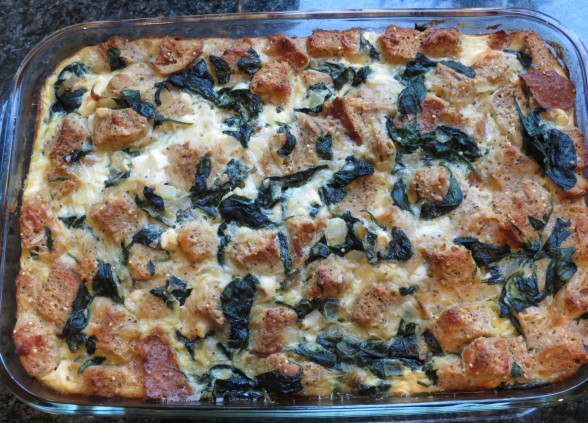 You know I'm a fan of the do-ahead breakfast for busy (and early) weekday mornings.  But holidays and weekend brunches are also the perfect time to prepare a fabulous breakfast the night before.  On Christmas morning, the kids love to come down in their pj's and see what Santa left for them and I don't want to be stuck in the kitchen missing out on all the "oohs" and "ahhs."  It's also a great feeling to be able to relax after a late night of Christmas Eve revelry and still put a hot breakfast on the table for everyone.  Breakfast strata to the rescue!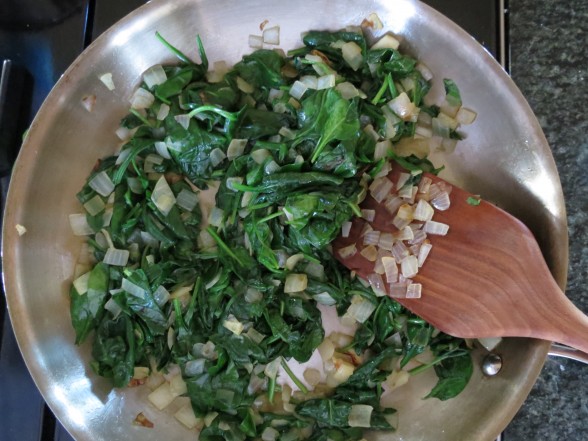 A strata is technically a layered casserole, which mine is not since I just mix everything together in a bowl and pour it into a casserole dish.  This recipe is more of a savory bread pudding to which I add lots of spinach and in the summertime, ripe tomatoes.  In my quest for efficiency in the kitchen, I love stratas for using up stale bread and leftover vegetables from last night's dinner.  In these photos I used a multi-seeded bread, which is not the norm for me, but we loved it.  Usually I buy a whole spelt bread from Le Pain Quotidien or a rustic whole grain bread from Whole Foods.  As for vegetables, you can add anything you would put in a frittata.  No spinach?  No problem!  Take those roasted or sauteed vegetables from last night and add them here.   I've used broccoli, cauliflower, every leafy green there is, mushrooms, zucchini and cherry tomatoes.  A couple of pieces of cooked turkey bacon or sausage links sitting in the fridge?  They're welcome in this strata.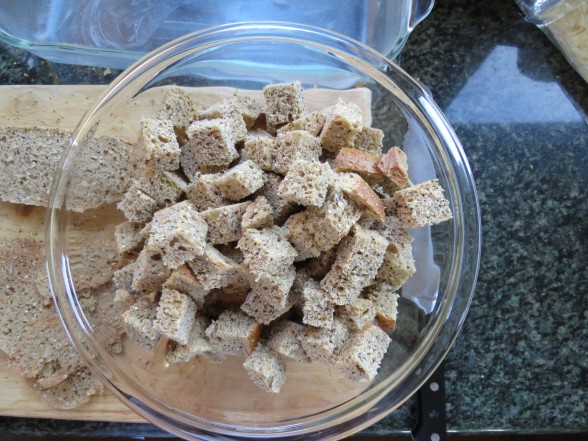 I've made a gluten-free strata with gluten-free bread and I've also made it dairy-free with hemp milk and a cashew-based cheese.  Sadly, I haven't figured out a substitute for the eggs for those with egg allergies.  Don't be afraid to freeze this, either.  Provided you freeze the strata well-wrapped, it will taste exactly the same.  We had about 50 people over for brunch the morning after my daughter's bat mitzvah, and I had made and frozen several stratas 2 weeks earlier.  It was such a gift to myself to just pop them in the oven the morning of and not to have to cook, especially since I couldn't walk from dancing all night.  So whether you've been "partying" at the shopping mall for the last few weeks or you're just cooked out, give yourself and your loved ones this one last gift.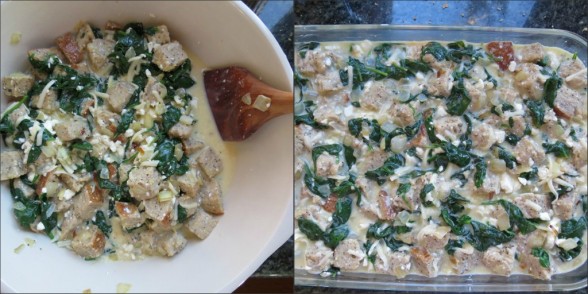 Merry Christmas to all of you celebrating!
Spinach and Feta Strata
Serves:
8 or you can make 16 mini-stratas in a muffin tin or ramekins
Ingredients
2 Tablespoons unrefined, cold pressed, extra virgin olive oil
1 large onion, diced
10 ounces fresh spinach leaves
8 large eggs
2 ½ cups whole milk or plain, unsweetened hemp milk
1 ¼ teaspoons sea salt
½ teaspoon ground pepper
6 ounces feta cheese, crumbled
1 cup shredded mozzarella
2 large tomatoes (when in season), seeded (if desired) and diced
8 cups of whole wheat, spelt or sourdough bread, cut into 1-inch cubes (I used Whole Foods' "Seeduction" bread here)
Butter or olive oil for greasing baking dish
Instructions
Warm the olive oil in a large skillet over medium heat. Add the onion and sauté until tender, about 4-5 minutes. Add the spinach and cook until wilted, a few more minutes.
In a large bowl, beat the eggs with the milk, sea salt and pepper. Stir in the cheeses, tomato (if using), bread and spinach-onion mixture.
Lightly grease a 13 x 9 –inch baking dish and pour the strata mixture into the dish. Cover and refrigerate overnight.
Preheat oven to 375 degrees. Uncover baking dish and bake for 45-55 minutes or until egg mixture is set and top is golden brown.
Notes
Can be frozen if wrapped tightly. Thaw in the refrigerator before baking. I've done it and you can't tell at all that it's been frozen.

MINI-STRATAS: grease 16 individual ramekins or muffin tins. First layer bread, then vegetables and cheese. Last, pour beaten eggs mixed with milk, salt and pepper on top. Bake for 25-30 minutes.