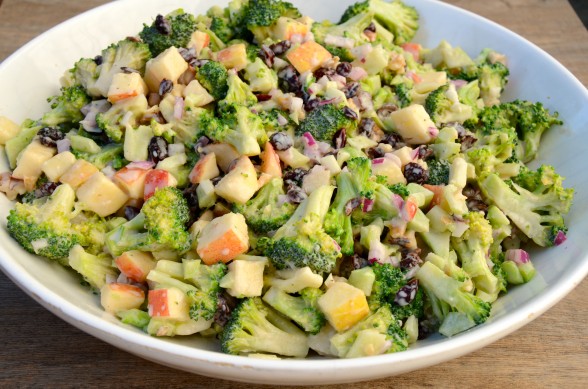 Do you ever get in a rut with a particular food?  I am ever so grateful that everyone in my house likes broccoli, which is one of the most nutritious foods out there, but I get a little bored with broccoli with garlic and oil, broccoli with lemon and parmesan cheese or sesame-ginger broccoli.  I have even pureed it in a food processor with butter and salt — oh, we should make that together some time! — but I have a new fun recipe for you.  I am really digging this Broccoli Crunch Salad.  It's based on a salad I saw in the prepared food case at Whole Foods, but I think it's better.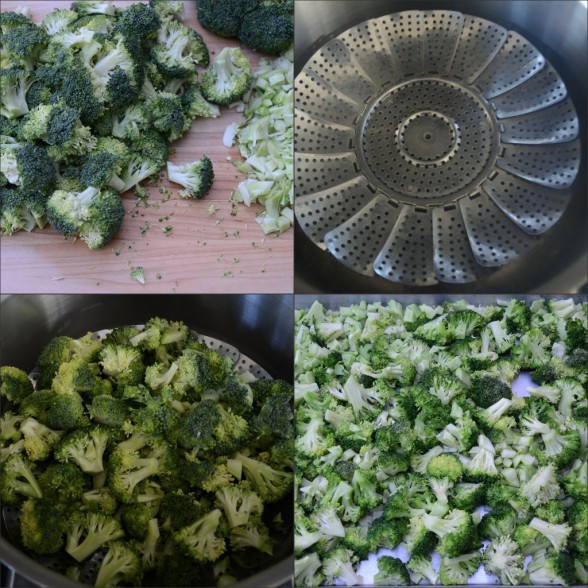 Broccoli is in season all year here in California, and I have made this salad to accompany lots of different dishes.  In the summer it goes really well with anything spicy or slathered with barbeque sauce.  I also love it as a quick do-ahead salad to go with Saturday sandwiches in the fall when we're all rushing around.  The other night we had a bunch of people over to break the fast (what fast?).  Even though I made a few casseroles, Swiss chard frittata in a sheet pan, tuna salad and a green salad, my husband still likes the traditional bagel and deli platter.  Yom Kippur comes once a year and the poor guy doesn't eat for 24 hours.  I'll give him a bagel.  But you know how I feel about coleslaw, and I just can't bring myself to go there so I made this broccoli salad instead.  Crunchy, tangy with a little sweet.  Everyone loved it, or maybe they were just starving.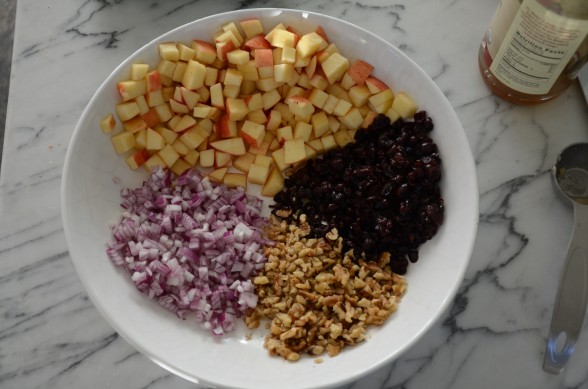 I have seen lots of broccoli salad recipes that call for completely raw broccoli and although it's way easier to skip the steaming step, I'm just not a fan.  First of all, raw broccoli is a tad hard to digest for many people and I actually prefer the sweeter taste of it lightly steamed.  But this is called Broccoli Crunch Salad for a reason, so you need to follow the recipe and only steam it for 60 seconds.  The crunch in the broccoli, plus the crunch in the apples and walnuts is entirely addictive.  I will admit, Mr. Picky has yet to try anything with dressing, so I saved some broccoli, apples, walnuts and dried fruit for him on the side and he gobbled it up.  I'm so flexible, aren't I?  You can be flexible, too, with this salad.  Use sunflower seeds or cashews for the walnuts, any kind of dried fruit, and I surmise you can even use shredded cabbage for the broccoli, but it wouldn't be a Broccoli Crunch Salad,  now would it?  Just don't be calling it coleslaw.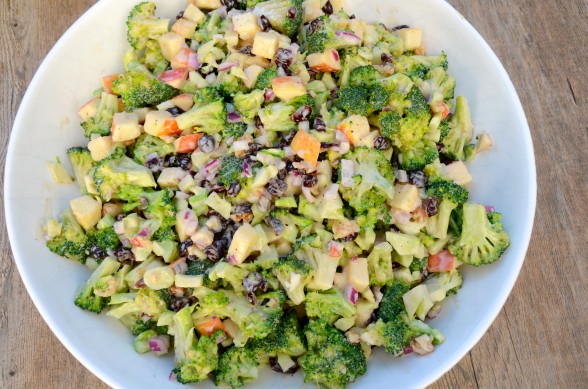 Broccoli Crunch Salad
Author:
Pamela, adapted from Whole Foods
Serves:
4-5 (the salad in the photo was tripled)
Ingredients
¾ pound broccoli crowns, cut into small bite-size florets and stems diced, about 5 cups
1 crisp apple, cored and diced*
⅓ cup unsulphured currants, dried blueberries or dried cranberries
⅓ cup chopped raw walnuts
¼ cup finely diced red onion
Dressing:
½ cup whole, unsweetened plain yogurt
1 ½ Tablespoons tahini (sesame paste) (I would imagine raw almond butter would work, too.)
2-3 Tablespoons 100% pure maple syrup
¼ cup apple cider vinegar, preferably unpasteurized
1 teaspoon coarsely ground black pepper
Instructions
In a saucepan with a steamer insert, bring a few inches of water to a boil. Place the broccoli on the steamer basket and cover with the lid. Steam for 1 minute. Transfer broccoli to a large plate in a single layer and allow to cool.
In a large bowl toss together broccoli, apples, currants, nuts and red onion.
In a small bowl whisk together dressing ingredients. Taste and add more maple syrup if you like the dressing sweeter. Pour over broccoli mixture and toss until broccoli is well coated.
Let sit for 30 minutes so that broccoli can absorb some of the dressing.
Notes
*If prepping the apples in advance, let the apples sit in a bowl of water with a good squeeze of lemon juice.

This can be made with raw broccoli, too.