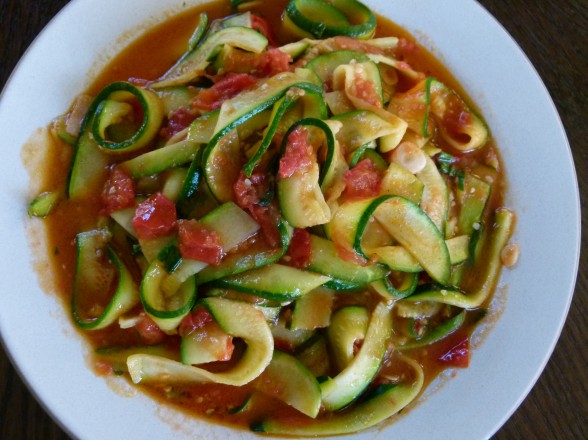 We're in pasta mode this week, but transitioning to zucchini mode, so I couldn't help but post a recipe which covers both.  In the low-carb craze of the 90's (although I'm not sure it's over), I was intrigued by the idea of using things like zucchini and spaghetti squash in place of pasta.  "With the addition of tomato sauce, you will feel the same satisfaction of eating the real thing, but without the carbs!"   Those same people try to make veggie burgers taste like beef.  Don't make me laugh.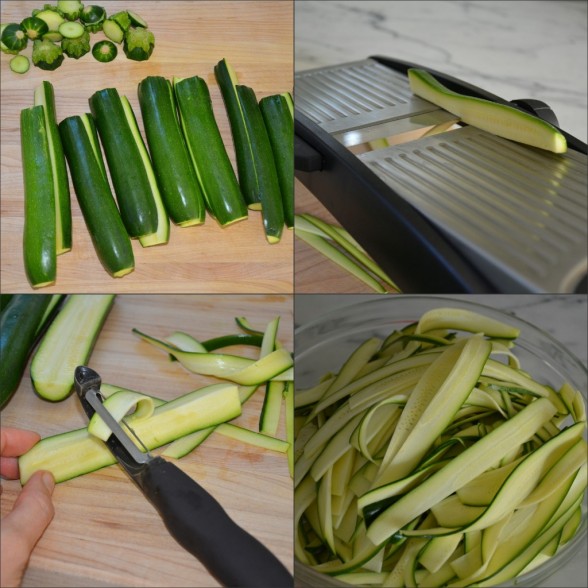 That fact is, the first time I tried this method of cutting zucchini in the shape of papardelle noodles and adding some cooked down tomatoes, basil and garlic, I loved it.  Did I feel like I was eating regular pasta?  Not really.  Did I care?  Not at all.  I think this zucchini is absolutely terrific in it's own right.  My husband, who is a pasta-lover, said, "I like this because I don't feel gross after eating it."  Aww, shucks.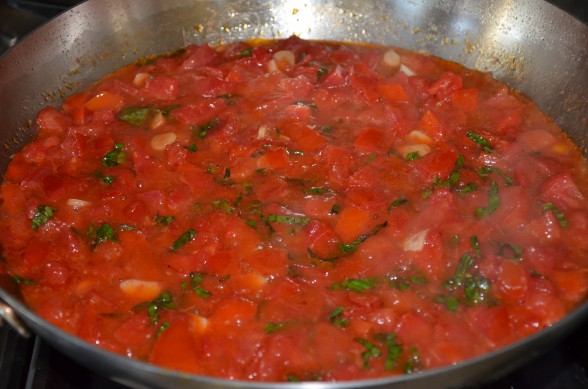 When I taught this in my classes two years ago, I went against my better judgment and cooked the tomatoes and zucchini in the same pan.  I, like most people, enjoy cooking more than I enjoy washing dishes, so I am always conscientious of how many pots and pans I use.  But cooking the zucchini too long can make it watery, as does adding acid and salt too early.  So the best way is to do this is in two separate pans side by side.  If you really detest the idea of washing a second pan or if you don't have 2 large ones, cook the tomatoes first and transfer them to a serving bowl.  Then cook the zucchini in the same pan and add the tomatoes back.  On the same note, don't allow this to sit too long before serving, because the zucchini will start to release its water.  Unless of course you're trying to photograph it, and you need to wait for the steam to subside so it doesn't fog up your lens.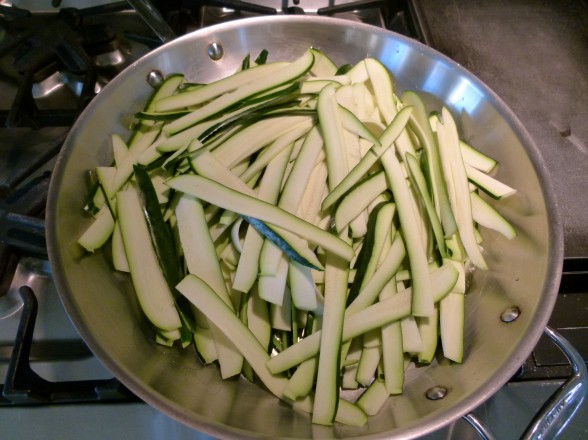 I know many of you are desperate for things to do with the abundance of zucchini from your gardens.  First of all, let me give you a pat on the back for growing something.  Love that!  But can I give you a little advice?  Stop competing with your neighbor for who can grow the biggest squash on the block.  We're all guilty of it, but there's nothing good that comes out of it.  Size does matter here, but smaller is better!  When you allow the zucchini to grow to the size of a regulation baseball bat, you end up with spongy, seedy and not tasty zucchini.  Pick them when they're small and tender and you'll be able to keep up with production, too.
If you like to come home from work and have dinner on the table in 15 minutes, then you're better off cutting your zucchini in the morning or the night before.  I showed two methods for this above, either using a mandoline or a vegetable peeler, but it does take a little longer than normally prepping zucchini.  If you wanted to make this into a full meal, toss all of it with some freshly cooked pappardelle noodles, white beans for protein and a dusting of parmesan cheese, and it will all be worth it.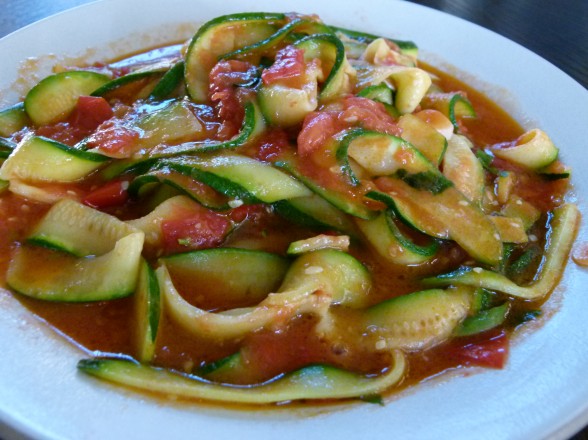 Zucchini "Pasta"
Ingredients
2 pounds small zucchini
4 Tablespoons unrefined, cold-pressed extra-virgin olive oil, divided
3 cloves garlic, thinly sliced
2 pounds tomatoes, cored and chopped (seeded and/or peeled if you like)
Sea salt and black pepper
Small handful of basil leaves, slivered
1 Tablespoon unsalted butter (optional)
Grated or shaved Parmiggiano-Reggiano or pecorino-romano cheese (optional)
Instructions
Trim the ends off the zucchini. Cut in half lengthwise. Slice lengthwise on a mandoline very thinly (thinner than ⅛-inch) to resemble pasta noodles. If you don't have a mandoline, you can use a vegetable peeler.
Heat 2 tablespoons olive oil in a large skillet over medium heat. Add the garlic and cook until the sides begin to turn golden. Add the tomatoes and season with sea salt and pepper. Cook until fragrant, about 3 minutes. Stir in the basil.
In another large skillet, warm 2 tablespoons olive oil over medium heat. Add the zucchini and sauté until just tender, about 4 minutes. Sprinkle with sea salt and transfer to the tomato mixture with tongs, leaving the extra liquid in the pan. Toss to coat with the tomatoes. You can add an optional tablespoon of unsalted butter at this point to enrich the sauce, but not necessary.
Serve with freshly grated cheese, if desired.
Notes
Instead of cooking fresh tomatoes, you can add 1 cup of warmed tomato sauce to the cooked zucchini and serve with grated cheese on the side.