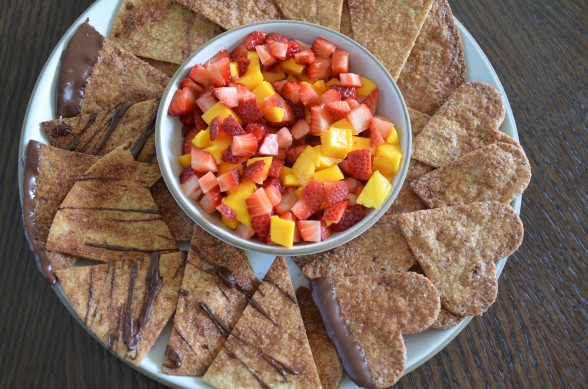 It was tense around here on Super Bowl Sunday as my husband's Steelers were getting walloped by the Packers.  Nevermind that I had just laid out a fresh batch of baked chips and guacamole, no one was really hungry…except me, of course.  As everyone watched in agony as the Packers' Nick Collins returned an interception for a touchdown, all I could think of was, "I wonder if I can make sweet chips with whole grain flour tortillas in the same way I make traditional chips out of corn tortillas?"  You know what they say, "when the going gets tough, the tough get making sweet chips!"  You never heard that before?  I quickly got to work on what would become my kids' new favorite snack.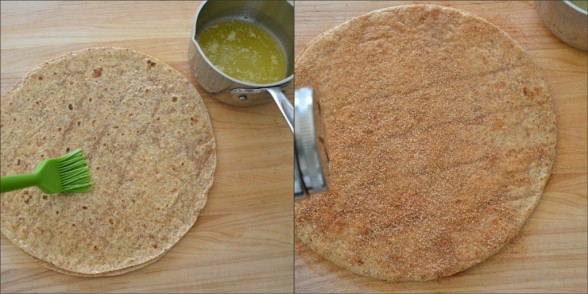 These chips are as tasty as they are easy.  By the time the oven is preheated, you will have the chips assembled on baking sheets ready to go.  The best part is that you can improvise, veganize, de-gluten and really make these your own.  I like both Rudy's 7-Grain Tortillas with Flax, as well as Food For Life's Brown Rice Flour Tortillas, if you want to make them gluten-free.  Believe me that no one will have any idea these chips are made with whole grain tortillas.  Just brush both sides with either melted butter or coconut oil, sprinkle with cinnamon-sugar, cut and bake.  That's the recipe!  But the fun doesn't stop there.  You can drizzle the baked chips with melted chocolate or if you have a little extra time, dip each one in melted chocolate.   I usually serve them with a fresh fruit "salsa" which is basically nothing more than diced mixed fruit.  Sometimes I'll add some finely chopped mint and a squeeze of fresh lime to the fruit if I'm feeling fancy or if serving these to adults.  Strawberries and mangos are in season now, but diced bananas, ripe peaches, nectarines and apricots all work beautifully, too.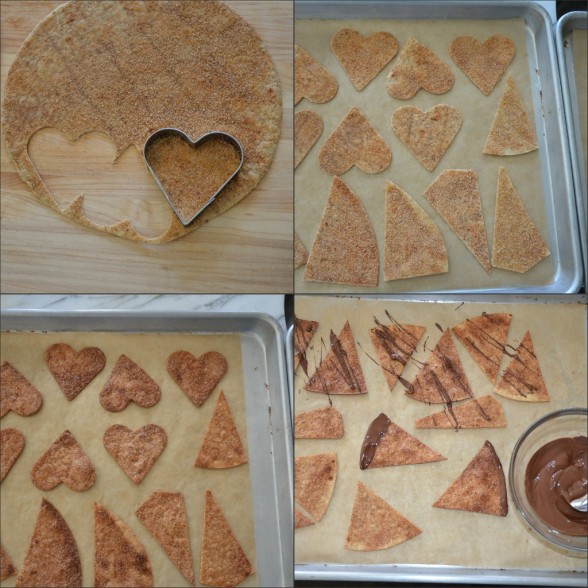 This is also a fun project to do with your kids.  I love cooking with my children, especially with just one of them at a time.  There's something about cooking together that makes them chatty.  I always learn something new about what's happening in their lives, which is not an easy thing with teenage girls!  Daughter #2 helped me with this batch and she had the clever idea of using a heart cookie cutter to make some heart-shaped chips.  I wish I had thought of that for Valentine's Day.  Well, you know what they say in football — "there's always next year!"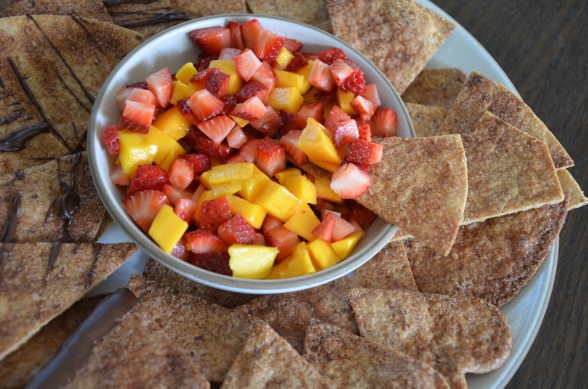 Cinnamon "Nachos" with Fresh Fruit Salsa
Serves:
4? 3? you and me? just me?
Ingredients
1 ½ Tablespoons granulated sugar
1 ½ teaspoons ground cinnamon
4 organic whole grain or brown rice tortillas (I like Rudy's 7-grain with Flax or Food For Life Brown Rice tortillas)
3 Tablespoons melted unsalted butter or unrefined coconut oil
1 mango, peeled and diced
1 pint strawberries, hulled and diced*
A few leaves of fresh mint, finely chopped and a few wedges of lime, squeezed (optional)
Instructions
Preheat oven to 375 degrees. If your oven tends to run hotter than average, preheat to 350 degrees. Line 2 baking sheets with parchment paper.
Combine sugar and cinnamon. If you have a shaker, that's helpful to use for distributing the cinnamon-sugar. Otherwise a spoon is fine.
Place tortillas on a cutting board. Brush both sides of each tortilla with melted butter and sprinkle one side with cinnamon-sugar to cover lightly. Spread with fingertips if needed. Stack tortillas and cut into wedges or strips or use cookie cutters to cut in decorative shapes.
Transfer to baking sheets cinnamon-side up in one layer and bake for 10** minutes or until lightly browned. Tortillas will crisp further out of the oven. Allow to cool on pan.
Combine mango and strawberries in a bowl. Mix in mint and lime juice, if desired. Place fruit salsa in center of platter and surround with tortilla chips.
Notes
*Suggestions: Combine any seasonal fruit such as diced apricots, bananas, peaches, pineapple, and plums. Once I mixed shredded coconut with the fruit and I loved it. You can melt semi-sweet chocolate to dip or drizzle on top of the chips. Or serve with your favorite frozen dessert or use a lightly sweetened yogurt as a dip.

**If you overcrowd the pan, you may need an extra 2 minutes.