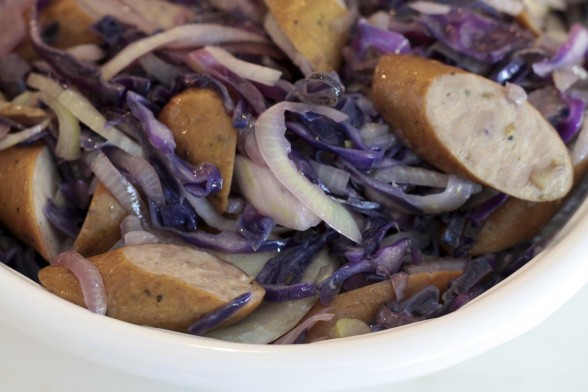 People ask me all the time for more recipes that are Fast!  No, faster!  And easy!  I understand the challenges that people face when pulling together a weeknight meal, whether they are parents or not.  However, we need to put some time into our cooking.  I haven't figured out yet how to make something in no time that's worth eating.  But this sausage and vegetable dish is my idea of fast food.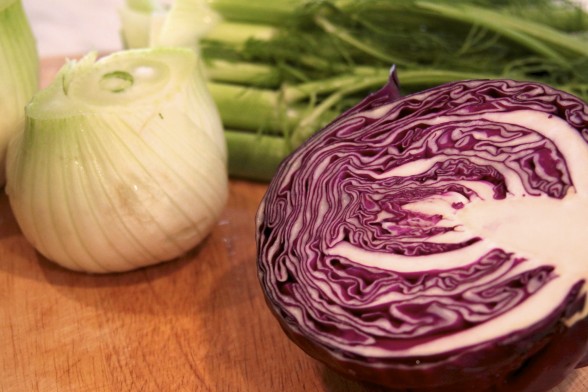 I buy precooked sausages from Applegate Farms, which don't contain spooky ingredients like nitrates or nitrites (hooray, no carcinogens!).  Slice up some cabbage and fennel and you've got yourself a quick and easy dinner.  Make extra and toss it with pasta the next day, just save some of the pasta cooking water after you drain it if you need to moisten the sausage dish up.  If you have a favorite sausage that is not precooked, I would slice it or remove the meat from the casing and sauté that first.  Remove it from the pan, sauté your vegetables and put the sausage back in.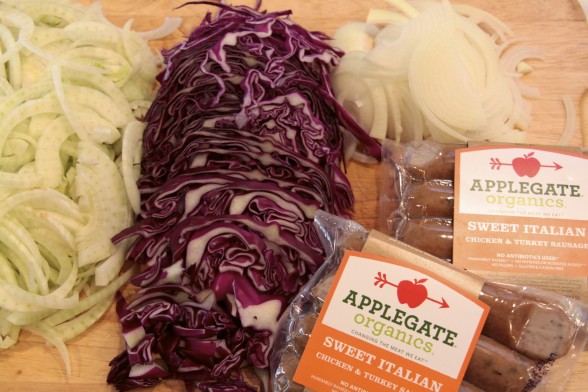 If you haven't cooked with fennel before, it has a fresh, licorice undertone and perfectly complements the fennel seed that is usually present in most sausages.   I use red cabbage here for color, for the extra phytonutrients that come with it and the higher C profile than green, but you can certainly use green cabbage if that's what you have handy.  Cabbage is part of the cruciferous family of vegetables – a group that I encourage you to incorporate regularly into your diet.  These include all the cabbages and kale, broccoli, cauliflower, Brussels sprouts and bok choy.  These vegetables contain some potent anti-cancer compounds called sulphurophanes.  Cabbage also contains some cholesterol-lowering benefits as well as loads of antioxidants and anti-inflammatory nutrients.  It is also relatively inexpensive, to boot.  What are you, in love with cabbage or something? Well, maybe I am!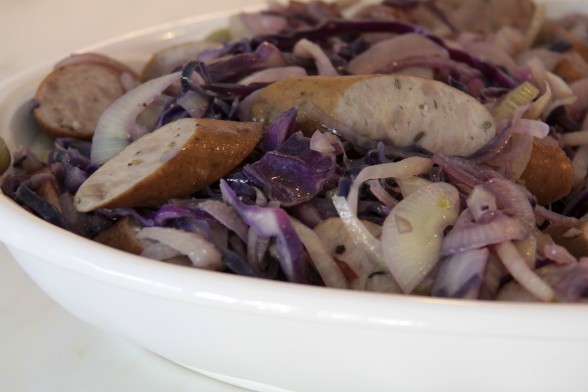 turkey sausages with cabbage and fennel recipe
Ingredients
2 Tablespoons unrefined, cold-pressed extra-virgin olive oil
1 Tablespoon fennel seeds (optional)
1 large onion, halved and sliced thinly
½ red or green cabbage, sliced thinly
2 fennel bulbs, tops removed and bulbs sliced thinly
Sea salt and freshly ground black pepper
8 nitrate-free, pre-cooked sausages, sliced on the diagonal as small or large as you prefer. I cut each link into 4 or 5 slices.
⅓ cup dry white wine
Instructions
Heat oil in a large skillet over medium heat. Add the fennel seeds and stir until fragrant, about 3 minutes.
Add onion, cabbage and fennel. Season with sea salt and pepper and sauté until just tender.
Add sausages and cook until heated through.
Add white wine to deglaze the pan. Cook until wine evaporates. Taste for seasoning and serve immediately.